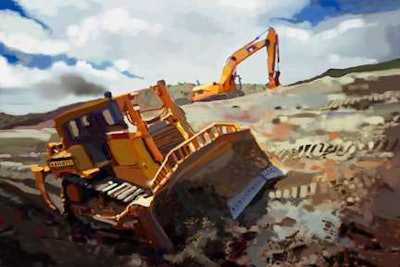 Tim "The Tool Man" Taylor made his love for power tools well known in the ABC television sitcom "Home Improvement." It was a strange kind-of- love but understood by men everywhere. The same holds true for the love of tools of another kind — backhoes, loaders, dump trucks, and hard hats. Veteran fine arts painter Brad Burns captures these images through construction art that hangs in construction office lobbies around the world. As Tim Taylor would say, "Argh, argh, argh." 
Burns began his career as a professional art director, working on advertising, marketing collateral, high-tech packaging, branding and other creative communications tools for Silicon Valley companies. It was challenging but often dull, focusing on hard-to-depict products like enterprise software and telecommunications hardware. 
In 2000, his artistic direction changed dramatically. He was commissioned to create paintings that would serve as magazine covers for The Engineering & Utility Contractors Association (EUCA).  It was a trade association representing union-affiliated contractor businesses and associate firms throughout the Western United States. His focus would turn from software to scissor lifts.
 Shortly after, the president and CEO of Preston Pipelines asked Burns to work with his interior design firm to develop a series of large canvas paintings that would depict the company's expertise and experience. It would provide a "unified palette" in a newly-constructed, 33,000 square-foot corporate headquarters. 
"I worked from company photos of equipment, jobsites and work crews," said Burns. "I composed the paintings, removed unwanted elements, and enhanced and adjusted the components in order to complement the color palette developed by the interior designers. The result was a series of large pieces that make a bold statement about Preston Pipelines."
 Since that first series, Burns has created twenty paintings that hang in Preston's conference rooms, bid rooms and hallways. The paintings have been well received by local art critics as well as the press.
 Today, his construction art portfolio includes more than 300 paintings, which can be found in office installations throughout the United States and abroad. He has created what he calls the largest fine art resource for construction-related art in the world.
"I get my inspiration from construction workers themselves." said Burns. "They are generally excited about what they do, and boy, do they love big, powerful, earth-shaking machines!"
Burns begins his artistic process one of two ways. He often visits jobsites where there is a lot of activity and opportunity to make sketches and take photographs. Or, he works from a series of digital photographs of a particular jobsite or a specific piece of equipment. He then photocomposes the images and paints the subject matter. In some cases, he'll simplify part of the images; in others, he'll greatly enhance them, adding specific details that help tell the story. 
A handful of the paintings he creates are based on visual concepts, such as the painting "Trilogy," commissioned by North Bay Construction in Petaluma, California. CEO Steve Genay wanted to show the three basic phases of a large job, in this case for a mall being constructed from the ground up.  Another patron, CC Meyers, a construction firm that specializes in bridges and overpasses, wanted to start with an aerial photo of an overpass but asked Burns to use creative license to make it a bit more abstract. The result was a stunning painting that begs the question, "Is it a colorful exaggeration or an actual structure?"
Burns says his objective, from an aesthetic point of view, is to capture the essence of the work being done through the use of open gestures and broad brushstrokes. His art is very distinctive in color, shadow, and detail. He finds beauty and symmetry in the most unusual places — the teeth of a Ditch Witch or the laughter of a work crew. Even the titles of his work are memorable — Beauty and the Beast, My Invoice or Big Shore Up.
 "I really enjoy working with everyone on a jobsite — from the office manager who is full of zeal for the company, to the business owner who is proud of his or her team," continued Burns. "They have wonderful ideas and insight. Their enthusiasm helps me capture the pride of the industry and then translate it into art."
Burns' portfolio includes commissioned paintings for Ghilotti construction, one of Northern California's largest and oldest construction companies. Overaa Construction commissioned him to paint several pieces for its 100th anniversary. Iron planet, the world's largest online auction house for heavy equipment, commissioned thirty-six paintings for its offices worldwide and also a series of calendars to distribute to their clients. The paintings include not only heavy construction equipment, but also agricultural heavy equipment and personal vehicles.
He has showcased his work at World of Concrete and been a guest speaker at corporate functions and trade shows. He's been inspired by many of the innovative products, technologies, tools and equipment he sees on the showroom floor. He's also been inspired by many of the people he's met there.
Ultimately, he says his goal is to communicate the strength and fortitude of the people who dedicate their lives to the building of planned developments, highways, and  bridges. He feels he knows them, and that his art understands them.
"These are the people who believe in an honest day's work. They seem to have an innate ability to get projects done. They have the drive to build things both large and small. It is my privilege to tell their stories through art."
Brad Burns' art can be viewed at www.constructionfineart.com. Burns can also be reached at brad@bradburnsstudios.com.