Ecomax engine revs up JCB lineups
By Marcia Gruver Doyle
JCB will add its new Ecomax engine (see Reporter story on page 11) to a number of backhoe, excavator and telehandler models. The company also announced three new wheel loader models. The Tier 4 Interim Ecomax, using in-cylinder technologies, does not require a diesel particulate filter or diesel emission fluid, runs on standard engine oil, and can be recalibrated to run in countries that do not have an ultra low sulfur diesel infrastructure in place.
3CX and 4CX backhoes, which come with 74-horsepower (91-horsepower optional) and 109-horsepower engines, offer 2 to 5 percent fuel economy compared to previous models. All 91- and 109-horsepower machines have a variable flow hydraulic pump as standard, delivering 43.5 gallons per minute of flow. This pump matches flow to demand, reducing fuel consumption. Peak flow, however, is up by 32 percent on 74-horsepower machines, 14 percent on 91-horsepower engines and 7 percent on the 109-horsepower backhoes. The variable displacement hydraulic system, says JCB, can offer up to 30 percent faster cycle times.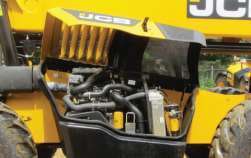 Loadall telescopic handlers now have three available engine ratings, 74 horsepower (aimed at rental markets), 108 horsepower and 125 horsepower. JCB says the 74-horsepower units offer 6 percent more torque and 5 percent more low rev power than the previous Tier 3 machines. The 108-horsepower units, expected to appeal to contractors, offer 15 percent more torque and a 10 percent boost to low rev power. A revised engine cover and pod (see photo) now direct cooling air from the top of the front canopy, around the engine and through the cooling pack, to exit through new vents at the top of the rear of the canopy. This prevents air disturbing dust and debris on the ground below the engine.
The JS145 excavator has color-coded working modes on the cab monitor designed to promote working within the green "economy zone." Modes are selected through a single dial, replacing engine speed selector – turn the dial, the engine speed increases and the corresponding work mode is automatically selected. JCB says a revised hydraulic system in addition to the new engine gives the machine a 10 percent fuel savings, compared to the previous model. In-cab levels are now 70 decibels, down 4 percent.
The 427 and 437 wheel loaders replace the 426 and 436, and go into production next month. In addition, the company debuted its 457 in June, which replaces the 456 (more on page 32). Torque has increased 9.4 percent on the 427, due to additional response at low engine speeds provided by the variable geometry turbocharger. The units have a low idle setting of 700 rpms, power and economy modes and an optional idle shutdown. An optional five-speed transmission and lock-up torque converter gives the models up to 16 percent improvement in fuel consumption. Cab noise levels are now at 68 decibels. The Cummins QSB 6.7-liter engine in both models uses a diesel oxidation catalyst, but does not require a diesel particulate filter or exhaust after treatment additives.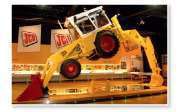 And the story continues…
The almost 27,000-square-foot "Story of JCB" exhibit at the company's headquarters in Rocester, England, charts the company's history from the 1820s when the Bamford family were blacksmiths in Uttoxeter. Showcased in the 14-zone display are 10 landmark machines, including one of founder Joseph Cyril Bamford's first products, a hydraulic tipping trailer. The exhibit has been open to JCB employees and their families; there will be limited opportunities for general public viewing in the months ahead.