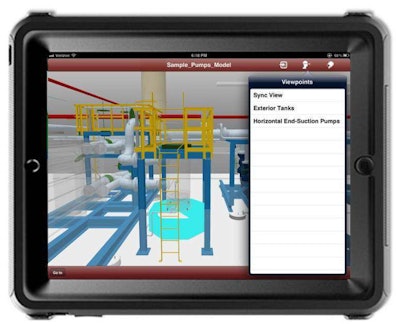 Autodesk, the company behind the successful AutoCAD 3D design software, recently announced its acquisition of Vela Systems, a provider of cloud-based field management software for the construction industry. Details of the acquisition were not disclosed.
The AutoCAD software has offered computer-aided design (CAD) and drafting in 2D and 3D formats since the early 1980s and is currently available for both Windows PCs and Macs. In 2010, Autodesk released the first mobile version of AutoCAD, dubbed AutoCAD WS for Apple's iPhone. The mobile app allows AutoDesk users to view, edit and share their designs on the go, whether its on the job site or in a meeting. Versions are now also available for the iPad and Android devices.
It's clear that Autodesk sees this mobile use as the future of its platform. The company reports that AutoCAD WS has been downloaded from Apple's App Store and the Google Play store for Android more than 2.5 million times. And it is with that growth in mind that they purchased Vela Systems, which specializes in bringing project documents, checklists and worklists as well Building Information Modeling directly to the job site.
Vela does this by allowing users to store their project data in the cloud, an online locker securely hosted on Vela's servers where users can upload documents and designs and access them later from an Internet-connected device. Users can access this data through Vela's iPad apps or through email on BlackBerry, iPhone, Android and any other e-mail-capable device.
What made the company attractive to Autodesk is that it is a bit of a pioneer in cloud-enabled, accessible-anywhere data. Most BIM software can only be accessed where there is a traditional computer and a hardline Internet connection, such as in the office or a mobile office in a trailer on the job site. But Vela's mobile apps allow access to project data on the iPad and most smartphones — even when an Internet connection isn't available.
According to the announcement, Autodesk has integrated Vela's software with its Navisworks project review software. According to Autodesk, Navisworks software allows a team to "integrate, share and review models and multiformat data". By integrating Vela's BIM apps with Navisworks, Autodesk is aiming to bring the entire process of creating, reviewing and executing product designs to smartphones and tablets in the field.
With its acquisition of Vela, Autodesk is boosting the power of its model creation software by enabling storage in the cloud and the ability to review, edit and share these plans with the press of a touchscreen anywhere their users happen to be.
The headline of Autodesk's press release states that with the Vela acquisition it is "positioned to transform (the) construction industry." It sounds hyperbolic on the surface, but if the company is able to pull off the ability to quickly create and reshape 3D models on the go, it might do just that.