Gen sets and light towers
Selection Questions
Most diesel-driven, portable light towers have the same basic components – a diesel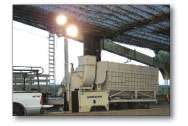 engine and generator in a trailer-mounted enclosure, a winch-operated mast and floodlights. Ask these questions on your next job to narrow down your selection:
How much light is needed? Know the size of the area needing illumination, whether light needs to be constant and how bright it should be. Experts at your local dealership or rental store can then determine the recommended number of foot-candles for the application based on standards from the Illuminating Engineering Society of North America – and ultimately how many light towers are required.
Does the job require light and power? If yes, choose a light tower that provides both.
How long will you need light? Fuel capacity should be a key factor in selection. Large, efficient fuel tanks translate into longer run time. Some light towers offer 52 or more hours of light. Depending on site conditions, an optional auto start/stop feature provides consistent and automatic illumination run time.
Source: Doosan Portable Power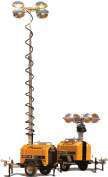 VERTICAL OR TRADITIONAL
Available in both vertical and traditional lay-down tower models, Allmand's Night-Lite Pro II has molded, poly "gull-wing" style doors.
• Plug-in light ballast assemblies are fully accessible with the doors open
• Features a four-point stabilizer system with two sliding side outriggers with swivel screw jacks
• Lay-down models have a self-locking, spring-loaded tower latch.
Visit EquipmentWorld.com/info

MULTI-DIRECTIONAL
Air System International's Mini-Cube has a dust-tight, 800-lumen, LED head that is multi-directional on an 8-foot retractable aluminum pole.
• Provides more than 30 hours of runtime between charges
• Features a push-to-test volt meter on front panel
• Has a 12-volt port to charge the external battery.
Visit EquipmentWorld.com/info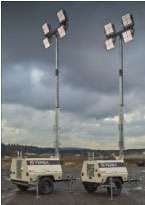 BATTERY POWER
Terex's battery-powered LED light towers, the AL4L and AL5L, provide up to 10 hours of runtime.
• 30-foot extended height
• AL4L is 67 inches and the AL5L is 69 inches tall when stowed
• AL5L has an 8-kilowatt generator for charging on-board batteries.
Visit EquipmentWorld.com/info
REGULATE VOLTAGE
The Subaru SGX5000 generator has a 9.5-horsepower EX30 engine and features an automatic voltage regulator system.
• Delivers a maximum output of 4,900 watts
• Fuel tank holds 7 gallons
• Has a continuous run time of 9.4 hours at the rated load.
Visit EquipmentWorld.com/info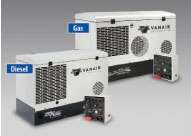 GAS OR DIESEL
Equipped with a two-generator system, Vanair's Air N Arc 300 power system can be mounted on a side-pack or behind the cab.
• Control panel can be remotely mounted in a side compartment
• Available in gas and diesel versions
• Combines a 40-cubic-feet-per-minute rotary screw compressor and 7-kilowatt generator.
Visit EquipmentWorld.com/info

POWER, LIGHT
The Doosan Infracore Portable Power L20, a combination light tower and mobile generator, powers a jobsite while providing up to 16 kilowatts of energy for other tools.
• 32-horsepower Mitsubishi diesel engine and 20-kilowatt generator
• Has four 1,000-watt, metal halide lamps
• Telescoping mast rotates 360 degrees and extends from 12 to 30 feet.
Visit EquipmentWorld.com/info
AUTOMATIC TENSIONING
Kaeser Compressors' 8 KVA generator option for their Mobilair compressor line is available in their M64 and M100 portable units.
• Has two 115-volt and two 230-volt, single-phase, fused outlets
• Features an automatic V-belt tensioning device
• Includes a command-mode switch.
Visit EquipmentWorld.com/info
ENGINE PROTECTION
Winco's WL18000VE portable generator has 15 kilowatts of continuous output and runs up to 10.5 hours.
• 31-horsepower Briggs & Stratton Vanguard valve engine with electric start
• Low-oil protection automatically stops engine if crankcase oil is low
• Includes a four-wheel, all-terrain dolly and lifting eye.
Visit EquipmentWorld.com/info
HALIDE LAMPS
The Chicago Pneumatic CPLT light tower features four metal, halide lamps of 1,000 watts each.
• Weighs 1,800 pounds and collapses to 182-by-48-by-66 inches for transport
• Lamps are powered by a Kohler LDW1003 three-cylinder, four-cycle, liquid-cooled, Tier 4A diesel engine
• Mast extends vertically up to 31 feet and can be rotated 360 degrees.
Visit EquipmentWorld.com/info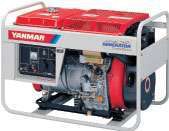 OPEN FRAME
The Yanmar diesel-driven YDG Series – YDG2700, YDG3700 and YDG5500 – have a maximum engine speed of 3,600 rpm.
• Operate at a decibel rating of 92, 93 and 96, respectively
• Feature and open-frame structure
• Weigh 141, 181 or 243 pounds.
Visit EquipmentWorld.com/info
POWER RANGE
Baldor Electric produces generators from 1 to 2,000 kilowatts that meet NEMA, NFPA110, CSA and UL standards.
• Offers industrial, portable generators from 3 to 11 kilowatts
• Mobile light towers provide light coverage for five to seven years
• Towables range from 25 to 500 volt-amperes.
Visit EquipmentWorld.com/info
VOLTAGE SWITCH
Magnum Products' MMG 175 Tier 4 Interim generator provides up to 153-kilowatts power output and more than 24 hours of run time at a full load.
• Powered by a John Deere PowerTech PVX6068H engine
• Has a lockable, three-position, voltage-selector switch
• Features remote start/stop capabilities.
Visit EquipmentWorld.com/info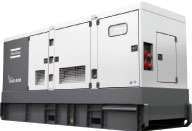 QUIET POWER
The Atlas Copco QAS 600 generator operates at 77 decibels at 60 hertz, making it efficient for noise-sensitive areas.
• Rated at 575 volt-amperes at 60 hertz
• Powered by a Volvo TAD 1641 GE diesel engine that drives a Leroy Somer alternator
• Housed in zinc-plated steel with a powder-coat finish.
Visit EquipmentWorld.com/info