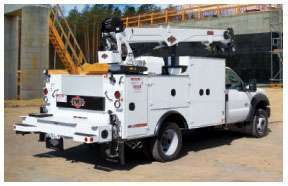 Field Service Trucks
Selecting a service crane
To pick the right service crane, start by asking yourself these questions: How much weight do I need to lift and at what distance? How often will the crane be used?
Capacity needs and the duty cycle should govern your crane selection.
Electric telescopic cranes
If your lifting needs are light and your duty cycle is intermittent, an electric telescopic crane could be the best option. Electric cranes typically range in capacity from 2,000 to 6,000 pounds and offer a lower-cost alternative. However, a hydraulic crane will typically be necessary to meet lifting needs greater than 6,000 pounds because the system cannot handle the electrical load requirements.
Hydraulic telescopic cranes
If the crane will be used regularly, a hydraulic telescopic crane is the right solution. Body-mounted hydraulic telescopic cranes offer a broad range of lift and reach capabilities to meet most field-service needs. Telescopic cranes for mechanics trucks are available with maximum lifting capacities ranging from 2,000 to 14,000 pounds.
Source: Iowa Mold Tooling (IMT)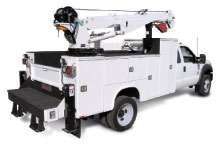 TRANSFER LIFT
Knapheide's mechanics trucks range from light (KMT-1) to medium (KMT-2) to heavy duty and severe applications (KMT-3).
• Crane body has torque-isolator crane support system that transfers lift into the full-length torsion box subframe, instead of side compartments
• Has hydraulic compressor with roller fairlead, FLR system and underbody air tank
• Body lengths available in 11, 13 or 14 feet.
Visit EquipmentWorld.com/info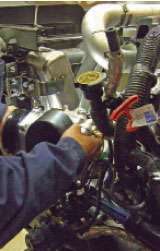 LOW PROFILE
VMAC's Underhood kit for the Class 4/5 International Terrastar has a VR70 air compressor system.
• Delivers 70 cubic feet per minute and up to 175 psi
• VR70 weighs 136 pounds
• Includes a low-profile, modulating high-flow inlet valve with air filter.
Visit EquipmentWorld.com/info

STEEL DESIGN
Ranging from a 16,000- to 70,000-foot-pound capacity, the Auto Crane Titan mechanics/work ready truck has double-paneled, galvanneal doors with internal stainless steel hinges.
• Made with heavy-duty steel using a single-piece, side-pack design with laser-cut door openings and radius corners
• Has a three-point latching system and adjustable gas shock door closers
• Bed is 12-gauge tread plate and includes six heavy-duty tie downs.
Visit EquipmentWorld.com/info

NO SWITCHING
The Miller Electric EnPak hydraulic tool control (HTC) allows simultaneous use of a truck's hydraulic crane and 5 or 8 gpm hydraulic tools without switching circuits.
• Has a 27-horsepower Kubota diesel engine
• HTC matches with auto start/stop feature and EnPower technology
• Accommodates 5, 8 or 10 gpm tools or two 5 gpm tools.
Visit EquipmentWorld.com/info
STORAGE CABINETS
The Service Trucks International 2352 Eagle Pro service body has 185 cubic feet of storage capacity.
• Features 23-inch-deep by 52-inch-tall cabinets
• Body has a 40,000-foot-pound crane rating and is available with manual or hydraulic outrigger packages
• Built to fit 16,000 to 19,500 GVW cab chassis.
Visit EquipmentWorld.com/info

NON-LUBE BEARINGS
The Utility Truck Equipment Manufacturing (UTEM) Skytel UTLI 41A/46A has a 540-degree boom rotation with an hourglass worm gear drive.
• Has a non-tracking, 30-inch insulation gap
• Features non-lube bearings at all points of boom movement
• Outer boom is high-strength steel, and inner boom is ovencured, epoxy-resin fiberglass.
Visit EquipmentWorld.com/info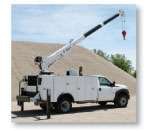 HEXAGONAL BOOM
The Stellar Industries Model 7621 44,000 foot-pound telescopic service crane reaches 21 feet using all hydraulically operated extensions.
• Lifts up to 7,500 pounds at 5 feet
• Designed with a hexagonal boom shape
• Uses a planetary winch system with a hydraulic/mechanical brake system for a 60-foot-per-minute winch speed.
Visit EquipmentWorld.com/info

E-COAT BODY
Omaha Standard Palfinger's mechanics bodies are totally immersed in electrocoat epoxy paint, and the doors are e-coated before being attached to the body.
• Hybrid substructure's design transfers crane loads directly to the outriggers and chassis
• Double-panel doors have full length and oversized hinges
• Divider trays and shelves are constructed from 16-gauge, bight-spangled galvanized steel.
Visit EquipmentWorld.com/info

PRESSURIZED COMPARTMENTS
Teamco's 14-foot heavy-duty mechanics truck is built completely of 10-gauge galvanneal.
• Compartments are pressurized and 60 inches high and 24 inches deep
• Has a 72,000 foot-pound crane tower
• Options include hydraulic compressors, welders and generators.
Visit EquipmentWorld.com/info

PROTECTED COMPARTMENTS
Warner Bodies' trucks are composed of A60 galvanneal steel, smooth aluminum and stainless steel materials.
• Have double-panel, 18-gauge doors
• Use automotive, bulb-style, clip-on rubber insulation backed up with a built-in rain gutter for compartments
• Hinging system features full-length, 5/16-inch stainless-steel hinge rods with stainless-steel hinge blocks.
Visit EquipmentWorld.com/info

MOUNTED STABILITY
The Iowa Mold Tooling (IMT) Dominator III truck body has a stabilizer mounted at the right front of the body that extends out and down.
• Uses high-intensity LED compartment lighting
• Features a multiplex electrical system with programmable logic for increased reliability
• Designed to feature the 12,000 model telescopic crane.
Visit EquipmentWorld.com/info