Light Towers and Gen Sets
By Lauren Heartsill Dowdle

ADDITIONAL OUTLETS
Wacker Neuson's LTN 6K light tower is a narrow-body model with a 6-kilowatt alternator. It has additional outlets with standard 1 x 120V 20A GFCI duplex receptacles and 1 x 120V/240V 30A twist lock. The model is available with a factory-installed, customized options program and features a 30-foot, adjustable tower that rotates 360 degrees.
Visit EquipmentWorld.com/info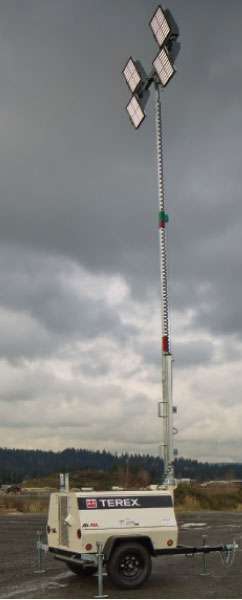 LED TOWER
Terex Aerial Work Platforms launched the first LED light tower with its AL 4L and 5L models. The LED towers provide up to 10 hours of run time and have instant on/off operation. These battery-powered units have a 30-foot extended height and 67- (4L) and 69-inch (5L) stow height.
Visit EquipmentWorld.com/info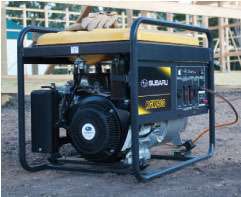 CONTROL VOLTAGE
Subaru's RGX7500 industrial generator delivers a maximum output of 7,500 watts (6,000-watt standard output rating). The unit has a 7.3-gallon-capacity fuel tank and 7.4 hours of continuous run time at the rated load. An automatic voltage regulator (AVR) system comes standard.
Visit EquipmentWorld.com/info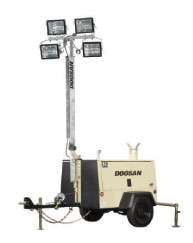 POWERFUL COMBINATION
Doosan's L20 combination light tower and mobile generator has a 32-horsepower Mitsubishi diesel engine and 20-kilowatt generator. It has four 1,000-watt, metal halide lamps mounted to a 360-degree rotating telescoping mast. The mast extends from 12 to 30 feet.
Visit EquipmentWorld.com/info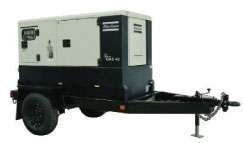 CONTROL PANEL
Atlas Copco's QAS 45 generator includes a multi-voltage selector switch and QC1002 digital control system. The instrument panel allows the key operating functions to be managed without opening the canopy. The generator has a 70-gallon fuel tank and a Zincor steel enclosure.
Visit EquipmentWorld.com/info

INDEPENDENT POWER
Miller Electric's Big Blue 700 Duo Pro, a diesel engine-driven welder and AC generator, has two independent welding arcs up to 400 amps. It also has two independent generator outputs. The Big Blue 700 Duo Pro is 11 percent smaller and 15 percent lighter than Miller's previous dual-operator system in this size class.
Visit EquipmentWorld.com/info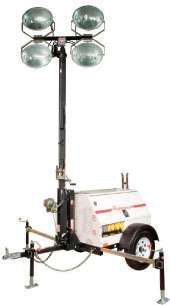 DIGITAL CONTROLLER
Magnum Power Products' MMG 175 generator is powered by a John Deere PowerTech PVX 6068H Tier 4 Interim engine, delivering 217 horsepower. The unit provides up to 153 kilowatts of power output and has a 342-gallon capacity. It features a Magnum Digital Controller (MDC) with a fuel level display, history log access and remote start/stop capabilities.
Visit EquipmentWorld.com/info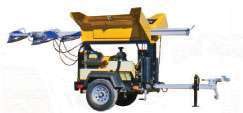 DOWN, UP
The Allmand Bros. Night-Light Pro II light tower is available in both vertical and traditional "lay down" tower models. The lay-down model has a self-locking, spring-loaded tower latch. The units feature molded poly "gull-wing" style doors and a four-point stabilizer system.
Visit EquipmentWorld.com/info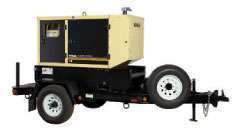 SOLID HOUSING
Kohler's 40REOZT towable generator has a Leroy Somer single-bearing alternator with insulation class H. With galvanized steel, sound-attenuated housing, the generator comes with a battery, battery rack and cables. The engine has a water-separator fuel filter.
Visit EquipmentWorld.com/info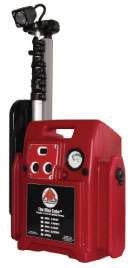 DUAL LAMPHEAD
Air Systems' Mini-Cube portable area lighting system uses an internal 33-amp AGM battery pack. Its water- and dust-tight 800 Lumen LED head is multi-directional and is on an 8-foot retractable aluminum pole. The Mini-Cube is available with a single or dual lamphead.
Visit EquipmentWorld.com/info
JUMP START
Honda Power Equipment's EB5000 is powered by the iGX390 engine and incorporates Honda's iAVR power technology. The 5,000-watt unit provides 7,000 watts for 10 seconds to start larger equipment, and it runs up to 11.2 hours. With full GFCI protection, the EB5000 has a 120/240V selector switch.
Visit EquipmentWorld.com/info
HYDRAULICALLY DRIVEN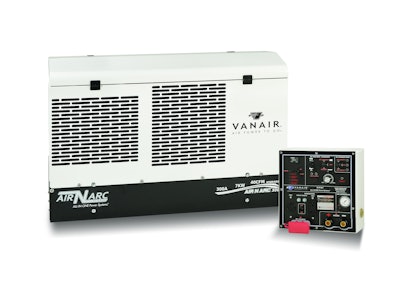 Vanair's Air N Arc 300H includes a 40-cfm rotary screw, 300-amp welder, 300-amp 12V charge and 12V/24V boost and 7 kilowatt generator. The unit weighs 595 pounds and is hydraulically driven. The Air N Arc 300H allows dual functionality, such as welding and a generator for lights.
Visit EquipmentWorld.com/info