Bargain bids
Cash-in-advance, as-is, where-is equipment
By Lauren Heartsill Dowdle
When buying new equipment isn't in the budget, contractors can bid on as-is items through this Houston, Texas-based company.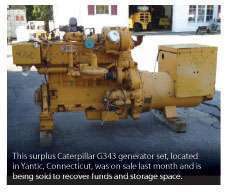 Salvex works with bankruptcy departments, insurance companies, transportation/storage facilities, manufacturers and large corporations that have end-of-life or under-used assets for sale. The company creates listings for the items, showcases them with photos and supporting documents and e-mails the information to interested bidders.
"We search for buyers who have cash available and the resources to purchase and pick up the equipment quickly. This avoids storage costs or the expense of moving and consolidating the items like traditional auctioneers," says Charlie Wilson, who founded Salvex in 2003. "These sales are cash-in-advance and as-is, where-is."
Salvex sells a variety of items, including construction equipment such as heavy equipment, steel products and tools. "Most everything is distressed, used or damaged in some way," he says. Buyers include construction companies, brokers, exporters and individuals.
For example, if a truck transporting a dozer flips over, the company works with the insurance company to advertise this equipment online and contact potential buyers who are searching for a bargain. They would also research traditional buyers in the state and may call and advertise on

local websites to offer exposure to the right markets. Each listing is assigned a trader who monitors the sale, answers questions and helps with the closing.
With almost 90 percent of Savlex's sales going overseas, the company began focusing on emerging markets such as South America, India, Africa, Eastern Europe, the Middle East and Asia when the recession hit in 2008. "The result was a diverse buyer base that has funds to spend and is interested in equipment and materials from the United States that are discounted," Wilson says.
BRIEFS
JLG debuts online service app
JLG Industries has developed a free mobile app that gives its Online Express customers the ability to scan a machine's bar code number and instantly receive machine data, including in-service dates, engine data, parts lists and safety bulletins. Customers can also view manuals, research pricing and availability, build orders and check order status. The app can be downloaded from the iTunes store and works on iPhone and iPad.
Sany starts North America excavator production
Sany America assembled its first excavator at the company's Peachtree City, Georgia, plant, a 21.5-metric-ton SY215. In addition to excavators, Sany markets concrete pump trucks, port machinery, rough terrain cranes and crawler cranes in North America. Last fall, Sany announced it will build a $25 million research and development center alongside its 400,000-square-foot corporate headquarters and manufacturing facility in Georgia.
FMI predicts growth
Construction consultant FMI's first- quarter 2012 Construction Outlook Report shows a 5 percent increase over 2011 for total construction put in place, or $826.3 billion. For nonresidential construction, FMI projects a 4 percent increase in nonresidential buildings for 2012, topping $341 billion, with slightly higher growth in 2013 to $361 billion.
Cat expands South Carolina plant
Caterpillar will expand its manufacturing facility in Sumter, South Carolina, that will nearly triple the square footage. The plant currently produces small hydraulic cylinders used in a variety of Cat products. The additional capacity will bring the production of large hydraulic cylinders from the company's Joliet, Illinois, facility to Sumter. The $20 million expansion plan includes an additional 170,000 square feet, bringing the Sumter facility's total footprint to approximately 275,000 square feet once complete.
ABC chooses its top contractor
The Associated Builders and Contractors has named Pennsylvania-based American Infrastructure the association's Contractor of the Year for 2011. The firm, which builds roads and bridges, has been involved with ABC since 1972.