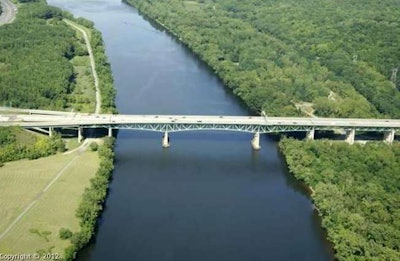 Improvements to save the Patroon Island Bridge, which began in 2013, have been completed, Time Warner Cable News reports.
Each day more than 70,000 motorists cross the Hudson River on the Interstate 90 bridge to travel between Albany and Rensselaer Counties. The New York Department of Transportation (NYDOT) called it one of the largest road construction projects in Upstate New York history.
"It cost $148 million, and I am proud to tell you it was delivered on time and on budget," New York Department of Transportation Commissioner Matthew Driscoll told the news agency. "This was a complex project with a lot of moving parts."
The work was funded by the NY Works program, which has a goal of improving aging bridges in the state. Before settling on overhauling the bridge to bring it up to date, state officials considered replacing the bridge altogether. "The conversation always focused on building a new bridge and replacing the bridge, which would have cost hundreds of millions of dollars, far exceeding the work that was accomplished here," Assemblyman John McDonald (D – Cohoes) told the news agency.
Driscoll said that, because most of the work was being done at night and on weekends, not only was it done on time and on budget, but they did it without ever permanently closing the bridge.
"The approach, while it took longer, really had very few interruptions," Capital Region Chamber CEO Mark Eagan told the news agency.
"This bridge not only has an impact on Albany County and Rensselaer County, but an impact on the economy, the impact on quality of life," Albany County Executive Dan McCoy told the news agency.
Driscoll told the news agency that approximately $27 billion was allocated to NYDOT over the next five years for infrastructure upgrades across the state. "Things are aging out, but we want to be site-specific when we look at critical infrastructure that supports an economy and a region," he added. "This is a great example of a bridge that does just that."