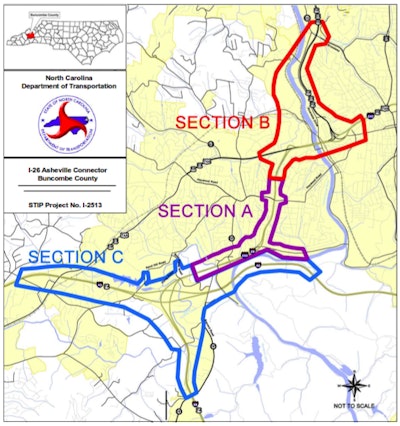 The North Carolina Department of Transportation (NCDOT) can now move ahead with its Interstate 26 Connector project near Asheville after it selected the "recommended least environmentally damaging routes" for three sections of the seven-mile route.
"We have taken a huge step toward the realization of the I-26 Connector, which is of vital importance to the Western North Carolina region and so many places between the coast in South Carolina up into the Ohio Valley region," says Jay Swain, NCDOT Division 13 Engineer. "This project will greatly enhance all aspects of our economy including the booming tourism industry, as well as increase safety for all motorists in the area."
The three sections are identified as Section A, Section B and Section C:
Section A would expand the existing I-240 four-lane roadway from the I-26/I-240 interchange to the I-240 interchange at Patton Avenue.
Section B would reroute the interstate from the Patton Avenue interchange to across the French Broad River and connect with U.S. 19/23/70.
Section C would include upgrades (additional through lanes) to interchanges at Smokey Park Highway, I-26/I-240 and Brevard Road.
"We have listened to the community's input, held extensive meetings with a vast array of people and agencies on one of the most important transportation decisions our community has faced," says David Brown, NCDOT Division 13 Board of Transportation member. "I am pleased to have arrived at a very important consensus that will help us move forward with such a grand undertaking."
More details on the I-26 Connector Environmental Impact Statement are available here.