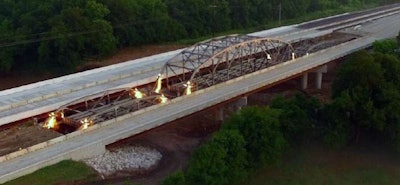 On May 29, the Oklahoma Department of Transportation (ODOT) closed U.S. 169 to implode the last section of an old bridge over Bird Creek as part of a $45 million major construction project in Owasso, Fox 25 News reports. Some of the lanes are still closed for the ongoing construction project.
"We're making really good progress on this project," ODOT spokesperson Kenna Carmon told the news agency.
Removal of this last section of bridge makes room for a six-lane expansion, stretching from 56th Street North to 66th Street North, to accommodate an increase in traffic in the area. The other section of the bridge was imploded in December 2015 following the project's start in July.
"It's been like a big puzzle for us," Carmon told the news agency. "We have to remove a little bit here and there in order to put it all back together. So we're getting really good progress right now with getting this last bit of the old out and being able to put the new in place."
Carmon told the news agency that construction has been on schedule thus far, and that ODOT expects to complete the project by Spring 2017.