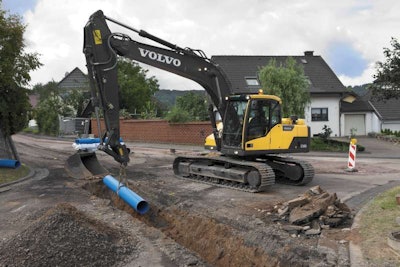 A conversion kit that will allow Volvo customers to resell their Tier 4 Interim machines outside of highly regulated countries will be available in the second quarter 2014, Volvo Construction Equipment announced.
Tier 4 engines require the use of ultra low sulfur fuel, which is not available in much of the world. This, in turn, has caused concerns about resale of U.S. Tier 4 machines, many of which end up in less regulated areas, particularly Mexico and South America.
According to Volvo, the kit will protect Volvo engines from the detrimental effects of high sulfur fuels.
In a solution announced at the Bauma trade show in April, rival JCB said it would address this dilemma by not using a DPF in its Tier 4 Final engines and using dealers to recalibrate engine software.
Caterpillar earthmoving vice president Kurt Weiss addressed Cat's approach briefly in remarks during an editorial roundtable at the show, stating the company was "working on a process."
In the Volvo announcement, Alan Berger, vice president, product platforms used, said, "We want to assure customers there will still be a market for Tier 4i/State IIIb-compliant machines abroad. Now with the conversion kit, Volvo machines can be sold in these markets, which was not previously possible."