Many have wondered aloud whether or not 2013 would be the "Year of the Diesel." Renewed interest in the fuel, forecasted by ExxonMobil to become the world's leading transportation fuel by 2020, is clear. And new data from R.L. Polk and Company for Diesel Technology Forum illustrates that point even further.
From 2010 to 2012, the registration of diesel cars and SUVs in the U.S. jumped 24 percent, according to the Polk data. In 2012 there were 796,794 diesel cars and SUVs registered. Of course, at less than 1 percent, diesel cars and SUVs still make up and extremely small fraction of the 176,025,503 total registered as of 2012.
Diesel pickup truck registrations saw a more modest gain in that same time period rising 2.7 percent to 5,615,368.
The interest in diesel is high because fuel economy has become priority number one for most prospective car- and truck-buyers. However, though these consumers are looking to save money at the pump, diesel prices are still about 10-percent higher on average than gasoline. And don't forget the upfront cost. Choosing a car or truck with diesel adds between $5,000 and $10,000 to the price tag of a vehicle.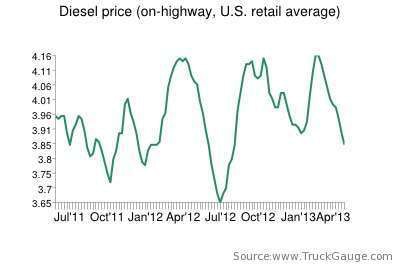 However, diesel prices are dropping at the pump. According to our sister site Overdrive, diesel prices have now fallen nine straight weeks and are at their lowest point since mid-summer 2012.
And, more importantly, diesel prices are 22.2 cents cheaper than they were at the same time last year.
Automakers are taking note of the trend as well. While Volkswagen has been offering diesel options for years (the Jetta TDI gets an attractive 42 mpg highway), the new Jeep Grand Cherokee will have a diesel option as will the latest Chevrolet Cruze, Mazda 6, and Ram 1500. Porsche, Audi, BMW and Mercedes-Benz have things in the works as well.
Diesel Technology Forum sees this as a trend that will continue saying that diesel sales will increase in the U.S. as the available number of diesel models available here is expected to double in the next two years.
"Some analysts predict diesel sales will reach 10 percent of the U.S. market by 2020," said Allen Schaeffer, the Executive Director of DTF. "In addition, clean diesel vehicle sales are also projected to increase as the U.S. moves toward increasing fuel efficiency standards to 54.5 mpg by 2025," Schaeffer said.