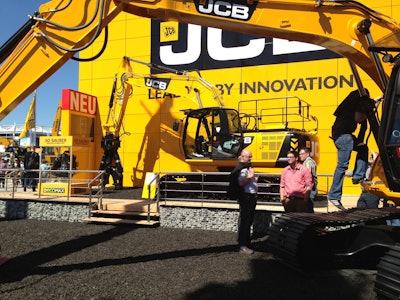 JCB says its Tier 4 Final Ecomax engines will offer a "one-can" solution, avoiding the use of both a diesel particulate filter (DPF) and a diesel oxidation catalyst (DOC).
"The SCR unit is so compact that it can in many cases take the place of a current exhaust system and fit into existing machine configurations," said Tim Burnhope, JCB's chief innovation and growth officer, speaking at a press event on the opening day of the Bauma trade show taking place in Munich, Germany this week.
JCB also claims its Tier 4 Final engines will require nearly half of the ratio of urea to diesel—around 3 percent—compared to current SCR engines on the market. The Tier 4 Final engines will also improve fuel savings by an additional 5 percent, on top of the 10 percent savings the Ecomax Tier 4 Interim engines offered, says the company.
As with the Tier 4 Interim engines, the Tier 4 Final engines can be recalibrated by an authorized JCB dealer to be sold in less regulated countries. These countries have higher amounts of sulfur in their fuel, which are detrimental to Tier 4 engines.
"We believe we have a unique capability with our SCR system," Burnhope says. "We are using a novel combination of known technologies."
In addition to the Ecomax announcement, JCB introduced a slate of new machines, including 3CX and 4CX backhoes, the JS220 excavator, the VM 117D and VM137D soil compactors and three new compact excavators at the show.
"We saw 28 percent growth in North America in 2012," Burnhope says. "We are getting the benefit of a great range of products, plus our skid steers are really doing well there."