Make quick work of a range of jobs with the machines featured in this month's land clearing and site prep section. With everything from grapples to mulchers to shredders, you can find the tool to get the job done.
Easy access
Eliminate windrows and washboarding with Roadrunner's grading blade. A low mounting plate facilitates cab entry, and heat-treated wear pads extend the life of skid bars. An optional serrated cutting edge offers increased performance for demanding applications. Grading blades are available for tractors and skid steers. Tractor-mounted models feature a three-point hitch, dual blade configuration and independent blade adjustments on each side. Skid-mounted blades offer a three point hitch or universal skid steer mounting plate, dual blade configuration and independent blade adjustments.
Visit EquipmentWorld.com/info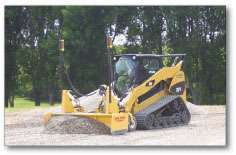 Tight space ace
The Link-Belt 75 Spin Ace minimum swing radius excavator digs and lifts in tight spaces and congested job areas with a 4-foot, 1-inch tail swing. For more efficient power and faster cycle time, the 75 Spin Ace comes with a 54-horsepower engine at 2,000 rotations per minute that meets EPA Interim Tier 4A emissions regulations. Weighing in at 17,461 pounds, the 75 Spin Ace comes standard with a blade attachment and offers an optional offset arm for in-line digging.
Visit EquipmentWorld.com/info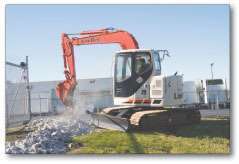 Accurate and adaptable
HitchDoc's Dual Dozer provides accuracy and adaptability with its laser-controlled grading box. The attachment's mount allows the blade to operate independently from the skid steer and holds its grade by receiving laser signals from each sensor simultaneously. Its hydraulic cylinders maintain grade level and subgrade accuracy within 1/8 inch. The Dual Dozer attaches to a tractor three-point hitch and most skid steer models. It comes standard with two blades for forward and reverse grading.
Visit EquipmentWorld.com/info
Carbide crushers
The PTH stone and rock crusher attachment uses multi-use carbide-tipped hammers to crush rock, stone, concrete, asphalt and more. The crusher features dual side belt drive, a fully armored rotor and crushing chamber and a hydraulically controlled rear hood. The stone and rock crusher automatically cushions blows in the crusher drive to protect the drive line, and its large tapered roller bearings and huge side drives protect the attachment during extreme use. A 140-horsepower engine is required for use, and the crusher offers a working width of 98.8 inches and working depth of 12.8 inches.
Visit EquipmentWorld.com/info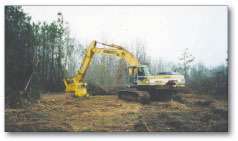 Self-powered shredder
Sneller Machine's self-powered brush shredders remove trees and brush and require no hydraulic modifications to excavators. Shredders feature a 60-inch spiral-designed drum with triple bearing and teeth that grind standing trees, sweeps brush and cuts material from the top down. A Cummins 275-, 170- or 60-horsepower engine provides direct power to the cutting head. Shredders weigh between 2,500 pounds and 8,200 pounds and are capable of clearing up to 10 acres per day.
Visit EquipmentWorld.com/info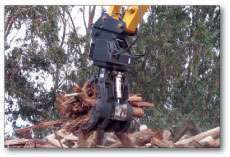 Versatile grapple
Multiple jaw configurations make Rotobec Power Attachment grapples flexible during demolition work, material compaction and feeding grinders. The RPA grapples can be changed to rake/rake, rake/bucket or bucket/bucket configurations to make demolition easier. In feeding grinders, the grapple's continuous positioned rotation reduces the excavator's movement, reducing both fuel consumption and maintenance costs.
Visit EquipmentWorld.com/info
Tread with traction
Aftermarket non-metal core rubber tracks from Rubbertrax offer a lightweight tread with serious traction for Caterpillar MTL or ASV undercarriages. The low-impact design uses the strength and flexibility of polyester cables for lightweight track flotation while a straight bar tread pattern and deeper lugs give extra pushing power when clearing a site.
Visit EquipmentWorld.com/info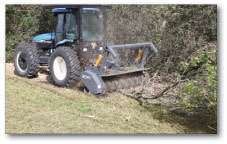 Extreme duty machine
Loftness' Tree Hammer 360 can be front or rear mounted on 80- to 160-horsepower tractors. The all-in-one shredder, mulcher and mower features an 80-inch cutting width and 24 7-pound hammers. An optional rear mulching door and tree pusher bar enables mulching of large standing trees, and an optional shear bar allows finer mulch production while preventing jams in the cutting chamber. The Tree Hammer attaches to any tractor equipped with a three-point hitch and PTO.
Visit EquipmentWorld.com/info
Powerful preparation
The Harley M Series Power Box Rake from Paladin Construction teams with skid steers to level and prepare soil for seeding. Six M-series models with 4- to 6-foot-wide rollers and specially-shaped carbide teeth release the optimal amount of moisture from the soil. A rugged Rhino-Hide barrier adjusts to allow operators to choose the amount of materials left in the seed bed. Available in fixed, manual and hydraulic models, the box rake enables easy windrowing through removable endplates on both sides of the rake. Its dual, independently self-adjusting gauge wheels contour to the ground and provide flexibility for an even cut.
Visit EquipmentWorld.com/info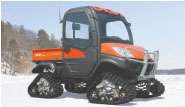 Rough terrain tracks
Mattracks expanded its LiteFoot ATV track system line to include the LiteFootXL and the LiteFootHD. Built for work and play, the track systems offer durability in mud, snow, sand, swamps and rough terrain. The LiteFootXL provides a durable structural steel frame and limited moving parts for the budget-conscious user. The LiteFootHD keeps pace with bigger, faster and heavier ATVs with heavy duty components, treads, a beefed up suspension, steel drive sprocket and metal hub wheels. Available in both the XT and M3 tread options, the LiteFootHD tracks give vehicles a 4,200-pound gross weight rating.
Visit EquipmentWorld.com/info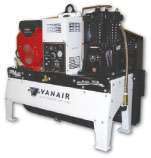 Space saver
Vanair's Air N Arc all-in-one power systems welder/generator/air compressor/battery booster combination units eliminate the need for a separate welder and compressor, reducing weight and saving space on work trucks. Designed with a two-generator system, Air N Arc units allow the user to weld and use AC power simultaneously while using diesel or gas engines. Remote oil drains, easy access to air filters and tank drains and self cooling and cleaning link belts ensure simplified maintenance. Units are available with 20 to 40 cfm and up to 175 psi and 5 to 10 kilowatts of AC power.
Visit EquipmentWorld.com/info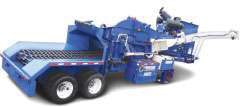 High-volume chipper
Peterson's Tier 4-ready 5900EL whole tree chipper features an extended 11-foot feed deck for high-volume chipping operations. The 5900EL's feed throat accepts trees or smaller stems up to 23 inches in diameter and produces 60 to 100 tons of chips. The chipper features PT Tech hydraulic clutch, direct drive for internal feed rolls and a totally enclosed Caterpillar C18 engine. It comes with a three-knife disc and a heavy-duty 66-inch-diameter, 4.75-inch-thick chipper disc with a replaceable ½-inch-thick wear plate.
Visit EquipmentWorld.com/info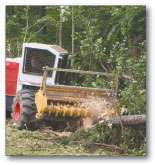 Quality cutting
Easily cut and mulch material up to 12 inches in diameter with the Midiforst dt forestry mulcher from Seppi M. Five rows of forged re-cutter bars and a 45-millimeter hammer V-formation rotor ensures quality cuts. With cutting widths up to 98 inches, the mulcher takes up to 290 horsepower when driven hydraulically. Options include swing hammer or fixed knife rotors with tungsten carbide tips, hydraulic guard frames with rakes and PTO shaft. The mulcher has a double drive, with a door that protects transmission components from dirt and dust.
Visit EquipmentWorld.com/info
Smooth spade
Dig up, carry and place trees and debris with the FFC Tree Spade from Paladin Construction. With no moving parts, this spade easily lifts and moves balled trees, boulders, stumps and bushes. The 3/8-inch-thick rounded spade features sharp tapered edges that dig a perfect hole effortlessly. Available in 36-, 40-, 44- and 48-inch ball sizes, the tree spade's round configuration makes transporting and placing trees easy.
Visit EquipmentWorld.com/info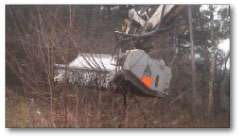 Mini mulcher
FAE designed a new line of mini excavator heads for 1.5- to 5-ton carriers. The PML/HY heads offer three cutting widths of 25, 33 and 41 inches. The PMM/HY heads are available in working widths of 46, 55 and 65 inches. The PML/EX mini excavator heads come in widths of 45, 55 and 65 inches. All mini heads feature rotors with off-set patterns for high production and better fuel economy. Each head uses carbide-tipped teeth, and operators can choose from six tooth varieties for any type of application.
Visit EquipmentWorld.com/info

Easy-to-turn trailer
The Ultima series of trailers from Rogers Brothers allows operators to turn easily in tight spaces with its shorter design. The detachable gooseneck lowbed trailers are half the deck length of traditional lowbed trailers, making loading and moving easier. Available in 35-, 50- and 55-tons models, the Ultima series of trailers are fully customizable to meet customer specifications.
Visit EquipmentWorld.com/info
Speedy sensors
Topcon's 3D-MC² dozer machine control technology provides for more than 100 blade position checks per second and is four times faster than the average dozer, according to the company. The 3D-MC² combines hydraulic control software with inertial sensor technology to improve productivity, and it works to make cuts at the same speed and smoothness of a grader.
Visit EquipmentWorld.com/info
Stable grader
The GR series pull-type graders from Hoelscher Commercial Products offer blade stability and complete operator visibility of the cutting edge. Power tilt allows on-the-go adjustment of the moldboard, giving the operator complete control of the desired grade profile. The tractor's three-point hitch maintains the blade's height. Optional spill guards on both ends of the moldboard can be set to prevent material from spilling over the leading edge of the blade or allow the unit to operate as a box scraper.
Visit EquipmentWorld.com/info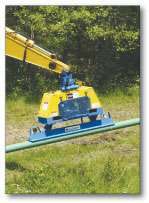 Lightweight lifter
The MC3 Miniworx lifter from Vacuworx weighs 900 pounds, offering operators a lightweight lifter on the jobsite. The self-contained lifter attaches to medium size host machines, compact excavators, skid steer loaders, backhoes and more. With a 6,600-pound lifting capacity, the MC3 lifts and moves steel plates, concrete slab landscape rock, steel and poly pipe and other types of materials.
Visit EquipmentWorld.com/info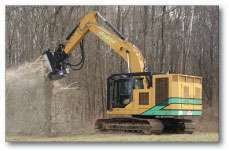 Increase grinding power
The ProGrind excavator-mounted system grinder Series 50 cuts large trees and small brush on any terrain. A 440-horsepower Cat C-13 engine supplies power to the cutter head, which can change positions while the machine is in operation. A rotator can easily be attached to the cutter head to meet the operator's grinding needs. The Series 50 grinder uses a 50- by 26-inch smooth drum head with fixed carbide teeth, drive belt system and hydraulic motor drive.
Visit EquipmentWorld.com/info
Customize your side dumper
The S2-4034 side dump-trailer from Smith Manufacturing features a 39-foot, 5-inch long trailer with a 34-foot tub for hauling materials on a 204-inch wheelbase tractor. The two-axle trailer can be ordered with a round bottom tub or v-shaped tub according to user specifications. The side dump comes with spherical bearing type hinges and can be painted according to operator preferences. Minimum tractor hydraulic requirements include 25 to 30 gpm, 2,200 to 2,400 psi and a 10-gallon reservoir.
Visit EquipmentWorld.com/info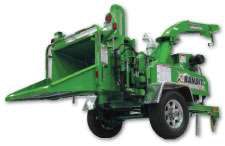 Compact chipper
Experience high performance in a lightweight unit with Bandit's Model 990XP, a drum chipper designed for municipalities, rental and tree service companies. The 990XP is similar to the Model 1090XP, but features a smaller 24-inch-diameter drum, discharge transition and compact design. Engine options up to 86 horsepower are available for the chipper.
Visit EquipmentWorld.com/info
Small, precise mulcher
Handle large clearing jobs with a smaller machine with Advanced Forest Equipment's RDM mulching attachment for compact excavators. Operable on carriers with a mininum 16-gpm, 2,000-psi hydraulic flow, the RDM mulcher performs in demanding field conditions. A hydraulic multiplier increases torque for heavy duty use. EW
Visit EquipmentWorld.com/info