Signs of a rebound in Europe's big show, despite the travel problems
By Therese Dunphy and Tom Jackson
Even though the volcano in Iceland grounded almost everyone in North America, the big European equipment show Bauma was held April 19-25, and drew a large international audience who saw new products from manufacturers around the globe.
Those who made it to Munich, Germany, noted an upbeat mood among both the exhibitors and attendees. "The mood in the industry shows that, in Europe, the bottom of the cycle is now behind us. Confidence has returned," said Ralf Wezel, secretary-general of CECE, the Committee for European Construction Equipment.
Here is a look at some of the new products introduced at Bauma:
Improved cab, fuel efficiency
Caterpillar unveiled an updated version of its popular 988H wheel loader. The new unit blends its predecessor's qualities with a fuel-efficiency increase of up to 10 percent. Machine features include the 555-gross-horsepower C18 ACERT engine, a 12.5-ton payload, and bucket sizes ranging from 8.2 to 10.0 cubic yards. The Positive Flow Control hydraulic system uses a new electronically-managed, variable-displacement pump that works with an integrated solenoid valve with force feedback to manage oil flow.
Visit EquipmentWorld.com/info
Centrifugal pumps
Godwin Pumps marked its 40th anniversary with the introduction of two new models, the HL260M and CD500M Dri-Prime pumps. The first is a 10-inch by 8-inch automatic priming pump that offers solids-handling up to 2 inches in diameter and maximum flows of 4,760 gallons per minute. The larger unit is 24 inches by 18 inches and can handle solids up to 4 inches in diameter with flow rates up to 13,500 gallons per minute.
Visit EquipmentWorld.com/info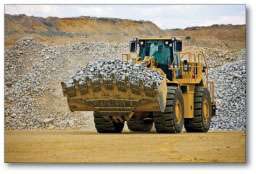 Dowel bar attachment
GOMACO's new IDBI attachment provides dowel bar insertion for transverse joints, and is powered by its own Caterpillar C4.4 engine, so as not to siphon off power or hydraulic pressure. It electronically connects to the main machine via CAN-BUS wiring for paver-to-attachment communication. Adjustable height bar extractors let operators quickly and easily change the setup for different bars and insertion requirements, and the IDBI tray is stronger and more compact, making width changes easier. The attachment is available for all new four-track GOMACO slipform paver models.
Visit EquipmentWorld.com/info
Smart compactor conserves fuel
Volvo's SD160DX/F single-drum soil compactor offers an optional smart power mode that optimizes engine and hydraulic output and cooling fan speed to match job requirements. This reduces wear and tear on the engine, lowers emissions and boosts fuel economy. The dual-amplitude compactor has two preset frequencies and five optional settings. It weighs 37,730 pounds and sports an 84-inch drum width.
Visit EquipmentWorld.com/info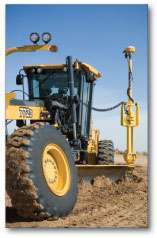 New suite of GPS tools
Trimble announced a number of additions to its Connected Site suite of products for heavy and highway construction, including a new portfolio of GNSS receivers. The SPS882 smart receiver and MS992 smart antenna support a range of satellite signals for improved positioning performance even in challenging terrain. For road builders, the PCS900 paving control system enables screed positions to be automated. The new SCS900 advanced measurement module expands the functionality of the digital measuring system. On the software side, there is new data prep and takeoff modules and TCA1 and SCS700 site controller software to enable more of the crew to work with GPS site measurement tools. The company also introduced a telematics system – VisionLink Fleet and Asset Management Solutions.
Visit EquipmentWorld.com/info
Expanded telescopic handler range
JCB added the compact 527-5B Loadall and high-capacity 550-80 Loadall to its telescopic handler range. The compact unit is 6 feet, 6 inches, both wide and high, allowing use in work zones with restricted access. It has a maximum lift capacity of 6,000 pounds and a lift height of more than 19 feet. The high-capacity telescopic handler is designed for bulk handling operations and has a lift height of 26 feet and a maximum lifting capacity of 11,000 pounds. Designed to work well with forks or in shovel configuration, the unit has the capacity to operate with 4.5-cubic-yard buckets.
Visit EquipmentWorld.com/info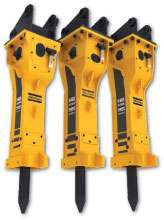 Heavy hydraulic breakers
Atlas Copco introduced three new hydraulic breakers with PowerAdapt and optimized power-to-weight ratio. The HB 2000, with a service weight of 2,000 kilograms or about 4,400 pounds, offers 10-percent more power than its predecessor, the HB 200. The new HB 3100 and HB 4700 deliver 5- and 13-percent more power than their respective predecessor models. By developing and building attachments with an improved power-to-weight ratio, the company says the same performance can be achieved with a smaller attachment and carrier unit, thereby reducing capital and maintenance costs. An improved guide system is said to improve stability while a new retaining bar provides additional protection in the lower part of the hydraulic breaker, which is subject to greater wear and tear.
Visit EquipmentWorld.com/info
Tier 4 engines at Bauma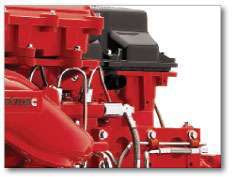 The pressure's on
Cummins debuted the QSX11.9 and QSX15 heavy-duty engine duo featuring its proprietary Xtra-High Pressure Injection (XPI) fuel system and a variable-geometry turbocharger. The 11.9-liter and 15-liter QSX engines are supplied as fully-integrated air-intake-to-exhaust aftertreatment systems to meet 2011 EPA Tier 4 Interim/EU Stage III B regulations. The engines use a Cummins particulate filter designed to reduce particulate matter emissions by more than 90 percent and a cooled exhaust gas recirculation system claimed to reduce NOx emissions by 45 percent. The engines are additionally said to lower operating costs, with up to 5-percent improved fuel efficiency compared with Tier 3 models depending on the duty cycle.
Visit EquipmentWorld.com/info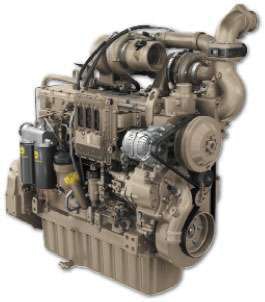 Different turbochargers
John Deere Power Systems displayed its entire Interim Tier 4/Stage III B diesel engine lineup, and announced engine models and power ranges. For engines 75 horsepower and above, Deere will use its PowerTech Plus Tier 3/Stage III A in-line, four- and six-cylinder engine platform – which includes cooled exhaust gas recirculation for NOx control – and add an exhaust filter for reducing particulate matter. Engines between 75 and 173 horsepower will be available in 4.5L and 6.8L displacements, and will be equipped with either a wastegate or variable geometry turbocharger depending on engine size. Engine models 174 horsepower and above include the 6.8L, 9.0L, and 13.5L displacement models. John Deere opted not to use selective catalytic reduction, and noted that it believes its cooled EGR and exhaust filter approach provides OEMs and end-users with "a proven solution with the best total fluid economy."
Visit EquipmentWorld.com/info
ECU keeps it clean
According to Volvo, meeting the 2011 off- road emissions regulations will require a systems approach involving more than just the engine alone. Its new generation of Volvo-Advanced Combustion Technology (V-ACT) engines feature ultra high pressure variable fuel injection, super efficient cooled exhaust gas recirculation, precise control of turbochargers, a new engine control unit and integrated exhaust aftertreatment with a particulate filter and thermal regenerator. The ECU controls the EGR mix and maintains performance and fuel economy.
Visit EquipmentWorld.com/info