By Amy Materson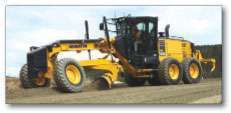 MASSIVE MACHINE
Komatsu America's GD655-5 grader provides additional stability by combining a new powertrain design that positions the engine at the rear of the machine with increased weight on the front axle. The GD655-5 has a 218-horsepower Tier 3 Komatsu engine and a standard configuration weight of 35,351 pounds. The engine's three-stage system offers a choice of economy or power mode, boosting power while reducing fuel consumption by 20 percent compared to the previous model. A dual mode power shift transmission has both a direct drive and lockup torque converter mode, with an anti-stall mode for direct drive. Large service doors, easy-to-read monitor and a hydraulically driven reversible fan help simplify maintenance. The cab is 21 percent larger than its predecessor, has a 74-decibel noise level and includes as standard a rear window defrost, radio and tinted windows with intermittent wipers. The cab also features a hexangular shape that improves visibility by eliminating the machine's front corner pillars.
Visit EquipmentWorld.com/info
CONVENIENT COMPACT
Bobcat's 324 1.5-ton conventional tail swing excavator has an undercarriage that retracts from 53.7 to 38.6 inches wide. Powered by a a 13.9-horsepower engine, the machine has two travel speed ranges and a torque limiting piston pump that senses hydraulic loads. The 324, which has an overall height of 85.5 inches, has a 14-foot reach at ground level, 8-foot 8-inch dump height clearance and 8-foot 6-inch maximum dig depth. The boom cylinder is attached to the top of the lightweight, durable boom to protect it from damage.
Visit EquipmentWorld.com/info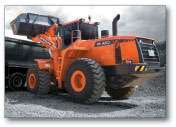 SIMPLE TO SERVICE
Doosan's DL420 articulated wheel loader has a 5.2-cubic-yard bucket capacity and offers a 47,210-pound bucket breakout force for higher stripping force when working in hard material. The unit has a 39,432-pound static tipping loading and 14-foot 3-inch height at bucket pivot point. The DL420 features a boost in power over the previous model, the DL400, with a six-cylinder turbocharged Cummins engine that delivers 280 horsepower at 2,000 rpm. The electronically controlled engine offers a maximum torque of 1,070 foot-pounds at 1,400 rpm. The DL420 offers a choice of two working modes to allow the operator to minimize fuel usage. An integrated monitoring system displays service interval and fault code information, and enables the operator to tune the transmission without a mechanic.
Visit EquipmentWorld.com/info
MOBILE MIXER
Mix and pump concrete right on the jobsite with the MixerPump from Cemen Tech and Reed. A combined volumetric concrete mixer and concrete pump, the MixerPump can pump a range of mixes such as pea-gravel, ¾-inch blend, 1-inch big rock and low slump shotcrete mixes. For large jobs, a loader can be used to fill the bins for continuous batching and pumping of up to 23 cubic meters per hour. The pump quickly attaches and disconnects, and a single source powers both the mixer and the pump.
Visit EquipmentWorld.com/info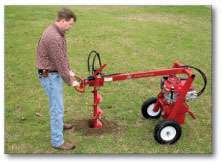 EASY OPERATION
Drill in tight spaces with Little Beaver's NTV11H earth drill, which has an offset handle to allow the operator to work next to buildings, walls and fences. The NTV11H is a one-man unit, and can be separated into two components for easy loading and transport. Fingertip control for forward and reverse auger rotation simplifies operation, and an auger lock facilitates moving the unit around the jobsite.
Visit EquipmentWorld.com/info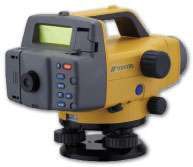 ERROR ELIMINATOR
Reduce eye strain while eliminating reading errors with Topcon's DL-500 digital level's Wave-and-Read technology, which allows movement of the staff back and forth instead of remaining plumb. The DL-500 tracks the staff and reads the lowest value. Random-Bidirectional code provides measurement accuracy, stability and speed under dim or shaded lighting conditions, and onboard measurement programs such as elevation, height difference, ceiling height, cut/fill and stakeout in horizontal distance are included.
Visit EquipmentWorld.com/info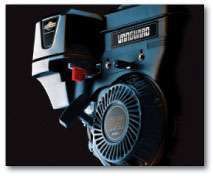 DECREASE DEBRIS
Briggs and Stratton Commercial Power's Vanguard single-cylinder engine features the TransportGuard system, designed to simultaneously shut off fuel and the ignition during transport, eliminating dilution created by vibration that causes the fuel to flow through the engine into the oil. The engines, available with 5.5- to 10-horsepower ratings, have a high mounted canister style air cleaner to provide more filter area, and an all-metal fuel tank mounted to the engine block reduces emissions. A triple seal design decreases dirt, dust and debris.
Visit EquipmentWorld.com/info
CLEVER CHIPPER
Process moderate volume efficiently with Morbark's compact 25/36 whole tree chipper, which has a 25-by-22-inch infeed opening and a 325- to 400-horsepower range. Morbark's Integrated Control System monitors and adjusts pressure, temperature, clutch systems and engine efficiency to increase performance. The compact unit is easily moveable and requires no extra permits for transport.
Visit EquipmentWorld.com/info