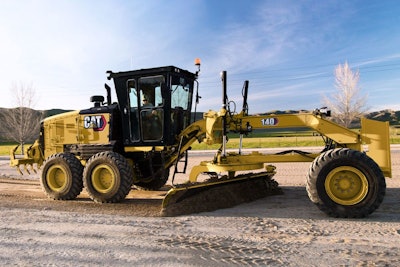 Caterpillar
Quick Data is a snapshot of new and used motor grader sales trends from Randall Reilly's EDA equipment financing data, TopBid auction price service and EquipmentWatch market trend reports.
New motor grader sales were essentially flat year-over-year in the United States, recording 955 financed units sold from November 1, 2021 to October 31, 2022. This was less than a 1% drop year-over-year, or just three units less than what was sold from November 1, 2020 to October 31, 2021, according to Randall Reilly's EDA equipment finance data.
Meanwhile, used motor grader sales saw a 10% increase to 1,648 units compared to 1,500 units sold from November 1, 2021 to October 31, 2022.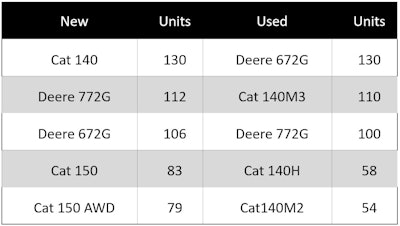 At the date we examined the data, the Cat 140 remained the best-selling new model in the product category, based on the number of units financed, despite sales dropping 7.8% from the same timeframe last year to 130 units sold. The Deere 772G took second place with 112 new units financed, down 9.7%. The Deere 672G placed third with 106 units, down 5.4%.
The popular Deere models claimed top spots on the used charts as well. With sales up 21.5% during the timeframe, the top-selling used model was the Deere 672G (130). Coming in second, the Cat 140M3 saw used unit sales rise 31% to 110 units. The Deere 772G posted a 10.7% decrease in used sales, or 100 financed used units sold from November 1, 2021 to October 31, 2022.
Texas, Oklahoma and Florida were the top states for purchasers of both new and used financed motor graders. Texas had more buyers of new motor graders than any other state with 135 units financed, or 14% of all financed sales. Buyers in Oklahoma accounted for 9.8% of sales, or 94 units, and Florida accounted for 6.8% of sales, or 65 units.
For those financing used machines, Texas buyers again led the country accounting for 24.8% of sales with 409 units financed during the period. Florida added another 5% with 82 units, and Oklahoma accounted for 4.6% of sales, or 76 units.
EDA data is compiled from state UCC-1 filings on financed construction equipment. EDA continually updates this data as information comes in from each state.
Used Motor Grader Market
Used motor grader sales fell 19.8% for the 12-month period from November 1, 2021 to October 31, 2022, according to Randall Reilly's EquipmentWatch market trend data.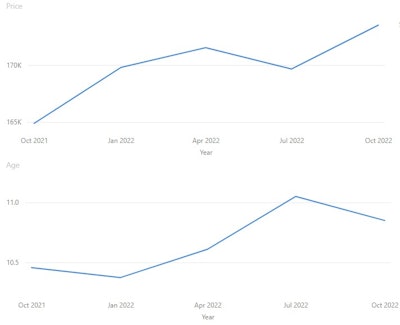 The average pricetag for a used motor grader was $173,499 in October 2022 compared to $164,866 in October 2021. The average age of used motor graders increased slightly during the period from 10.5 to 10.9 years. The average age and price were calculated on 42,106 resale listings during the period in the EquipmentWatch database.

Over the last 12 months, prices for used motor graders have in general increased, with the largest jumps in March (3.5%) and October (3.2%).
Overall, prices are still down compared to the five-year peak of $180,023 in October 2018. The average age of used motor graders also decreased during the five-year period, dropping from 12.5 years to 10.9 years.
EquipmentWatch defines fair market value (FMV) as the monetary value of an asset that can be expected in a transaction with a single seller and single buyer, neither of whom is under any compulsion or time restriction to complete the transaction. FMV for heavy equipment is most closely associated with the private resale market, as opposed to the public auction market.
Motor Grader Auction Sales in the U.S.
Looking at the top 10 motor graders sold for the 12-month period of December 1, 2021 to November 30, 2022 in terms of auction price, Cat dominated the list (see chart below).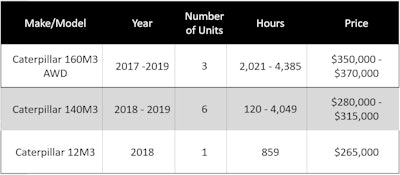 As reported by the Top Bid auction price guide, all 10 of the top price spots went to Cat. The model fetching the highest price at auction was a 2019 160M3 AWD with 3,035 hours. It sold for $370,000 at a Ritchie Bros. auction in Denver, Colorado, in August.
The top non-Cat model sold was a 2019 Deere 872G with 1,716 hours. It sold at the same Denver Ritchie Bros. auction for $265,000.
In total, 37 motor graders were sold at auctions tracked by Top Bid during this time, with an average price of $201,730. (This does not include any units that sold for less than $5,000.)
EDA, Top Bid and EquipmentWatch are owned by Randall Reilly, parent of Equipment World.