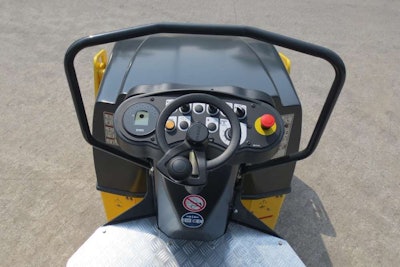 Trucking industry editors saw and drove the new Western Star Model 4700 tractor at a press event at the wind-swept Las Vegas Motor Speedway today. The new tractor complements the Model 4700 truck Western Star launched last year as a tough, durable day-cab configuration for regional-haul and vocational applications, according to Michael Jackson, general manager of Daimler Trucks North America's Western Star brand. Western Star began taking Model 4700 orders last August and model production began in December.
Jackson notes the new tractor features several fifth wheel options, which he says provides the ideal solution for bulk haul, local delivery and construction applications.
"The response from our vocational customers has been overwhelmingly positive, and we're excited to expand our offering to new markets and customers that have been eager to experience the quality and customization of a Western Star," adds Guy Lemieux, marketing segment manager, Western Star.
Available in a set-forward and set-back day cab configuration, the 4700 tractor incorporates a high visibility hood, and a wide variety of fifth wheel and wheelbase selections. Jackson says the new 4700 tractor also features one of the broadest power range offerings in a single truck model, including the lightweight and economical Cummins ISC and ISL engines, to the powerful and efficient Detroit DD13, the 4700 features power ratings from 260 to 470 horsepower.
These engine options are combined with several transmission offerings including the Allison automatic, Eaton manual, and Eaton UltraShift PLUS, which Jackson says allows the 4700 tractor to be spec'd perfectly for many regional and bulk haul applications.
In addition to the new tractor, Western Star also announced several new options for the 4700 product line. These include:
Hendrickson and Watson Chalin lift axles: Several new lift axle solutions from
Hendrickson and Watson Chalin increase the customization options for
vocational applications. The benefits include varying weight savings, SPIF
compliance, optimized packaging and added durability, to name a few.
New roof fairings and side extenders: The addition of roof fairing and side
extenders help to improve aerodynamic performance and maximize fuel
efficiency.
Chalmers Suspension: The durability of the Chalmers rubber spring suspension
offers increased stability and traction for off-road applications, and lower
maintenance costs on suspensions and other components such as tires.
The 4700 tractor and additional product updates are now available to order.