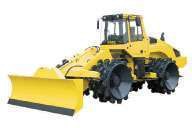 SOIL COMPACTOR WORKS LARGE-SCALE PROJECTS
Push, spread and compact soil for medium- to large-scale dirt projects with the 51,000-pound BOMAG BC462EB soil compactor, which features an oscillating center articulation joint and a vibration-isolated operator station.
• A 255-horsepower Deutz diesel engine and four-wheel hydrostatic drive power the compactor
• Optional cab includes heat and air, noise insulation, safety glass, CD/radio and working lights
• Dozer blade and central lubrication system available.
Visit EquipmentWorld.com/info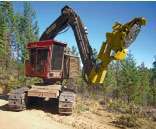 DISC CREATES FINER MULCH
Produce fine mulch with the 52-inch BT one piece Super Mulching Disc from Pro Mac, which features a one-piece main shaft and bearing housing.
• Uses 12 outer quad-style bits and 96 reversible upper and lower bits
• Drive hub in the rotary cutter model allows for easy cutter replacement
• Custom mounting brackets available.
Visit EquipmentWorld.com/info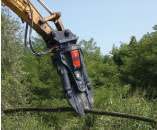 MULTI-UTILITY SHEAR PENETRATES VARIOUS MATERIALS
The VTN Rotobec "CS" Multi-Utility Shear is suitable for a variety of jobs, including demolition and site prep applications.
• Six jaw options available
• Features the Wood Jaw, which is available for the CS15 and CS20 models
• Penetrates a wide range of material.
Visit EquipmentWorld.com/info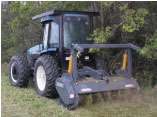 TREE HAMMER CUTS THROUGH LARGE TREES
The 4,700-pound Tree Hammer 360 from Loftness, which cuts up to 80 inches, can be front or rear mounted on tractors from 85 to 160 horsepower.
• Operates as grass and brush mower when pulled behind as a conventional three-point mower
• Optional shear bar produces a finer mulch
• Hydraulically operated rear mulching door and tree-pusher bar available.
Visit EquipmentWorld.com/info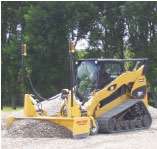 BOX PERFORMS FORWARD AND REVERSE GRADING
Grade in forward or reverse mode with the Dual Dozer by HitchDoc, which attaches to a tractor three-point hitch and to most major brand skid steer models.
• Features a mount, a laser-controlled grading box, two hydraulic cylinders and two blades
• Grading box constantly and automatically adjusts on both right and left edges
• Hydraulic cylinders maintain precise grade level with sub-grade accuracy within one eighth of an inch.
Visit EquipmentWorld.com/info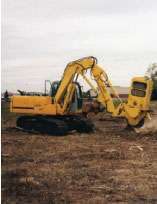 GRIND SIX ACRES PER DAY
Quickly grind stumps without the use of hydraulics with Sneller's Stump Mills, which can grind up to six acres per day.
• Features either a 170- or 275-horsepower Cummins
• Cutting wheel improves grinding
• Teeth can be changed without bolts.
Visit EquipmentWorld.com/info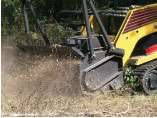 MULCHER SHREDS THICK VEGETATION
Shred trees, brush and ground vegetation up to eight inches in diameter with Paladin's Bradco Magnum Land Clearing Mulcher, which powers its balanced, thick wall drum at speeds up to 2,000 rpm.
• Attaches to excavators, skid-steer loaders and compact track loaders
• Available in widths of 30, 60 and 72 inches
• Features fixed hammers, adjustable skid plates and a multiple-position push bar.
Visit EquipmentWorld.com/info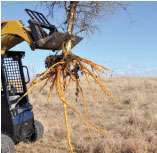 ATTACHMENT REMOVES VARIETY OF VEGETATION
Remove a wide range of trees, posts, shrubs and vines with the HedgeHog from Hoelscher.
• Features beveled, tapered tines, which grip the object to be pulled out
• Pulls vegetation from 1/4 inch to 8 inches in diameter
• Mounts to any loader with a skid-steer style mounting bracket.
Visit EquipmentWorld.com/info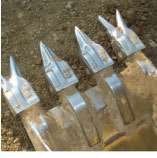 TEETH FIT EXISTING SHANKS
Easily install H & L Tooth Top-Lok Teeth on Case, Deere, JCB and other backhoes, which can be removed using either a prybar or punch.
• Available in self-sharpening single and twin penetrator, dirt, fang and flare styles
• Starter kits contain five teeth and all attachment components
• Fits existing shanks to avoid flexpin hassles.
Visit EquipmentWorld.com/info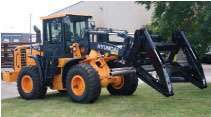 GRAPPLE FORK MEETS MANY CHALLENGES
Werk-Brau's pipe and pole grapple forks handle a range of material sizes.
• Each grapple arm features dual cylinders
• Forks are replaceable
• Standard fork-carriage look and feel simplifies use.
Visit EquipmentWorld.com/info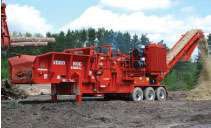 HORIZONTAL GRINDER INCLUDES IMPROVEMENTS
The Morbark 3800XL, which is an improved version of the Morbark 4600, features better fuel efficiency.
• Engines up to 800 horsepower available
• Features reverse-pivot feed system to keep debris moving forward
• Includes remote to set belt speed.
Visit EquipmentWorld.com/info
TRACTOR PERFORMS LARGE-SCALE JOBS
Perform large scale vegetation management and site preparation with the
Fecon FTX600, which is equipped with a 600-horsepower Cummins QSX15 engine and either the Fecon BH300 or BH350 Bull Hog to achieve a 98-inch cutting height, 32 inches below grade and 5.9-psi ground pressure.
• Delivers 210 gallons of hydraulic flow to the variable speed mulching head
• Features a hydrostatic all-steel oscillating undercarriage and Fecon's Power Management system
• Includes large compartment doors, a tilting cab and 45 square feet of Lexan windows.
Visit EquipmentWorld.com/info
MULCHER SUITABLE FOR SENSITIVE SITES
Take on tough terrain, sensitive site applications and large scale land clearing projects with Tigercat's 480 track mulcher, which is compact and maneuverable with a light footprint for soft soil.
• 440 horsepower available to the attachment
• Features Cummins QSX15 Tier III engine, joystick steering and closed loop track drive system
• Incorporates high-lift boom geometry and a counter-rotate function.
Visit EquipmentWorld.com/info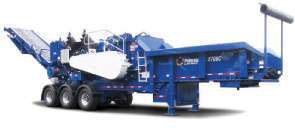 HIGH PRODUCTION GRINDER HANDLES TOUGH JOBS
Reduce a wide range of material including stumps with the 78,000-pound Peterson 5700C Horizontal Grinder, which uses system pressure transducers and remote monitoring capability to simplify setup.
• Features Peterson's Impact Release System, Adaptive Control System and Impact Cushion System
• Powered by a 1,050-horsepower Caterpillar C27 engine
• A high-lift feed roll works with a feed opening of 60 by 40 inches to grind stumps.
Visit EquipmentWorld.com/info.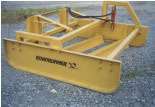 GRADING BLADE PERFORMS MANY JOBS
Roadunner's grading blade is available in a heavy-duty series for contractors, which includes the BJ and BH series for higher horsepower tractors or CJ and CH series for lower horsepower tractors or skid steers.
• Features visible angle-mounted dual blades and independently-adjustable depth of cut
• Side panels capture material and push it back onto the surface
• Maneuvers in tight or narrow spaces.
Visit EquipmentWorld.com/info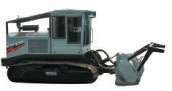 MULCHER IS STRONG AND COMPACT
Grind trees and undergrowth into fine mulch with the fully hydrostatic Bron 275, which has the strength of any other Bron mulcher in a compact size.
• Powered by a 275-horsepower Cat C7 engine
• Features a low 3.5-psi ground pressure rating
• Includes a climate-controlled cab with ROPS, FOPS and OPS certification.
Visit EquipmentWorld.com/info
SHANK RIPPER IS COMPACT AND DURABLE
Vail's Heavy-Duty Single Shank Ripper, which is part of Vail's Severe-Duty Construction Attachments line, has the weight of a multi-shank ripper in a single shank ripper design.
• Designed for strength and durability
• Performs in any subsoil condition
• Features a heavy toolbar and thick pin and shank.
Visit EquipmentWorld.com/info.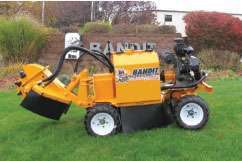 GRINDER IS LIGHWEIGHT, MANEUVERABLE
Reduce maintenance with the Model 2250XP self-propelled stump grinder from Bandit Industries, which has a heavy duty hydrostatic motor to power the 20-inch-diameter cutter wheel.
• Motor eliminates components such as clutch, jackshaft, drive belt, belt tensioning system, sheaves and bearings
• Features 27-horsepower gas engine driving hydraulic pumps for both the undercarriage and cutter wheel
• Weighs just 1,500 pounds and has a maximum width of 35 inches for easy maneuverability.
Visit EquipmentWorld.com/info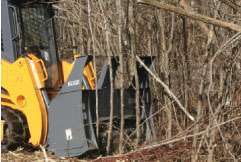 ATTACHMENT FITS SKID STEERS,TRACK LOADERS
Efficiently mulch brush and small trees with the Edge Mulcher attachment from CEAttachments, which is equipped with 104 carbide tipped teeth in four staggered rows to produce fine mulch.
• Has 62-inch overall width and 48-inch working width
• Works up to 1 inch below grade
• Requires hydraulic flow of 16 to 21 gpm and comes with hoses and flat face couplers.
Visit EquipmentWorld.com/info
LOTS OF WIDTHS
Move a range of hard-to-manage materials with Bobcat's industrial grapples.
• Grapples handle logs, boulders, debris and more
• Available in fork or bucket styles
• Eight models from 36 to 80 inches wide.
Visit EquipmentWorld.com/info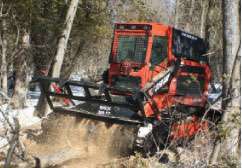 MID-SIZED TRACTOR IS VERSATILE
Work in nearly any terrain or condition with the 26,000-pound Fethos V350, which operates at 350 horsepower and 5,500 psi with low ground pressure on steel tracks.
• Offers pull weight ratio of 1.5 and can climb 45-degree slopes
• Features a Cummins engine, Sauer Danfoss hydraulic components and an AKG cooling package
• Hydraulic system produces 140 gpm in high flow.
Visit EquipmentWorld.com/info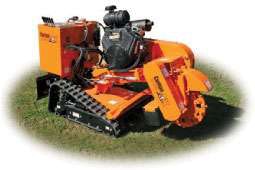 REMOTE CONTROLS
JP Carlton's SP4012TRX self-propelled stump cutter offers engine options including petrol and diesel from 27 to 44 horsepower.
• Available with lever, wired or wireless remote controls
• Features a track system for high flotation
• Uses a rubber high track system with multiple idler rollers and spring tensioning.
Visit EquipmentWorld.com/info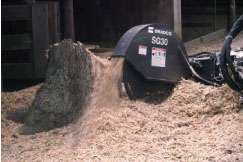 ADJUSTABLE SPEED
The Bradco SG30 stump grinder by Paladin Construction Group attaches to skid steers and cuts up to 12 inches below the ground.
• Has a 60-degree swing arc geometry and covers 45 inches in a sweep
• Features adjustable speed control
• Requires 29 to 44 gpm and has a 30-inch diameter cutting wheel.
Visit EquipmentWorld.com/info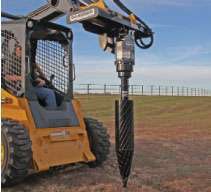 AUGER CREATES COMPACT HOLES
Produce compact, ready-for-concrete holes with Danuser's Wobble Auger, which pushes through dirt, sand, clay, asphalt and compacted or embedded rock to create holes without loose dirt.
• Can be used as a pilot auger for post drivers
• Available in 4-, 6- and 9-inch diameters with standard 4-foot length
• Various collar options available.
Visit EquipmentWorld.com/info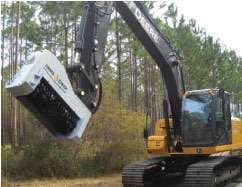 MULCHING ATTACHMENTS PERFORM INTENSIVE TASKS
Perform intensive brush cutting, land clearing and vegetation control with Boom-Mounted Mulcher industrial attachments for excavators and backhoes from Denis Cimaf.
• Features horizontal-shaft rotor technology
• Includes fixed knives and bolt-on cutting blades
• Also useful for on site development and roadside maintenance work.
Visit EquipmentWorld.com/info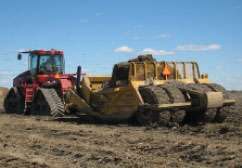 SCRAPER TACKLES SANDY SOIL
Load up to 28 cubic yards of material in any weather with the versatile K-Tec 1228 Sand Shark.
• Specializes in low ground pressure projects
• Operates in sandy soil
• Features a knuckle-style hookup which attaches to major tractor brands with a K-Tec tractor hitch.
Visit EquipmentWorld.com/info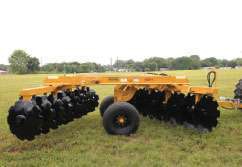 PLOW MOVES HEAVY TRASH
Plow stumps and move heavy trash with the Rome TRW-S series plow.
• Incorporates trash up to 10 inches deep
• Applies up to 900 pounds per disc blade and up to 1,440 pounds per foot
• Features a reinforced frame, drawbar and heavy duty Rome bearing system.
Visit EquipmentWorld.com/info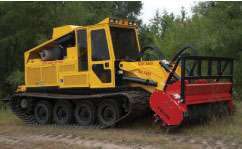 BRUSH CUTTER OPERATES QUICKLY AND SAFELY
Operate land clearing and site prep applications in remote access sites and challenging terrain with the Geo-Boy Brush Cutter from Jarraff Industries, which can lift the cutter head approximately 11 feet high and clear brush and trees up to 12 inches in diameter while maintaining a low center of gravity to resist tilting.
• Available in wheeled or track configurations with 220- or 240-horsepower Tier 3 engine options
• Features pressurized, sound dampening cab with heating and air conditioning
• Standard safety features include full Lexan, No Mar windows and a rearview camera.
Visit EquipmentWorld.com/info

GRAPPLE GRIP
Vermeer's WC2300 whole-tree chipper uses an infeed system with variable speed, dual-infeed conveyor chains, a conveyor head pulley with integral grip bars and an infeed roller with crush capability.
• Two drum knife options available: double-edged or babbitted, single-edge cutter knives
• Tongue has a grapple grip collar area
• Can be controlled remotely using a handheld remote control.
Visit EquipmentWorld.com/info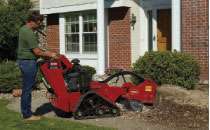 TWO CONTROLS
Toro's STX-26 stump grinder has two controls that operate all of the traction and grinder functions: traction control (forward, reverse, turn) and sweep, lift/lower and engagement of the grinder head.
• Has a hydraulically driven head
• Grinder head has a 47-inch arc
• Model is 78 inches long and fits through 36-inch gates.
Visit EquipmentWorld.com/info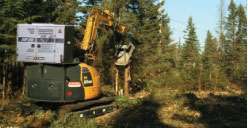 ATTACHMENT FITS VARIETY OF CARRIERS
The EWF family unit from Fethos and Denis Cimaf, which includes models EWF-350, EWF-170 and EWF-100, directly mounts on dozers, graders, loaders, tractors and brush cutting machines.
• Features a compact design
• Includes display interface located inside the operator cab
• Designed to generate high output hydraulic power.
Visit EquipmentWorld.com/info
GAIN TRACTION
Operate CW Mill's track-mounted HogZilla HTC-1462T grinder from a loader or excavator cab with a remote control.
• Grinds in wet weather or on soft terrain
• Features a radial 30-degree stacking elevator
• Has a 31-by-62-inch hammermill.
Visit EquipmentWorld.com/info
ENGINE OPTIONS
Chip limbs and logs up to 12 inches in diameter with DuraTech's TC-12 tree chipper.
• Engine options of Cat C4.4 122 horsepower or Kubota V3800 88 horsepower
• Features a spring-loaded feed wheel with adjustable down pressure
• Measures 79 inches wide and 208 inches long, weighing almost 7,700 pounds.
Visit EquipmentWorld.com/info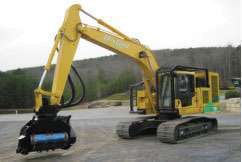 POWERPACK ENGINE
ProGrind Systems' grinders mount on excavators and have 38 double-sided, carbide-tipped teeth.
• Grinder head is built from T1 plate
• Cutter drum has 24-inch diameter and is 51 inches long
• Powered from a powerpack with a C-13 440-horsepower Cat engine.
Visit EquipmentWorld.com/info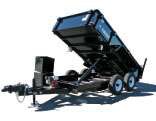 DUMP TRAILER PERFORMS WITHOUT BATTERY
Felling's Gas Engine Hydraulic Dump Trailer, which doesn't use a battery, is suitable for rental yards.
• Compact, gas engine powers the dump trailer
• Features a hydraulic unit mounted in an enclosure on the tongue of the trailer
• Remote controls the up and down motions of the hydraulic dump box.
Visit EquipmentWorld.com/info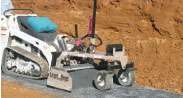 IMPROVE ACCURACY WITH GRADING BOX
The ATI Level Best Grading Box for compact tool carriers features a push-pull design with forward or reverse grading.
• Grades up to 1/8-inch elevation accuracy
• Works with Apache, AGL, Leica, Trimble, or Topcon laser controls
• Available in 48-, 54-, 60- and 66-inch widths.
Visit EquipmentWorld.com/info
EQUIPMENT STORAGE FITS SPECIFIC NEEDS
Store or manufacture equipment in ClearSpan Fabric Structures, which are made of steel and fabric to create high and wide covered spaces.
• Can be built to any length and up to 300 feet wide
• Custom-engineered to fit the requirements of specific locations
• Permanent or temporary, these structures are easy to relocate.
Visit EquipmentWorld.com/info
TRAILER HANDLES STRENUOUS LOADS
Handle tough loads with the 35-Ton Detach Series from Jet, which features front loading ramps with tapered front and traction bars, and mud flaps on the gooseneck and rear deck.
• 70,000-pound capacity with 15-foot, 102-inch overall width, 85.5-inch swing clearance and 48-inch king pin height
• D-Rings and chain ties located approximately every 6 feet
• Features include 25,000-pound axles with ABS, 9-inch air ride suspension and LED lights.
Visit EquipmentWorld.com/info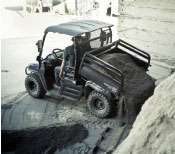 UTILITY VEHICLE TAKES ON TOUGH TERRAIN
Perform large site prep and land clearing jobs on tough terrain with the Cushman 1600XD 4×4 utility vehicle, which has a loading capacity of up to 1,600 pounds.
• Combines four-wheel drive with a 22-horsepower, 1,007-CC three-cylinder OHV diesel engine
• Features automatic, continuously variable transmission (CVT) with low- and high-gear ratios
• Includes locking rear differential which can be engaged in both two- and four-wheel-drive operation.
Visit EquipmentWorld.com/info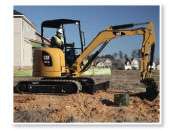 FLOATING EXCAVATOR PERFORMS ON WATER
Remove vegetation, clean industrial ponds and perform other water-related projects with the Remu Big Float, which can operate in open water more than 29 feet deep.
• Safe for operation in marshland, shallow water areas and other soft grounds
• Can be equipped with additional pontoons and anchoring legs
• Pontoon structure can be narrowed to 10 feet to ensure ease of transportation.
Visit EquipmentWorld.com/info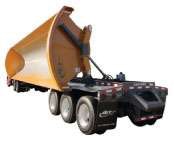 SIDE DUMPER IS MAINTENANCE-FREE
Haul wet sand or dirt, boulders, rocks and more with Jet's Triple Axle Side Dump Trailer, which features an inverted trunnion- mounted cylinder to improve trailer stability and provide a smooth dump cycle.
• Round tub and external tub supports improve tub clean out
• High-strength, 1/4-inch abrasion-resistant steel increases tub strength
• Bushing design provides maintenance-free tub and cylinder pivot points.
Visit EquipmentWorld.com/info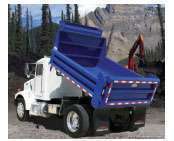 DUMP BODY IS CUSTOMIZABLE
Configure a dump body to your needs with Henderson's cross-memberless Mark E Series, which is designed for both single and tandem axle chassis.
• Choose a hoist, side/bracing, side slope, tailgate and grade of steel
• Features two I-beam longitudinals and overlapped floor and side walls
• List of additional options available.
Visit EquipmentWorld.com/info