Big Changes in Small Packages
By Tom Jackson
This is the year most construction equipment manufacturers roll out engines that will meet tough new Tier 4 Interim emissions standards, Caterpillar included. But the company's Building Construction Products division also used the emissions deadlines to engineer a number of design changes and improvements, resulting in series upgrades for five different small equipment categories.
What do Cat skid steers, compact track loaders and NFL linemen have in common? They're both getting bigger, faster and stronger.
D-SERIES SKID STEER AND COMPACT TRACK LOADERS
We don't know what they're feeding linemen these days but the new Cat 272D skid steer and 299D compact track loader are taking to the field alongside a new pair of high performance teammates, the 272D XHP and 299D XHP. Cat product engineers say the XHP stands for "extra high performance," or "extra hydraulic power," or "extra horsepower." But whatever you call it, it means more powerful engines and hydraulics – the largest and most powerful Cat has built in this category yet. (See chart below).
The base powerplant is an electronically controlled Cat C3.8 engine with a high-pressure common rail fuel system, a Cat NOx reduction system and a diesel particulate filter for emissions reduction. Net horsepower increases for the new D-Series models range from 5 to 18 percent and flywheel torque goes up 13 to 27 percent compared to previous models.
Large lift cylinders on all four machines boost lift capacity 19 percent, and a simpler, electrically activated quick coupler replaces the hydraulic coupler of the C-Series, eliminating numerous hydraulic lines, connectors and valves.
Cat's new Intelligent Leveling System (ILEV) has an electronic dual self-level feature that levels the load when you are raising or lowering the bucket. The return-to-dig feature takes the bucket back to a preset angle, and the work tool positioner allows attachments to return to a preset angle even after the machine has been repositioned.
The XHP models are equipped with a 40-gpm high flow hydraulic system putting out 4,061 psi and 94 hydraulic horsepower to handle high demand attachments such as cold planers.
E-SERIES MINI EXCAVATORS
The five new E-Series compact radius excavators have more efficient hydraulics, boom cushioning and a beefed up cooling package compared to the previous D Series, and sliding access doors on cab models for entry and exit.
The excavators also sport Cat's COMPASS (complete operation, maintenance, performance and security system) control panel and a redesigned control layout. COMPASS is a big, in-cab digital display that monitors and controls a variety of machine functions on a touch screen. Its anti-theft system requires the operator to punch in a five-digit alphanumeric password to start the machine. On the COMPASS display you can also select the economy mode to lower rpms and reduce fuel use by as much as 20 percent on the
3.5- to 5.5-ton size classes. You can also select a continuous-flow feature, which maintains the selected flow to the auxiliary hydraulics without operator intervention.
Adjustable auxiliary flow is also new and you can adjust the main and auxiliary hydraulics on a scale from 1 to 15 on the COMPASS monitor. Preset flow levels for a variety of work tools come pre-programmed on the machine to take the guesswork out of using attachments.
An electric fuel filter priming system makes changing fuel filters quicker and easier and reduces the likelihood of contamination. The new Tier 4 Interim engines keep their cool with a high-ambient cooling package. Since they are below 75 horsepower the new mini-excavators can meet the emissions standards without a DPF and the maintenance required for that.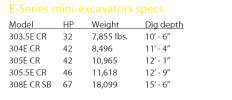 New ergonomic joystick controls on the E-Series offer rearranged functions. The two-speed travel switch was moved to the blade lever, the secondary auxiliary hydraulic engagement goes to the left joystick and the manual pattern changer has moved from the floor to the COMPASS monitor.
An end-damping system in the boom and stick cylinders reduces shock loads and spillage, and the E-Series sticks are thumb-ready, with brackets welded in place and relief valves built into the main valve.
The largest of the five, the 308E CR SB is a swing boom configuration with enhanced stability and optional counterweights. Compared to its D Series predecessor, it gets a 17-percent boost in power for faster hydraulic response and travel speed. It is available only in a cab configuration. The four smaller E Series models offer the choice of cab or ROPS.
K-SERIES SMALL WHEEL LOADERS
The three new K-Series loaders use a step-less, four range hydrostatic drive system that gives you independent control of ground and engine speed. There's also a creeper control that lets you continue to work hard even at ground speeds down to one mile per hour. Additional ground grabbing power comes from an operator managed rimpull control system that reduces wheel spin and tire wear, and a front differential lock.
Fuel is conserved in several ways. Dedicated load sensing, variable-displacement pumps for implement control and steering reduce the horsepower draw. And the Cat 6.6 engine has a rated speed of 1,800 rpm (down from 2,415 for the H-Series), which significantly cuts fuel consumption. The lower rpms also reduce engine wear and sound levels from 74 decibels down to 66 decibels. An engine idle shutdown saves additional fuel. For emissions control, the K-Series loaders use a diesel particulate filter.
On the working end, an optimized Z-bar loader linkage gives you the power of a Z-bar design with the parallel lift finesse of an integrated tool carrier configuration. The new linkage is available in standard and high-lift models, accepts pin-on tools and a Cat Fusion coupler or an ISO coupler that's compatible with competitive work tools.
To make operators more productive and comfortable, kick out functions for boom lift, lower and tilt come standard and can be set by merely pushing and holding a button on the soft touch panel. Electronic snubbing acts as a hydraulic cushion at the end of a cylinder's range or the kick out position to eliminate jarring and operator stress. The display can also be set up to show views from an optional rear view camera. The newly designed cab has a heated rear window with intermittent wiper and a seat-mounted joystick with integrated controls for auxiliary hydraulics, directional shifting and differential lock.
F-SERIES BACKHOES
Cat upgraded three backhoe sizes to F-Series and gave them greater lift capacity, more bucket breakout force and increased control while retaining the load-sensing/closed center hydraulics, four-speed powershuttle transmission and excavator-style boom of the previous models.
The Cat C4.4 engine powering these models uses electronic controls, a high-pressure common-rail fuel system, a diesel particulate filter and the Cat NOx reduction system. Horsepower stays the same for the 416F and 420F, but increases for the 430F. Rather than use a fuel burn to regenerate the DPF on the new backhoes, Cat uses a backpressure valve which increases the velocity of the exhaust going into the DPF to burn off soot, thus improving fuel efficiency.

A more aggressive torque converter puts additional pep into the 420F, and the 416F gets an upgrade to hydraulically boosted brakes. The 420F and 430F get a new electronic pump torque limiter to improve power management and hydraulic performance. Precisely tuned spools in the backhoe valve improve controllability.
On the loader end, new lift arms for the single tilt and integrated tool carrier models increase maximum hinge pin height by 5 percent and dump height by 7 percent. Bucket breakout force gets a boost up by as much as 9 percent and lift capacity at maximum height rises 13 percent.
A composite fuel tank resists rust and helps prevent condensation, and a new hydraulic tank incorporates a suction strainer and a larger, cartridge type filter. The new hinged cooling pack opens up for easy cleaning and improved access. Cat moved the battery compartment to the nose of the backhoe, which opened up space for a right hand storage box and an easily accessible jump-start port.