Trailers
By Amy Materson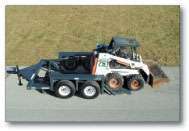 RAISE IT UP
Raise your trailer deck hydraulically in less than 15 seconds with JLG Industries' Triple L models of flatbed trailers available with capacities to 10,000 pounds
• Features two lockable steel compartments, quick-adjust tongue jack and heavy duty tie down rings
• A 12-volt system powers the hydraulic pump used to control the deck.
Visit EquipmentWorld.com/info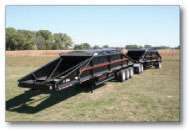 LOW LOADING
Choose from two sizes – 22 and 25 cubic yards – with Dakota Trailer Manufacturing's clamshell belly dump gravel trailers.
• Lower trailer height simplifies loading and decreases wind resistance
• Has 8- and 10-gauge construction for durability
• Features include oscillating fifth wheel plate, 60-gallon air reservoir and variable gate control.
Visit EquipmentWorld.com/info

HEAVY EQUIPMENT HAULER
Haul all your heavy equipment with Kaufman Trailers' hydraulic detachable neck trailer.
• Ranges in capacity from 30 to 55 tons
• Manufactured from high strength steel
• Has four cambered, fabricated main frame beams.
Visit EquipmentWorld.com/info
STEELY STRENGTH
Handle more material with SmithCo Manufacturing's S2-4034 double axle side dump trailer.
• Has AR400 steel construction to ensure trailer strength
• Features spherical bearing type hinges
• Has a 34-foot tub length, 102-inch width.
Visit EquipmentWorld.com/info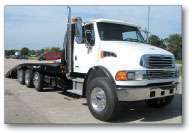 SMOOTH OPERATOR
Designed for tri-axle trucks, Up-N-Atom's Retriever Model 18T has a 36,000-pound load rating and offers air operation.
• Curved deck eliminates bottoming out and breakover
• Features high traction epoxy deck coating
• Has a deck height as low as 47 inches.
Visit EquipmentWorld.com/info
HANDY HAULER
Load equipment by driving it up the ramps and onto the rear deck of Transcraft's beavertail trailer, which eliminates the need for a dock.
• Equipped with beavertail and spring-assist ramps and level deck option
• Spring-assist feature assists with manual ramp folding
• Level deck option enables ramp usage in the folded up position as deck space.
Visit EquipmentWorld.com/info

TROUBLE-FREE TRANSPORT
Kalyn Siebert's KSHRG hydraulic removable gooseneck trailer is lightweight and easy to operate.
• Non-ground bearing gooseneck is standard equipment
• Two-axle unit has a 35-ton capacity
• Three-axle unit available in 53-, 55- and 60-ton capacities.
Visit EquipmentWorld.com/info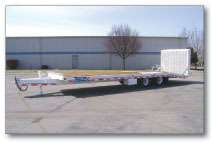 POWERFUL PERFORMER
Haul equipment with low ground clearance with TrailMax Trailers' Power Ramp TD-40-PR trailer, which features an 8-degree load angle.
• Has a 24-foot flat deck, 6-foot beavertail and is rated with a 40,000-pound distributed capacity
• Full width bi-fold ramp powered by self-contained power unit with remote option
• Tubular subframe has high tensile perimeter rails and tubular crossmembers on 12- and 16-foot centers.
Visit EquipmentWorld.com/info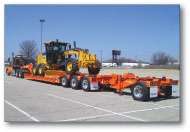 TACKLE ALL TERRAIN
Hydraulically transfer loads in all terrains with Talbert Manufacturing's 55SA spread axle trailer, which features the company's Equalizer nitrogen-assisted dampening system.
• Has a 108-inch swing radius, 25-foot deck length and 8-foot 6-inch deck width
• Dual two-speed landing gear simplifies connecting the trailer to the axle attachment
• Axle attachment can easily be lifted out of the way for backing.
Visit EquipmentWorld.com/info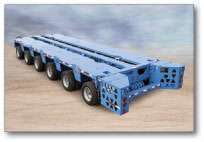 EASY TO SERVICE
Trail King's off-road transport system, the Modular Hydraulic Transport System, features a 375,000-pound load capacity.
• Air system includes drain fittings on each tank, an air dryer and easily accessible air tanks
• Steering arms are positioned over dished crossmembers for easy repositioning or replacement
• Hydraulic system has steel hydraulic lines throughout.
Visit EquipmentWorld.com/info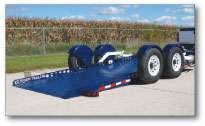 QUICK LOADING
Load and unload quickly with Advance Metalworking's 14,000-pound capacity Lo Riser inclining platform trailer.
• Has 74-inch-by-16-foot load carrying platform
• Control switch raises and lowers platform to ground height
• Features 17,550-pound GVWR, combination hydraulic and rubber suspension and electric brakes.
Visit EquipmentWorld.com/info
STURDY SIDE DUMPING
Side Dump Industries' trailer features a 35-foot tub manufactured from 6-mm Domex 100 steel with a 24-yard level and 28-yard heaped capacity.
• Has a 50-degree dump angle and features 100110XF Domex deep frame rails
• Heavy duty push block has underride protection bumper
• Removable king pin plate and skid plate, self-centering saddle
design and replaceable king pin design.
Visit EquipmentWorld.com/info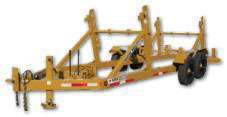 LOAD IT UP
Simplify loading with Roose Manufacturing's RR-335 three-reel self load trailer.
• Features a 3,000- to 3,500-pound carrying capacity, reels have 125-inch diameter
• Manual or engine powered hydraulic pumps raise the reels
• Options include a power rewind attachment and tension brake.
Visit EquipmentWorld.com/info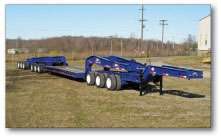 LARGE DECK
Boost axle capacity with Rogers Brothers' 80-ton capacity modular trailer.
• Features a 30-foot-long, 10-foot-wide platform deck
• Suspension distributes weight to back axles using a rocker shaft in the rear
• Mechanical detachable gooseneck has 197-inch swing clearance.
Visit EquipmentWorld.com/info

IN THE ROUGH
Enhance hauling ability with the Blackhawk 85-ton capacity hydraulic power tower trailer from Etnyre Trailer.
• Prevents high centering with 24 inches of vertical travel
• Travels over uneven terrain without bridging
• Disc brake axle system provides braking on the steepest grades.
Visit EquipmentWorld.com/info
VERSATILE HAULER
Tackle a variety of hauling jobs with Fontaine Trailers' Magnitude 55MX, which features a modular design that increases versatility.
• Has 29-foot deck length when retracted, extends to 50 feet
• Loaded deck height is 20 inches with 6-inch ground clearance
• Optional flip box achieves 125-inch swing clearance, and adjustable ride height locks mechanically.
Visit EquipmentWorld.com/info
LOAD PUSHER
Landoll's Model 330 traveling axle container gives you a choice between the standard 12,000-pound worm gear winch with a ½-inch steel cable or a 12,000-pound gear box chain drive system.
• Side by side chain enables pulling on or pushing off loads
• Equipped with 22,000-pound spring suspension, Grote LED lights and wiring harness and centralized grease system
• Available in 42-, 48- or 50-foot lengths.
Visit EquipmentWorld.com/info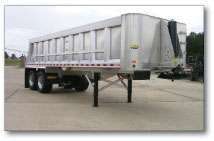 TOUGH TRAILER
Experience ruggedness in a frameless trailer with Clement Industries' AXP aluminum trailer.
• Available in 24- to 39-foot lengths
• Exterior post design uses uni-beam concept for improved strength-to-weight ratio
• Wide angle draft arms offer lateral support to the trailer body when elevated.
Visit EquipmentWorld.com/info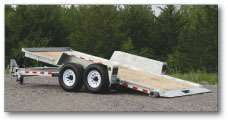 EASY RIDE
Towmaster's T-12T tilt trailer features a deck cushion cylinder that allows the deck to come down smoothly when loading equipment.
• Hot dipped galvanized for corrosion resistance
• Adjustable hitch, formed hitch plate and one-piece formed tongue and main frame
• Has Dexter Torflex axles for an easy to pull, smooth ride.
Visit EquipmentWorld.com/info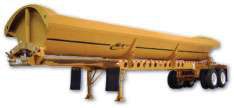 FUNCTIONAL FEATURES
Jet Company's side dump trailer features a trunnion-mounted, inverted cylinder design.
• Delivers a controlled dump cycle and improved stability
• Pivot geometry maintains consistent tub speed during the dump cycle
• Features rounded tub, no inside divider and greaseless pivots.
Visit EquipmentWorld.com/info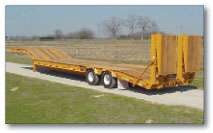 LOTS OF OPTIONS
Choose from a range of sizes with Trailboss Trailers' Paver Special, which includes the 50-ton tri-axle model.
• Has 31-foot bed length, including 6-foot dovetail
• Features 11-foot hydraulically operated folding ramps
• Includes twin two-speed jacks, air brakes, protected wiring system and 2-inch hardwood decking.
Visit EquipmentWorld.com/info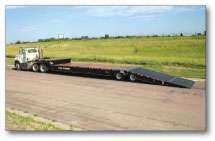 MINIMIZE MAINTENANCE
Trail-Eze Trailers' TE70XT trailer has no moving axles, eliminating the worry of axles not staying aligned when loading on soft ground.
• Choice of standard 15-degree load angle or 10-degree load angle tail
• Loads low ground clearance equipment without sliding axle tail
• Lighter tare weight reduces maintenance.
Visit EquipmentWorld.com/info