Look over our 11 categories of attachments to help you complete whatever task is at hand. Want to see more? Find dozens more in our online exclusive at www.equipmentworlddigital.com.
CLEANUP
Strong snow blowers
Cub Cadet Yanmar's SB45 snow blower uses reinforced steel augers and heavy-duty blades that won't back down in heavy snow or frozen conditions.
• 45 inches wide with a 21.9-inch cutting depth
• Exclusively designed for the Sc2400 tractor model
• Comes with QuickAttach hitch for easy use.
Visit EquipmentWorld.com/info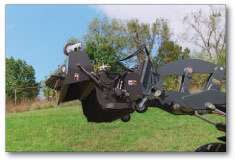 Sweeper eliminates need for water system
Reduce visible dust when sweeping with the CS high dump collection sweeper from Sweepster by Paladin Construction Group, suitable for backhoes, telehandlers and compact wheel loaders.
• High volume fan filters dust as small as 10 microns
• Available in 8- and 9-foot-wide models with 32-inch-diameter brushes
• Hydraulic dump feature allows debris disposal at
maximum lift height.
Visit EquipmentWorld.com/info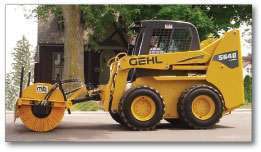 Choose your width
MB Companies' Model HL broom works with skid steers, compact wheel loaders and tractor loaders with a minimum of 12 gpm flow.
• Features 5-, 6-, 7- and 8-foot broom sweeping widths
• Has a 32-inch-diameter brush and four-point self-centering swing system
• Hydraulic angle change of 30 degrees left and
right, and brush hood covers 155 degrees.
Visit EquipmentWorld.com/info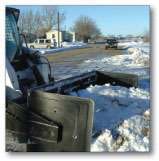 Snow blower's motor sized to fit skid steer
Sheyenne Tooling's Black Max Skid steer snowblower comes with a hydraulic motor specially sized to fit individual skid steers.
• No 60 roller chain
• Positive hold-down spout and bolt-on replaceable cutting edge
• Available with 18- or 14-inch auger on a heavy-duty 4-inch tube.
Visit EquipmentWorld.com/info
See more cleanup attachments from Champion, SnowEx, SweepEx and Worksaver at equipmentworlddigital.com.
COMPACTION
Compactor absorbs vibration
FRD's HP Series 65 vibratory plate compactor is designed for compact excavators and backhoes.
• Rubber shocks absorb vibration, protecting the carrier's boom
• Backhoe version is available with Switch-Hitch side plate mounting system
• Crossover check valve protects the motor.
Visit EquipmentWorld.com/info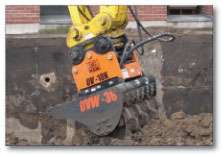 Quick compaction
Make quick work of trench compaction jobs with MBW's universal vibratory platform, which can be fitted with a range of wheels or plates.
• Compression isolation design distributes static load over large surface areas
• Vibration and down pressure are variably coupled to handle a variety of soil types
• Available in 24- and 36-inch working widths.
Visit EquipmentWorld.com/info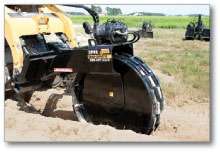 Go deep in the trench
Perform deep trench compaction with Trench Grader's hydraulic vibratory compaction wheel, which goes down 34 inches into the trench.
• Wheel has a 42-inch diameter
• Tilts 7 degrees in either direction
• Optional extensions create a 6-, 8-, 10- or 12-inch wheel.
Visit EquipmentWorld.com/info
CONCRETE/ASPHALT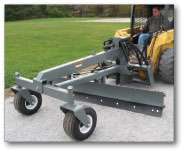 Versatile blade useful in both concrete and asphalt
Perform asphalt and concrete flatwork applications with SitePro's SSGB-8 grader blade from Worksaver.
• Has 8-foot, six-way-hydraulically-controlled moldboard with 25-degree tilt
• In-cab remote provides precise control
• Features include shear pin protection and a reversible cutting edge.
Visit EquipmentWorld.com/info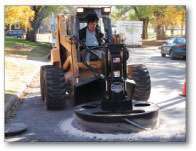 Repair manhole covers in minutes
Cut through concrete, asphalt and rebar to repair or remove manhole covers in minutes with the Coneqtec-Universal Manhole Repair/Removal tool.
• Uses a heavy-duty hydraulic motor
• All-steel construction with 40 carbide-tipped teeth
• Brackets lock into place on the rim of the flange, lifting surrounding layers when the cut is finished
Visit EquipmentWorld.com/info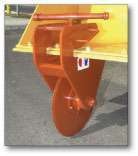 Cutter models offer easy clamping, tightening
CTI asphalt cutter models 2000 and 2000M offer easy clamping with four-point contact and easy tightening with a built-in handle.
• 19-inch cutting wheel
• Cutting depth of 5.50 inches
• Heavy duty bearings and cutting wheel.
Visit EquipmentWorld.com/info
Cold planer maximizes performance
The FFC Cold Planer from Paladin Construction uses a V-shaped pick pattern on the drum to clear the working area of milled material and reduce re-milling, minimizing horsepower requirements and maximizing performance.
• Four teeth mounted on both outside drum edges to accommodate high-wear areas
• Models available in 12- and 16-inch cutting widths
• 24-inch left-or right-side shift allows cutting next to curbs and other obstacles.
Visit EquipmentWorld.com/info
See more concrete and asphalt attachments from Asphalt Zipper, E2 Systems, E-Z Drill, General Equipment, Lemac, PTH and Zanetis at equipmentworlddigital.com.
COUPLERS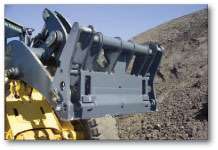 Quick switch
The JRB Multi-Pick-up Coupler by Paladin Construction allows operators to quickly switch attachments in front-end wheel loader applications.
• Quick-coupling capabilities allow operators to switch attachments quickly with maximum safety
• Two-cylinder design accommodates many quick-hitch style attachments
• Lock-out feature prevents cylinders from retracting without operator intervention.
Visit EquipmentWorld.com/info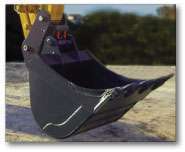 Coupler fits range of buckets
Woods Equipment's Auto-Loc coupler from Central Fabricators fits backhoes and excavators in the 60- to 80-metric-ton weight class.
• Attaches a range of buckets
• Accepts varying pin diameters and spacings
• Uses sight mechanisms operable from the cab.
Visit EquipmentWorld.com/info
DEMOLITION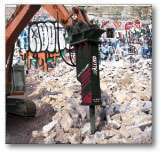 Hammers demolish concrete and more
The new Hy-Ram HR series hammer line from Allied Construction demolishes concrete, rock, pavement and more.
• Oil and gas operation increases efficiency
• Longer piston stroke ensures higher impact power
• Auto-stop system prevents back-firing.
Visit EquipmentWorld.com/info
Demolishes, compacts and feeds
Rotobec's Power Attachment grapple is useful for demolition work, material compaction and feeding grinders and chippers.
• Multiple jaw configurations include rake/rake, rake/bucket and bucket/bucket
• Can carry out demanding demolition jobs when equipped with a positioned rotator
• Minimizes excavator movement for reduced fuel and maintenance costs.
Visit EquipmentWorld.com/info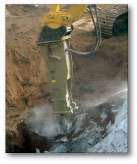 Experience more power
UB Equipment's breakers deliver more power and performance than previous models.
• Suitable for skid steers and compact and full-size excavators
• 13,500-foot-pound breaker suits 70- to 80-metric-ton excavator class
• 8,000- and 11,000-foot-pound breakers feature a 10-percent power boost over previous units.
Visit EquipmentWorld.com/info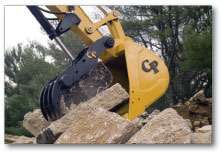 Pick up the big stuff
Pick up large objects with the CP Main Pin hydraulic thumb from Paladin Construction Group, which stays out of the way when not needed.
• Designed for excavators up to 100,000 pounds
• Allows for 140-degree rotation
• Holds load securely with individually serrated thumb fingers.
Visit EquipmentWorld.com/info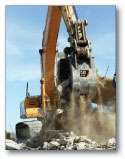 Pin-hub allows fast attachment for sturdy grapple
The Caterpillar G130B contractors' grapple features an easy-loading and easy-attachment design for medium hydraulic excavators.
• Compatible with Caterpillar C- and D-Series excavators
• Two-over-three-tine configuration for easy loading
• Pin hub allows easy attachment and keeps jaws connected with mounting pins
removed.
Visit EquipmentWorld.com/info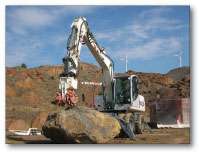 Transverse cutting units feature high performance, low wear
Terex's hydraulic transverse cutting units offer high cutting and crushing performance and low wear.
• Smooth, quiet running and low vibration
• High-torque hydraulic drive motors ranging from 24 to 190 horsepower, and hydraulic flow ranging from 8 gpm to 158 gpm
• Three standard cutting heads for excavation, scaling and demolition.
Visit EquipmentWorld.com/info
Fully-automatic grading box brings machine control
The Level Best fully-automatic grading box from ATI brings machine control to compact tool carriers.
• Push-pull design features forward or reverse grading
• Grades up to 1/8-inch elevation accuracy
• Available in 48-, 54-, 60- and 66-inch widths.
Visit EquipmentWorld.com/info
EARTHMOVING
Multi-tasking mover
Use a multi-tasking mover with Roadrunner's MT series trench paver-backfiller and base material spreader in one attachment.
• Adjustable gates work from 5 inches below grade to 4 inches above grade
• 4 ½-inch skid bars create smooth leveling
• Available in 16- to 20-inch or 30- to 50-inch widths, or to customer specs.
Visit EquipmentWorld.com/info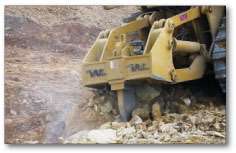 Severe duty attachment rips it up
Enhance productivity with Vail Products' Super Heavy-Duty Single Shank Ripper, designed for 160- to 200-horsepower tractors.
• Offers the weight of a multi-shank ripper in a single shank ripper design
• Manufactured from high-strength steel to handle severe-duty applications
• Features a heavy toolbar and thicker pin and shank for durability.
Visit EquipmentWorld.com/info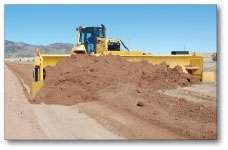 Lay it out fast
Quickly lay gravel for roads, runways and parking lots in a single pass, while minimizing segregation and breakage, with the AggreScreed dozer attachment from TerraTec Industries.
• Adjusts from 16 to 24 feet wide and from 0 to 15 inches high
• Adjusts to create a crown up to 3.5 percent
• Three times faster than graders and pavers, according to the company.
Visit EquipmentWorld.com/info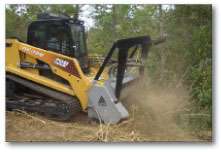 Mulcher increases torque automatically
The UML/SSL skid steer mulcher from FAE USA uses a variable-displacement hydraulic motor that automatically increases torque to the mulcher drum while moving from light to heavy material without any operator effort.
• Hydraulic front door
• Multiple tooth options
• 8-inch grinding capacity.
Visit EquipmentWorld.com/info
LANDCLEARING
Front- or rear-mounted mulcher
The Tree Hammer 360 from Loftness can be front- or rear-mounted and cuts up to 80 inches wide on 80- or 160-horsepower tractors.
• Uses 24 individually-bolted 7-pound hammers
• Optional rear mulching door and tree-pusher bar allows operator to cut down and mulch large standing trees
• Ribbed rotor design reduces parasitic drag.
Visit EquipmentWorld.com/info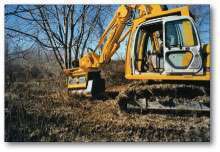 Brush shredder delivers high horsepower
Sneller Machine's self-powered brush shredder and tree removal attachment for excavators offers high horsepower for clearing applications.
• Triple-sealed bearings and teeth
• Needs no modification to your carrier
• Full power direct to the cutting head in 275-, 170- and 60-horsepower models.
Visit EquipmentWorld.com/info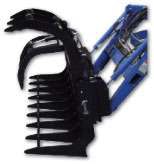 Grapple grabs it all
Dig up roots, rocks and trees with Anbo Manufacturing's GR-X grapple, which has tines manufactured from AR400 steel.
• Serrated edges ensure strong hold on material
• Tines have a bracing strut to resist bending
• Teeth mesh holds loads tightly and pushes smaller material.
Visit EquipmentWorld.com/info
See more landclearing attachments from Attachments International, Builtrite, Caterpillar Forest Products, CJJ, FAE, King Kong Tools, Lemac, M.C. Faulkner and Sons, ProGrind, Pro Mac, Shaver, Sidney Manufacturing, Sneller and Terex ASV at equipmentworlddigital.com.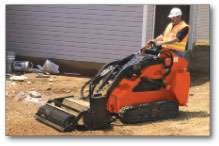 Rake it all in
Perform efficient surface preparation to a depth of 2 to 4 inches with McLaughlin's landscape rake.
• Removes stones, twigs and debris and can be used with or without a basket
• Soil preparation drum and 4-inch ripping tines prepare the soil for seeding
• Two models available, both with replaceable tines.
Visit EquipmentWorld.com/info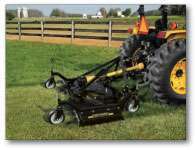 Mower delivers clean cuts
Cub Cadet Yanmar's FML72 rear finish mower features a rear discharge that easily disperses cuttings cleanly and evenly while four durable, composite rubber caster wheels ensure a perfectly level cut.
• 8-gauge deck housing and reinforcement plate under spindle assembly
• Cutting heights from 1 to 5 inches
• Category 1, full floating deck for easy contour on all types of land.
Visit EquipmentWorld.com/info
LANDSCAPING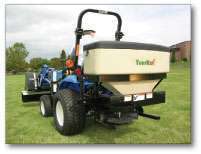 Spread materials in bulk
TurfEx's line of bulk material spreaders mounts on tractors, utility vehicles or pickup trucks and spreads fertilizer, compost, palletized lime, topdressing and other granular products.
• Hoppers with capacities from 9 to 11 cubic feet
• Heavy-duty polyethylene hoppers
• Variable speed controls for precise feed and spread patterns.
Visit EquipmentWorld.com/info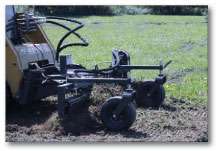 Rake useful in wet, muddy conditions
The Harley M Series Power Box Rake from Paladin Construction is available in six models with roller widths of 4 and 6 feet.
• Specially shaped carbide tooth design releases moisture from the soil for fast drying
• Enables windrowing through removable endplates
• Available in fixed, manual and hydraulic models.
Visit EquipmentWorld.com/info
LIFTING
Lift heavy material with compact lifter
Lift and move steel plate, concrete slab, landscape rock, pipe and more with Vacuworx's MC3 Mini Lifter.
• Fully contained unit suitable for a variety of host machines
• Has 6,600-pound lifting capacity
• Lightweight unit at 900 pounds.
Visit EquipmentWorld.com/info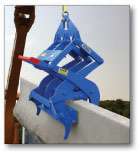 Gravity works with lifter for tighter grip
The Kenco Barrier Lift uses the force of gravity to allow the barrier tongs to clamp tightly against the surface of a concrete wall.
• Elastomer pads provide strong grip even in wet weather
• Rugged barrier tongs provide full-surface contact without damaging the concrete
• Available in lifting capacities from 1,500 to 30,000 pounds.
Visit EquipmentWorld.com/info
MACHINE ENHANCEMENTS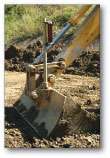 Improve accuracy with laser sensor
Experience increased functionality with Topcon's LS-B100 machine control laser sensor.
• Provide high accuracy and large working range
• Designed for dozers, box blades, excavators and backhoes
• CAN compatible, has wireless display capability and features an on-grade matching function.
Visit EquipmentWorld.com/info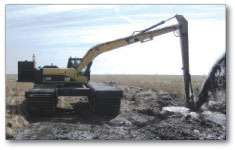 Cut ditches quickly
Average 2,000 feet of new ditch per day with Wetland Equipment's amphibious U-Ditcher.
• Cut 30-inch-deep by 36-inch-wide ditch in a single pass
• Distributes spoil through an adjustable chute as much as 70 feet away
• Can be mounted on any excavator.
Visit EquipmentWorld.com/info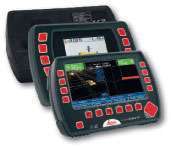 Optimize material usage when earthmoving and fine grading
Increase machine productivity with Leica's PowerGrade system.
• Suitable for a wide range of sensors
• Combines ease-of-use with an intuitive interface
• Upgradeable and scaleable from 2D to full 3D.
Visit EquipmentWorld.com/info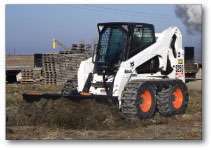 Improve traction in muddy conditions
Experience improved traction in soft, muddy or loose soil conditions with Grouser Products' over-the-tire tracks.
• Open side plate enables easy clean-out in the pivot area for field adjusting
• 1 1?4-inch hardened replaceable wear bushings
• Available in many popular tire sizes.
Visit EquipmentWorld.com/info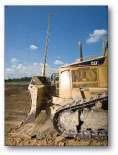 Do more work with machine control system
Topcon's 3D-MC2 dozer machine control technology delivers speed, accuracy and smoothness.
• Provides more than 100 blade position checks per second
• Four times faster than a standard dozer, according to the company
• Combines hydraulic control software with inertial sensor technology to improve productivity.
Visit EquipmentWorld.com/info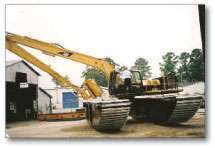 Pontoons eliminate bank damage
Work in rivers and canals without bank damage with Wetland Equipment's pontoons.
• Turns 360 degrees in place without moving forward or backward
• Eliminates the need to use the bucket when climbing
• Add tension throughout the life of the chain, rather than removing links.
Visit EquipmentWorld.com/info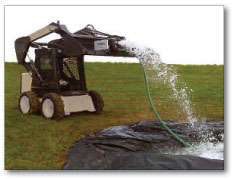 Hydraulic pump offers maximum power
The Trunk Pump's hydraulically-driven transfer/dewatering pumps provide a powerful pumping machine, moving up to 280 gallons per minute.
• Powered by a skid steer's remote hydraulics
• Tubular steel roll cage
• 8-foot hydraulic hoses and flush-face couplers.
Visit EquipmentWorld.com/info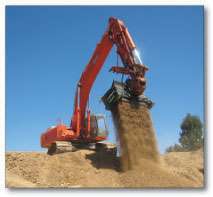 Screener processes tough materials
Remu's screening bucket uses rotating discs/blades and cleaning scrapers to process tough materials such as clay, compost or topsoil, even when materials are wet.
• Finest grain size is 5/8 inch
• Standard capacity of 300 cubic yards per hour
• Volumes between .15 and 8.4 cubic yards.
Visit EquipmentWorld.com/info
MISCELLANEOUS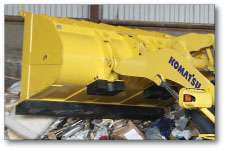 Rubber edge prolongs bucket life
Setco's compression-molded Rubber Cutting Edge provides buckets with greater strength and longer life, protecting both the bucket and the floor.
• Bolts directly to the bucket with rubber leveling pads at the rear
• Available with 5 inches to 9 inches of rubber
• For small and skid steer loaders, available with 3 inches of rubber.
Visit EquipmentWorld.com/info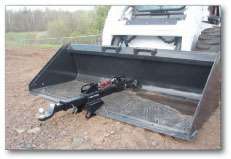 Use buckets to move trailers
The Wide Receiver allows skid steers, tractors or any loaders with a bucket to easily move a variety of trailers without removing the bucket.
• Mounts and dismounts in seconds with no tools required
• Receives balls, pintles and clevis pin hitches on buckets 24 to 36 inches deep
• Sticks out beyond cutting edge for precision maneuvering in tight spots.
Visit EquipmentWorld.com/info