Concrete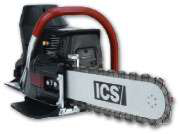 Cool Operation
The 680GC gas saw from ICS offers improved airflow for cooler operation and extended engine life. The saw features redesigned carburetion and ignition systems that ensure easy starting and dependable performance at any elevation. A 5.7-horsepower engine powers the saw, and a diamond chain runs at 5,300 fpm. The unit comes with 12- or 14-inch guidebars and weighs 21 pounds.
Visit EquipmentWorld.com/info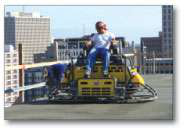 Personalized Trowel
Wacker Neuson's CRT 48-35L-PS power steer ride-on trowel features two joystick modes that tailor to the operator's personal style. Mode 1 modifies exaggerated movements for users who use a full range of movement, and mode 2 tailors to more delicate joystick movements. The 48-inch ride-on trowel is powered by a 35-horsepower Lombardi diesel engine and offers high speed range of 25 to 165 rpms. A wide seat and built-in comforts keep away operator fatigue.
Visit EquipmentWorld.com/info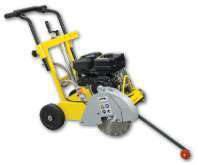 Walking Saw
Wacker Neuson's two new walk-behind floor saws provide compact, lightweight and powerful units that bridge the gap between a hand-held cut-off saw and a larger walk-behind saw. The BFS 614 line features a 14-inch blade diameter and minimum cutting depth of 4.9 inches. The 614B model uses a 6-horsepower, 4-cycle engine, and the 614AB model is equipped with a 5.5-horsepower Honda engine with a cyclonic filter.
Visit EquipmentWorld.com/info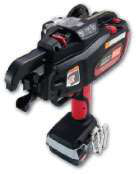 Labor Saver
Max USA's RB397 rebar tying tool delivers 200 ties per charge, and is capable of tying rebar up to #5 x #6. The RB397 features a trigger lock, torque adjustment dial, reversible belt hook and carrying case. The tool also has an automatic shut-off when the tool is not in use, and a brushless motor extends twisting motor life.
Visit EquipmentWorld.com/info
Miscellaneous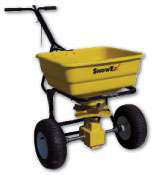 Controlled Spreader
The SP-75 walk-behind spreader from SnowEx features a single-port design that controls the spreading of large bulk materials and salt. The hopper features a 1.8 cubic feet capacity and holds roughly 100 pounds of material. A stainless-steel deflector encases the spinner and ensures material is spread in a controlled pattern. The lightweight, 29-pound unit uses 13-inch diameter pneumatic tires that easily travel through snow, slush and ice.
Visit EquipmentWorld.com/info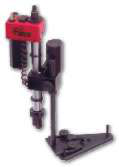 Simple Control
The 306-Z BoreWelder from Bortech provides a single point of control for voltage, amperage, gas purge, rotation speed, step size and weld direction. The 306-Z can be set up for skip welding and two-direction sectional welding. The unit features stroke lengths from 6 inches to 36 inches with up to a 54-inch reach. It provides 175 amps of continuous duty and is available in a 110-volt or 220-volt AC models.
Visit EquipmentWorld.com/info
Power & Lighting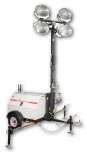 Tough Tower
Magnum's MLT 4000 series light towers feature a wider wheel base that withstands the rugged terrain of construction sites. The 4-point outrigger/jack support stance and side outrigger expansion of almost 12 feet assures maximum unit stability and can withstand winds up to 65 miles per hour. Four elliptical light figures at 1,000 watts each offer flexible light coverage with 360-degree rotation for 5 7 acres. The tubular steel mast extends up to 30 feet and rotates 360 degrees.
Visit EquipmentWorld.com/info
Compact and Portable
Simplify transport and handling with Generac's XG Series portable generator, which features a compact design and small footprint. Available in six models, the XG Series has oversized full-wrap frame tubing and impact resistant corners to withstand rough handling. Heavy duty wheels enable easy portability. The units have an illuminated control panel to improve visibility, a power bar that monitors wattage usage and low oil pressure protection.
Visit EquipmentWorld.com/info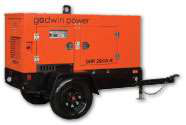 Quiet but Powerful
Godwin Pumps offers a range of portable generators that provide maximum power with quiet operation. The oversized generators offer maximum power for single-motor start-up and longer bearing and insulation life. A heavy-duty sound-attenuated aluminum enclosure with stainless steel hardware provides quiet operation of 68 decibels at 23 feet. A programmable control panel features push-button operation for a range of tasks.
Visit EquipmentWorld.com/info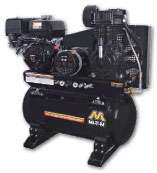 Convenient Combo
The Mi-T-M 30-gallon air compressor/generator creates a convenient combination of electrical power and air in a powerful unit. Equipped with either a 389cc Honda or 404cc Subaru OHV engine, the unit features a black powder coated belt guard and air tank. The Honda model provides 3500 watts and 15.7 cfm at 175 psi, and the Subaru model offers 4000 watts of power with 15.7 cfm at 175 psi.
Visit EquipmentWorld.com/info
Reduce Storage Costs
The Allmand V series vertical tower combines a compact trailer and lighting tower that remains vertical when not in use, reducing transportation and storage costs. The seven-section lighting tower telescopes and retracts vertically within 20 seconds. Mast and light fixtures stay within the footprint of the trailer when lowered. The V-series features a SHO-HD lamp fixture with a standard 1250 watt system. The unit produces 150,000 lumens per lamp.
Visit EquipmentWorld.com/info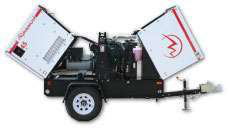 Work Saver
Magnum's MMG 45 flip-hood generator saves time and labor with a 106-gallon fuel tank that allows 35 hours of performance before refueling. The MMG 45 uses a 53-horsepower V3600-T-E3BG turbo Kubota engine and offers remote start/stop capabilities. The front and back flip hood design allows easy maintenance and a central control panel for simple operatio
Visit EquipmentWorld.com/info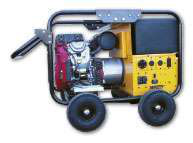 Reduce Fuel Consumption
Winco's WC12000HE industrial portable generator features a Conserv-R automatic idle control that reduces fuel consumption and engine wear. The generator is powered by a 20-horsepower Honda overhead valve engine with electric start. A 15-gallon fuel tank allows up to 15 hours of run-time. Low oil protection automatically stops the engine when crankcase oil is low. Standard features include a four-wheel dolly kit and lifting eye.
Visit EquipmentWorld.com/info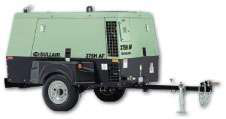 Convenient Air Delivery
Deliver compressed air conveniently and cost effectively to your jobsite with Sullair's 375H AF portable air compressor. Available with a choice of Caterpillar or John Deere four-cylinder diesel engines, the 375H AF delivers 375 cfm at 150 psig, and the completely self-contained unit includes an efficent contaminant removal system. Large service doors offer easy access to the fuel tank, engine air filters and tool compartment.
Visit EquipmentWorld.com/info
Pumping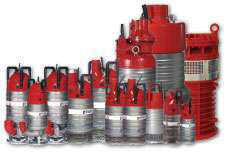 Pump Smarter
A new generation of submersible pumps from Grindex provides strong protection of motors and air valve systems while delivering a powerful pump for heavy-duty drainage and sludge. Smart motor protection prevents pumps from single phasing, overheating and backward rotation. The air valve system permits pumps to run completely dry without sustaining damage. The hydraulics system features a closed impeller to keep long-term wear to a minimum. Pumps rane between 0.6 and 140 horsepower and Vns per minute with capacities up to 750 feet.
Visit EquipmentWorld.com/info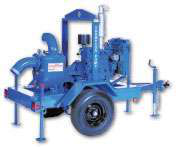 Remove Excess Water
Dewater the jobsite with Thompson HT's self-priming centrifugal trash pump. The solid cast-iron unit features rubber-lined wear plates and dry running abrasion resistant tungsten carbide mechanical seals with viton elastomers. Each model includes 2 or 3 vane impellers in sizes ranging from 3 to 8 inches with capacities up to 2,600 gpm and heads to 142 feet.
Visit EquipmentWorld.com/info
Surface Preparation
Gas Grinder
General Equipment's SG24/G gasoline powered surface grinder breaks up deposits, cleans concrete, asphalt and tile, produces exposed aggregate slabs and polishes delicate surfaces. The twin counter-rotating discs work a 24- by 12-inch area with an 11-horsepower engine and a dual V-belt/spur gear transmission. The SG24/G features a unitized, welded steel plate frame and extra capacity self-aligning ball bearing units.
Visit EquipmentWorld.com/info
User-friendly Finisher
Allen's 4836B bridge deck finisher provides a more user-friendly design with all hydraulic controls powering the mainframe and the dual-roller finishing carriage. The 4836B features a 25-horsepower engine, manual crank legs and a single drag pan with burlap drag. The unit comes with a 36-inch-deep mainframe, dual 8- by 48-inch finishing rollers and a 5-inch hydraulic carriage lift.
Visit EquipmentWorld.com/info
Welding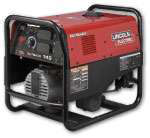 Portable Welding
The Outback 145 engine-driven welder from Lincoln Electric delivers portable DC stick welding and AC generator power in one unit. The unit gives 145 amps of smooth DC output welding for up to 1/8-inch stick electrodes. The high-capacity generator provides 4,750 watts peak power and 4,250 watts of continuous power for accessories. The 238-pound unit is built with a rugged 1 ¼-inch- diameter tube frame for protection. The 145 features a Subaru 10-horsepower gasoline engine and uses a 6.8-gallon fuel tank.
Visit EquipmentWorld.com/info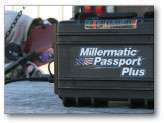 Powerful Portable
Miller's new Millermate Passport Plus all-in-one MIG welder provides enhanced arc quality and high power in a lightweight, portable unit. The Passport uses a direct connect Spoolmate 100 series spool gun to provide increased welding performance on 18 gauge through ¼-inch aluminum and improved arc quality on stainless steel. The 45-pound unit features a multi-voltage plug and auto-line power management technology that allows connection to a 115- or 230-volt power source by changing the screw-in plug.
Visit EquipmentWorld.com/info