Introductions
By Marcia Gruver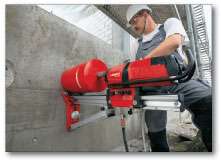 Coring additions
The DD 350 and DD 500 coring systems from Hilti come with water-cooled, high-frequency motors, rated at 3,600 watts in the DD 350 and 5,500 watts in the DD 500. This 1,000-hertz, high-frequency brushless technology reduces weight and cuts maintenance costs. Equipped with 10-speed electronic gearing, the motors deliver constant power output over the entire diameter range and allow speed to be adjusted while the motor is running.
Visit EquipmentWorld.com/info
Editor's Pick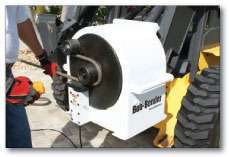 Rebar on the fly
Frear's Bob-Bender rebar bending machine mounts on standard skid steer quick connect attachment brackets, giving you the ability to bend rebar anywhere the skid steer can go. Offering 9,500 pounds torque at 3,000 psi, the unit has an open center dual-loop hydraulic valve with 5 gpm flow through. With an adjustable bend pin for small rebar, the attachment can bend up to 200 degrees. It comes with four bend mandrels for No. 3, No. 4, No.5 and No. 6 rebar, a remote pendant control and 18-foot wiring harness. Available options include a No. 7 rebar mandrel and a battery kit with charger. (Go to EquipmentWorldDigital.com for a video this product in action.)
Visit EquipmentWorld.com/info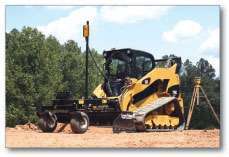 Integrated grading
Now all Caterpillar C-Series skid steers, multi-terrain and compact track loaders have the ability to add integrated AccuGrade laser grade controls. The system, which is retrofittable on all C-Series machines, uses on-board electronics, controls, displays and safety features. In addition, these machines now feature selectable hystat response control, which allows fingertip adjustment between three levels of machine control: standard, intermediate and maximum.
Visit EquipmentWorld.com/info
Portable power
The Platinum Series P185 portable power air compressor from Doosan Infracore Portable Power has 50 percent less noise and 21 percent more fuel efficiency than the model it replaces. Providing 185 cfm at 100 to 125 psi, the unit also has 33 percent more tool box space, allowing for storage the full length of the frame.
Visit EquipmentWorld.com/info
Auto-idle
Equipped with a 48.8-horsepower diesel engine, Bobcat's E50 compact excavator weighs 10,677 pounds and has a tail swing overhang of 0.6 inches with a standard arm. A standard auto-idle feature, which can be turned on and off, automatically returns the engine to idle if machine functions are not used for a period of four seconds, saving fuel and reducing noise. The engine automatically returns to the preset throttle position as soon as the operator starts working again. (Go to EquipmentWorldDigital.com for a machine walk around.)
Visit EquipmentWorld.com/info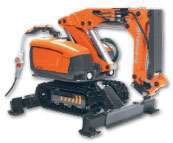 Demo robot
Husqvarna's DXR 250 demolition robot's low weight fixed arm is durable enough to ensure stability at the end of its reach, 15 feet from machine to the tip of the breaker. The low-profile body ensures you can see over the machine when working. A dozer blade makes the chassis shorter and more stable, allowing easy maneuvering in restricted spaces. Weighing 3,594 pounds, the robot is powered by a 25-horsepower engine.
Visit EquipmentWorld.com/info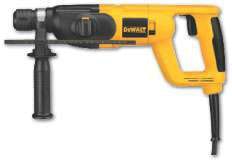 Powerful lightweights
DeWalt designed its line of SDS rotary hammers with weight reduction and durability in mind. The D25023K D-handle grip 7/8-in. hammer has a 6.9-amp motor that delivers up to 1,550 rpm. The hammering mechanism has 1.8 foot-pounds of impact energy. The D25012K pistol-grip has a 6-amp motor.
Visit EquipmentWorld.com/info