Contractor Kurt Unnerstall hails from Washington, Missouri, a historic river town about 50 miles west of St. Louis with rolling hills, steamy summers and bountiful clay deposits.
That clay spurred many of the town's German settlers, who began arriving in the 1830s, to build kilns for firing bricks. Their red bricks would later play a role in Unnerstall's start in the work world. His ancestors were among the 12 Catholic families who pioneered Washington.
"There were actually three brick yards back in the 1800s that made brick here in town. And Washington used to have the name of 'Little Brick Town' because every building was made out of brick," says Unnerstall.
He holds a civil engineering degree and is a developer, as well as a contractor. Unnerstall value-engineers projects to cut costs for property owners. That includes saving a developer $250,000 on a subdivision and the state of Missouri a half-million dollars on a highway project.
Unnerstall was the youngest of eight kids born to Julia and Elmer Unnerstall, an oil jobber. They had grown up during the Great Depression and impressed upon him the value of working hard.
"I always say that was the greatest gift from my parents because I'm not scared to work, I'm not afraid to put in the time," he says.
When he was 12, Unnerstall and two buddies spent a summer cleaning 25,000 bricks – for 2 cents apiece. They used a hatchet to tap off mortar from the soft, century-old bricks. Kurt's older brother wrapped and palletized the recycled bricks for 20 cents.
That began decades of work by Unnerstall, 54, to help build his community and its tax base.
K.J. Unnerstall Construction (KJU) has developed subdivisions for all incomes and ages. The company has built roads, bridges, buildings, lakes and performed site development, utility work and demolition. In addition, KJU's concrete division installs curbs and gutters, sidewalks and slabs.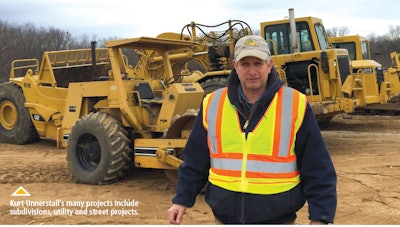 "We're a full-service site contractor, so we can take a project from the ground up – the earth work, roll right into the utility work – and if they need any lane widening, street tie-in construction work, we can do that," Unnerstall says.
Sal Maniaci, community and economic development director for the city of Washington, says that with estimated construction costs and secondary developments that branched off, Unnerstall's projects have generated at least $100 million for the regional economy, with much of that benefiting the city.
"There really are five subdivisions in the community of Washington that wouldn't be there if it weren't for Kurt Unnerstall," says his wife, Michelle. "That's really a legacy. Even after he's gone, those will still be here."
Unnerstall's first job out of University of Missouri-Rolla (currently named Missouri University of Science and Technology) at 22 was consulting and designing roadways and wastewater treatment plants for O'Brien & Gere. At 25, he joined Sverdrup & Parcel, working in 25 states in seven years.
His epiphany came at age 32 when a snowstorm delayed him at Chicago's O'Hare International Airport, making him miss his kids' Christmas play. "I decided that was a turning point, that I need to shift gears and find an avenue that keeps me close to home."
So, he went to work for an area contractor who mentored him on the local construction market over the next four years before Unnerstall struck out on his own.
"I started my own company with two men and one excavator," Unnerstall says. He rented a Caterpillar wheel loader for their first job, demolishing a milk tank company on an 8-acre site, then doing site work for a new doctors' building.
One of his first subdivisions was Stone Crest, a high-end residential subdivision started in 1999 on 140 acres of farmland the couple bought. It's nearly built out now with 240 homes.
"We grade the land and do the water, sewer, storm drainage and streets, and then we sell the lots and let the custom builders build," explains Unnerstall.
Because he's a civil engineer, he does road layout and design of the lots. The roads curve past a centerpiece lake with a fountain. Houses are set in rolling hills, many with walkout basements. "We try to work with the land instead of knocking it flat," he says.
Being diversified and keeping up a current, sizable fleet and quality equipment, including the latest technology, has kept KJU competitive with less downtime.
"We invested early in GPS technology when it first came out, and we try to stay current," he says. "We do all computer modeling for the site work. That's helped keep us productive."
Unnerstall says his dedicated employees "are worth their weight in gold" and, equipped with advanced equipment, kept his company working through the recession.
Making a difference
When making business decisions for his construction firm, Unnerstall keeps in mind it's not only for his family but for all the employees' families who also count on him. "One of the things I am proud about is I am feeding 64 kids, not just my six kids," he says.
At St. Francis Borgia Regional Catholic High School in Washington – where kids used to hold football practice in a swampy area – KJU donated equipment and time to regrade fields and build a regulation-sized football field as part of a new sports complex.
"Kurt donated all his services to them for a new football field and track," notes subcontractor Dwayne Hellebusch. "He did the construction management all for free."
Unnerstall's first mentor, his dad, Elmer, had always told him, "Whatever you give to others, you get back tenfold." So, Unnerstall does good works quietly, such as when he turned a big, rough ravine into a parking lot for Elks Lodge No. 1559 and donated the clean fill.
Or when for a major church project, KJU was paid for labor and costs, but donated back its profit, roughly $50,000, collecting only 1 cent.
Mark S. Vincent, president of Missouri Pathfinders, tells of KJU's contributions to Veterans Memorial Park in Union, a multi-use park that recognizes the sacrifices made by disabled military veterans. KJU did site grading, concrete work, parking lots and underground drainage and irrigation.
Vincent says that when KJU was hired, Unnerstall promised "that he would not profit on the sacrifices of disabled veterans. He promised to donate back to the organization the difference between the amount of his bid and his actual cost. Mr. Unnerstall came through as promised, donating $24,000 to the project."
And Bill Schuck, president of a nonprofit that provides therapeutic horseback riding to people with special needs, says, "Kurt and his company have provided us with free and discounted services that have made otherwise impossible projects become possible for our small organization."
Unnerstall says considering he has plenty of work in his little pond of Washington and neighboring Union, and also in the bigger pond of St. Louis an hour away, he sees no need to travel further for work.
"Our motto is we try to stay as close to home as possible," he says. "We don't need to go any further. A lot of construction companies will go wherever and chase big projects. That's just not what we do. We stay close to home and try to swim in both ponds."