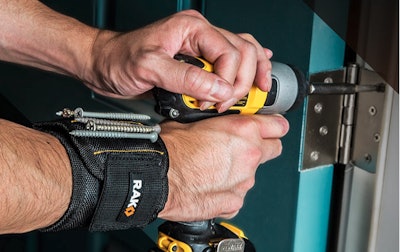 Just when you get ready to put that final screw in, it drops to the floor. Now you have to search for it or get another one, creating frustration around what should have been a simple job.
Keeping up with all the screws, nails, bolts, washers and drill bits around a job is a pain, which is why the RAK Magnetic Wristband is ingenious.
RAK calls it "a third helping hand when you need it most." Using the 10 magnets embedded around the 3.66-ounce band, you can just load it up with the hardware you need to get the job done. No more fumbling through your pockets to get the right nail or screw—or putting them in your mouth as a way to keep them handy.
The 1680D ballistic nylon exterior—initially designed to shield artillery fragments—can take on jobsite rigors while a double-layer soft mesh interior protects your skin against abrasions. The Velco-type fastener adjusts to most wrist sizes.
It's more than a wristband, RAK says. It also can be strapped to your belt or hung above your work bench. Some users report strapping it to their ladders, or laying it flat to use as a magnetic tray. But there is a word of caution—users report the magnets are so strong you may get inadvertently stuck to surrounding metal.
The wristband makes an excellent stocking stuffer and runs for around $17 on Amazon.