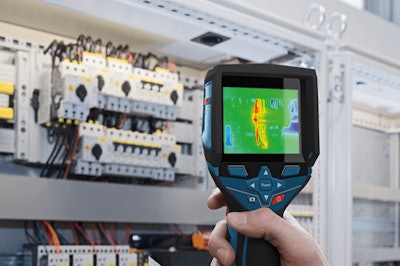 Bosch Power Tools has introduced a new thermal camera the company says is designed to give electricians, MEP contractors and HVAC technicians a lightweight and convenient detection tool for measuring variances in temperature across a variety of jobsites.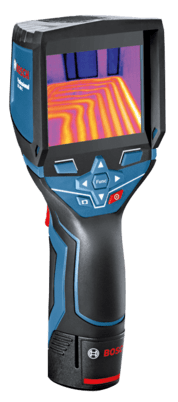 Powered by Bosch's 12V Max battery platform, at the center of the GT400C thermal camera is a 3.5-inch color display. With the pull of the camera's trigger, thermal images are captured at a 160×120 resolution with the ability to detect temperatures ranging from 14 degrees to 752 degrees Fahrenheit. Bosh says the camera is accurate to ±4 degrees.
The camera's temperature scale can be adjusted and you can select between red/blue and black/white thermal display color schemes.
The camera also allows you to snap non-thermal images for side-by-side comparisons of what your eye sees versus what the camera's thermal sensor detects. The GT400C's display let's you see these two views in side-by-side, picture-in-picture or overlaid display modes.
The GT400C has on-board storage for up to 600 images. A MicroUSB port lets you connect to a computer for image uploads using Bosch's GT transfer app.
The camera has an IP53 rating for water and dust resistance and is available now for $1,199. In the box you'll get a 12V Max battery, a 12V Max charger, a MicroUSB cable and a carrying pouch.
Contact your local Bosch dealer or visit the Bosch website for more details.