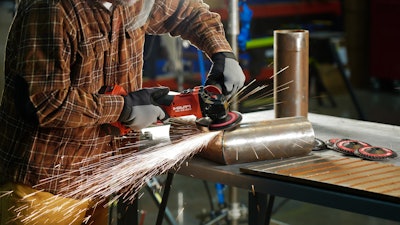 Hilti's new cordless angle grinder is the AG 4S-A22, featuring a comfortable grip, ergonomic design, brushless motor and variable speed dial.
A slate of disc options is available for this grinder, including a new 5-inch disc option. These disc options in tandem with the grinder's variable speed dial allow for a high degree of precision in a wide variety of applications including cutting, grinding, smoothing and finishing.
Plus, the tool can be used across a range of materials such as stainless steel, aluminum, brass, copper titanium, concrete and other mineral surface.
The AG 4S-A22 is compatible with Hilti's entire 22V battery platform.