I hate work lights. Exploding incandescent clamp lights. High temperature halogens poised on top of rickety tripods just waiting for a nudge to topple over and burst into flames.
Hated all of them. Always have. For three decades.
That is, until I tried the cordless Milwaukee Rocket M18 LED Tower Light/Charger.
Stable and solid
The Rocket is unlike any shop-, job-, or work-light I've ever seen. First of all it's stable, with sturdy, tripod legs that set up within seconds. The telescoping center mast adjusts the LED array from 4- to 7-feet high, but with the battery and its electronics at the bottom of the mast acting as ballast, you'd have to tackle it hard to tip it over. A bump won't do it.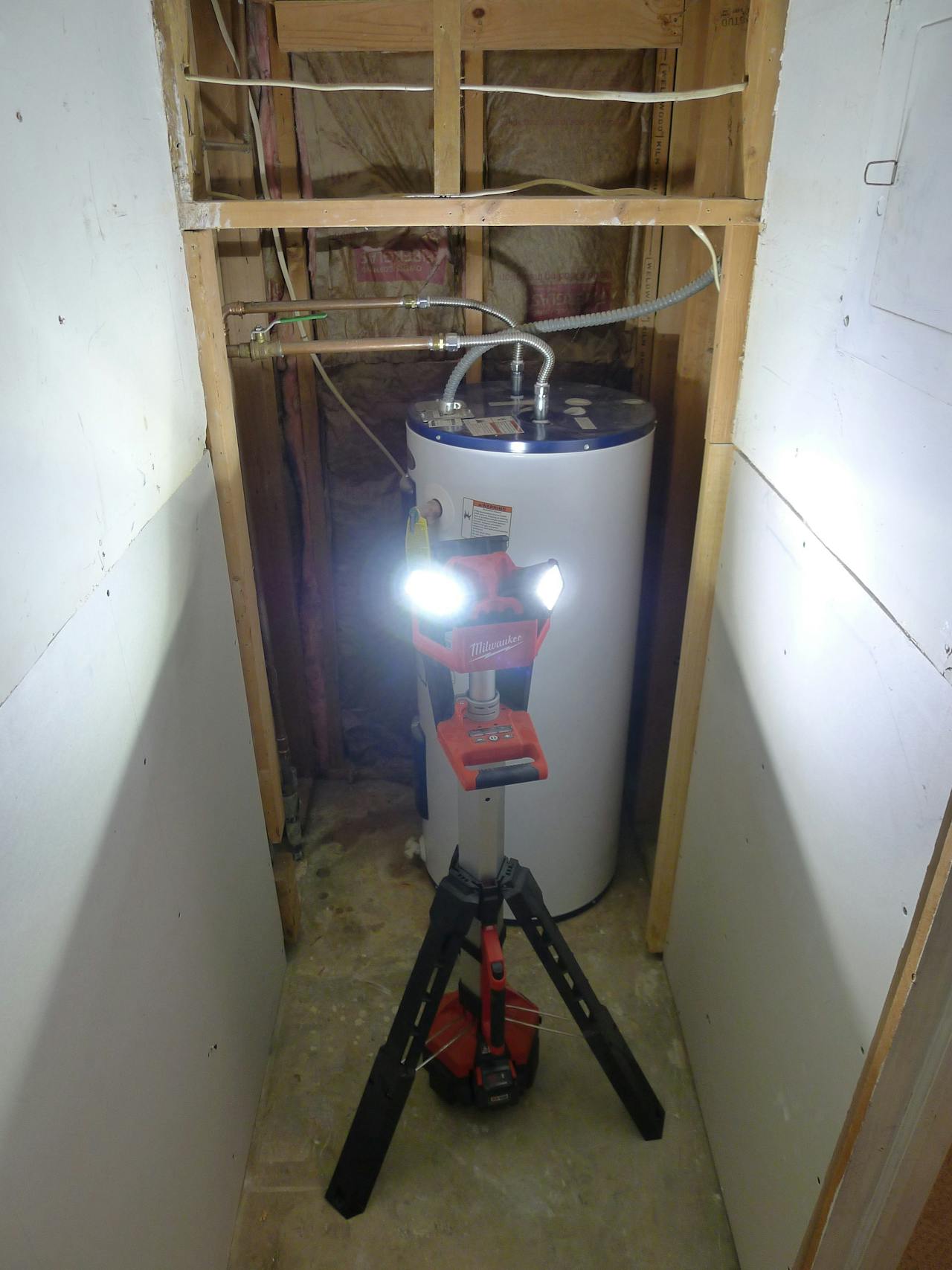 What really sets this work light apart are the three multidirectional LED light heads. Each light can be independently adjusted up or down, or you can turn them all in the same direction and shoot a hard, directional side light when you're looking for imperfections in drywall or finishes. Spread them out and you get a broad wash of illumination.
The diffuse quality of the LED lighting will be a welcome sight for anybody who has stared into an engine bay at night and seen more shadows than engine. Like sunshine, LEDs give you illumination and detail even in the shadows.
LEDs also put out a lot of light using very little power and generating very little heat. Using Milwaukee's M18 system, 9.0 amp-hour battery and the Rocket set at high-power (3,000 lumens), you get 4 hours of battery life. At 1,700 lumens, you get 8.5 hours of battery life and at 900 lumens the battery will last 17 hours. Most other work lights I've seen generate 800 to 1,300 lumens.
You can also use Milwaukee's 5.0 amp-hour battery and get the same light, but your run times will be about half of what the 9.0 amp-hour battery delivers. (Some of the specs on the box may indicate the run times from the less powerful battery.) But the Rocket comes sans battery, so you're free to choose the 5.0 or the 9.0 amp-hour battery and charging system.
If you're already invested in a Milwaukee 5.0 amp-hour system, don't think you have to step up to a new 9.0 amp-hour system. Milwaukee includes an AC outlet in the Rocket so you can power it up with an extension cord. This not only gives you infinite run time, but when the light is plugged in it's also recharging the battery at the same time, hence the "Light/Charger" in the name. Very smart.
Also note that there are actually two Rocket LED Tower Light/Charger models. Model number 2135-20 that I tested and the one shown in these photos has three independently adjustable light modules. Model number 2130-20 has a single, monopod light.
Safety on the site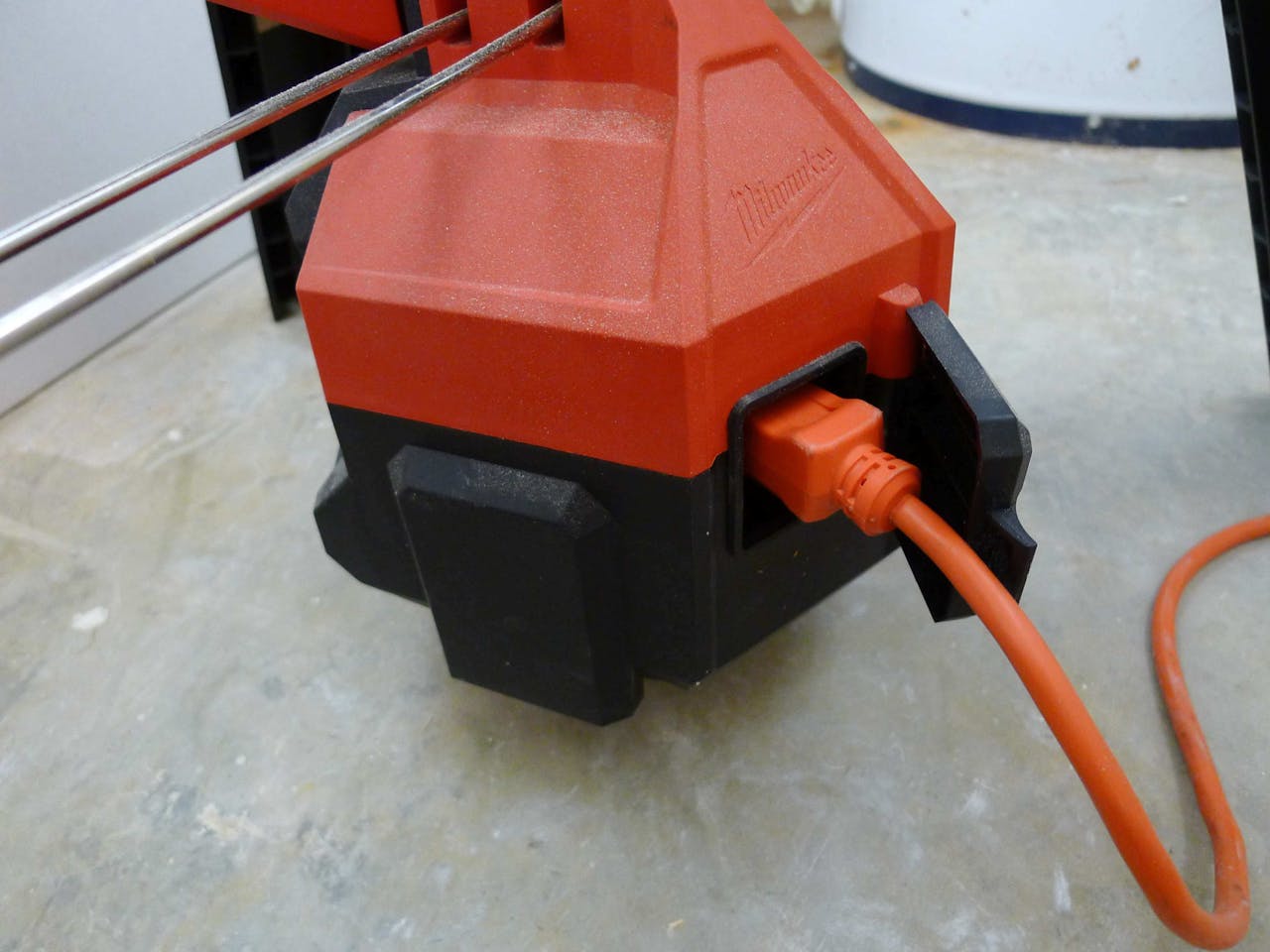 What I like about the multi-directional lights is how you can set them up with one to focus on the work and the other two to provide general illumination around the work area. At full height with the lights pointed down you get a cone of useable light about 30 feet across.
At night, traditional work lights create blindingly bright light in one direction but black shadows behind the light or in front of anything in the path of the light. Outdoors, that can be a safety problem when, for example, you step behind the light and can't see a random brick or two-by-four on the ground. With the M18 Rocket Tower Light/Charger, even in the shadows, you get some detail, and you don't have to turn your work light around to find a tool or a part that's been dropped in the shadows. The multi-directional light heads also come in handy in confined indoor spaces, allowing you to bounce light off multiple surfaces and fill a small room with even, glare-free light.
Milwaukee says the lenses covering the LEDs are impact resistant polycarbonate. They are sealed as well, to prevent dust from collecting in the housing—a common problem with halogens. The company offers a limited lifetime warranty on the LEDs and a five-year warranty on the rest of the product.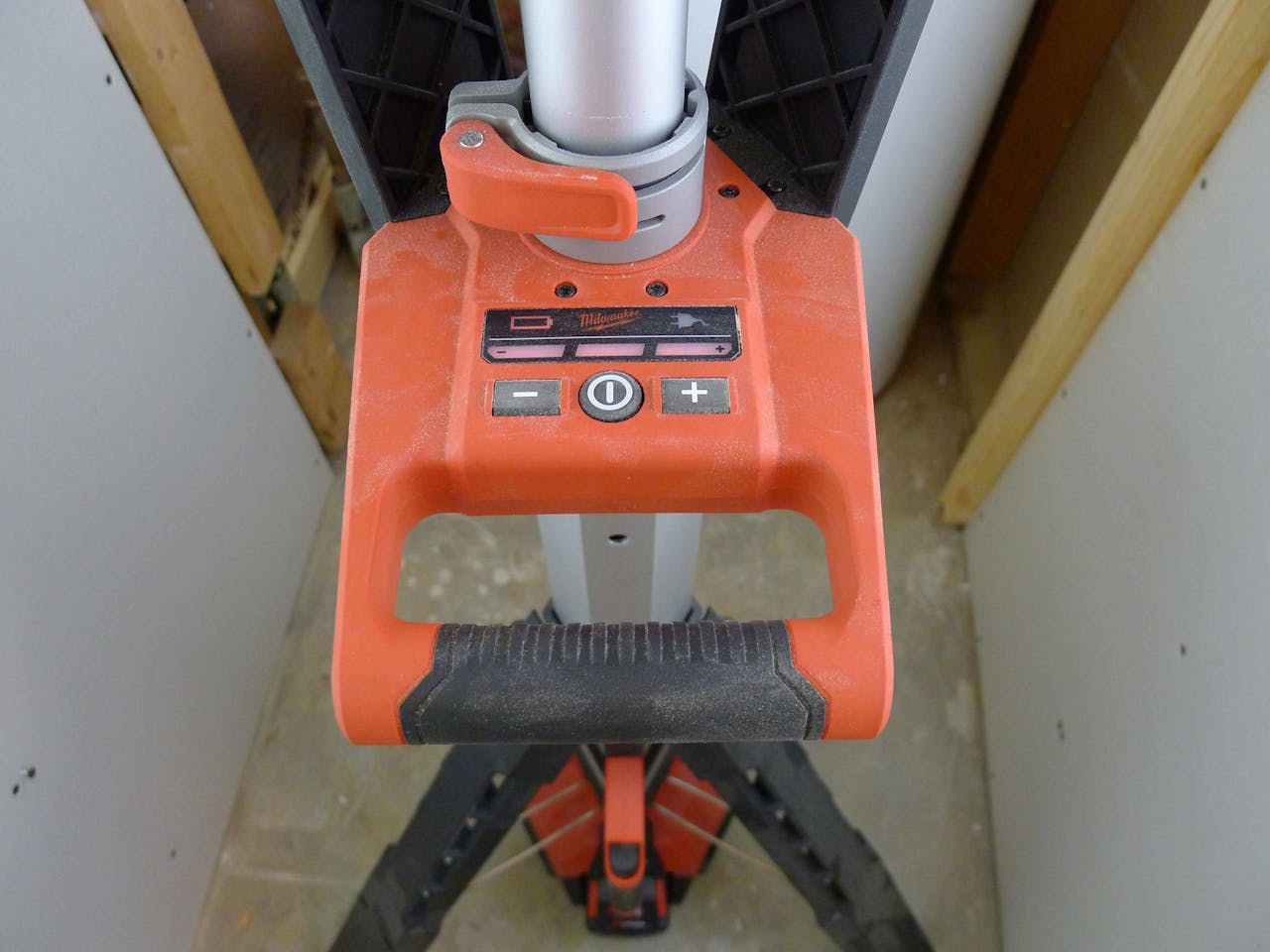 Still, part of me wishes there were a carrying case for the M18 LED Light Tower/Charger, knowing how some people will throw tools into the back of their pickups and vans. Another thing that might be nice to see is tripod extensions on the legs, so you could set it up on uneven ground.
Competing manufacturers have a variety of cordless flashlights and hand-held lights too, but no tower lights other than some LED modules attached to the rickety, old-style stands leftover from the halogen days. The Rocket has those beat by a country mile.
At around $400, sans battery, the price may make some of you pause. But in today's world of $900 track saws and $600 random orbit sanders, a $400 light isn't inconceivable for professionals. You're not going to find a better portable work light at any price. It will earn it's keep in the field or in the shop; whether you're finishing drywall, painting or repairing equipment. And the multiple benefits of the Milwaukee M18 Tower Light/Charger make it a strong candidate for building a collection of tools around this battery platform as well.