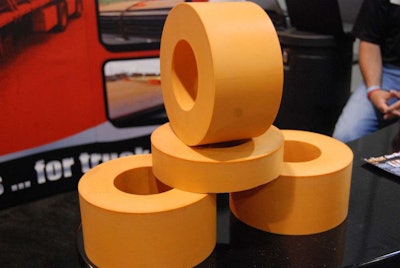 We love great ideas borne out of necessity and the Cargo Cookie certainly fits the bill. The idea came to former small fleet owner and flatbed hauler Steve Burroughs about a year ago and he started development about nine months ago, according to our sister site Overdrive.
Burroughs was tired of the inconvenience of using pallets, tires, wood or other makeshift devices to add a bit more tension to the straps or chains securing a load. So he developed the Cargo Cookie, a doughnut-shaped device made from a foam urethane blend that's placed under the straps or chains. The device both keeps the load from being damaged and adds a bit more tension to the straps or chains and keeps the load more secure.
Burroughs is working on getting the device distributed through truck stops, but right now you can order it through the Cargo Cookie website. The 4-inch Cargo Cookie starts at $20 for a single unit, $65 for four, and $180 for a 10-pack. You can also order packs of a 2-inch version.