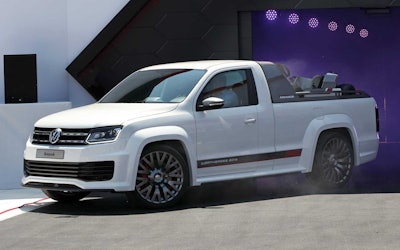 Just a few weeks ago we posited that if Volkswagen wants to achieve its goal of becoming an automotive giant that goes head-to-head year in and year out with Ford and GM, they need very much to bring a pickup truck to America and successfully sell it.
The automaker already has a great place to start with its Amarok pickup. It's a great-looking truck with a fuel efficient four-cylinder engine and there would no doubt be a ton of interest given VW's track record for fairly affordable quality.
But a new concept car the company recently showed off at its popular tuning show in Wörthersee, Austria makes the current Amarok seem dull. And we have no doubt that if this were the truck VW brought to the states, they'd have no trouble drumming up interest.
As we said before, the current Amarok makes due with a four-cylinder TDI engine. But the Amarok R Style concept packs a 3-liter V-6 turbodiesel pushing 272 horsepower and 442 lb-ft of torque. VW has announced that the R Style concept has an eight-speed transmission and goes from 0-62 mph in 7.9 seconds.
With speed like that the R Style is definitely more of a sport truck and the exterior styling definitely communicates that. The Amarok R Style sits low to the ground on big 22-inch wheels and features a carbon fiber diffuser in back and chromed tailpipes.
Inside, the R Style features a sporty red and black interior with bucket seats, a racing wheel and a carbon fiber dash. That's not to mention the 8-inch touchscreen and 500-watt subwoofer. Take a look at the full gallery of photos below.

VW's Amarok R Style 2 concept pickup