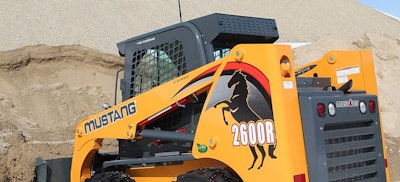 Mustang has launched a complete redesign of its full-size radial lift line of skid steer loaders. The new R Series skid steers includes the 1900R, the 2200R and the 2600R which boast multiple cab improvements, Yanmar Tier 4 engines and an enhanced hydraulic system.
The Yanmar engines aboard these machines incorporate diesel particulate filter (DPF) technology and don't require fuel after-treatments. The machines feature maximum torque ratings of 173 foot-pounds on the 1900R to 206 foot-pounds on the 2600R.
Mustang promises quicker cycle times thanks to the enhanced hydraulics on the machines. The company says the new says flow rates reach 31.5 gpm on the 1900R to 35 gpm on the 2200R and 2600R with the high-flow configuration.
The redesigned cab features a new side-folding restraint bar along with armrests. The R Series boast improved visibility with a cab-forward design and lowered rear towers. An optional pressurized, sealed cab is available for the R Series machines. Two control options are available: joystick and hand/foot.
The joystick control features auxiliary hydraulic controls and a customizable digital display provides coolant, fuel, battery, environmental and engine regeneration information in real time. An extra-wide rear door and engine hood provide improved service access.
Additional features include pressure-relieving hydraulic couplers, thumb-controlled proportionate auxiliary hydraulics, Multi-Tach or hydraulic Power-a-Tach attachment systems, HydraGlide ride control and the Hydraloc safety system.