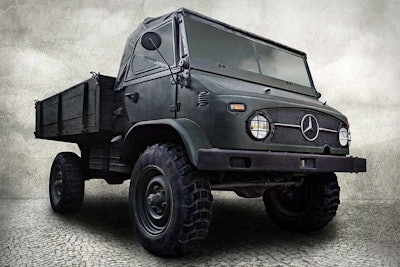 This 1955 Mercedes-Benz 404 Unimog is one of the cooler vintage vehicles we've stumbled upon. This one in particular is the fourth that rolled off the assembly line in 1955 and is located in Orange County, California. The 404 Unimogs were built to be cross-country trucks and judging by the seller's description it accomplishes that goal just fine.
The Unimog features "portal axles, front and rear differential locks, shift on the fly 4×4, M180 Mercedes gasoline engine, 17 inches of minimum ground clearance, 45+ degree approach and departure angles, coil suspension, flexible frame, its maneuverability, and low center of gravity."
But we did a bit more digging and found out that in addition to its military roots, the Unimog has enjoyed some success in the construction industry. Mind you, this isn't exactly one of the most common vehicles you'll find on a construction jobsite, but according to Wikipedia, Unimogs have been and are still used in many areas of the world as equipment carriers and for transporting workers.
Wikipedia notes that the Unimogs can also be "equipped with a backhoe, front loader, or other contracting equipment. In fact, between 1975 and 1980 Case "imported the U-900 model into the United States and sold it through Case tractor dealerships as the MB4/94."
Should you decide you just have to have one of these on your jobsite, you can pick this baby up as-is for $28,000. But if you'd like this baby looking like it just came off the assembly line, the seller offers "a full frame-off rotisserie restoration, and a better-than-new rebuild of all mechanical and electrical components" for $140,000.