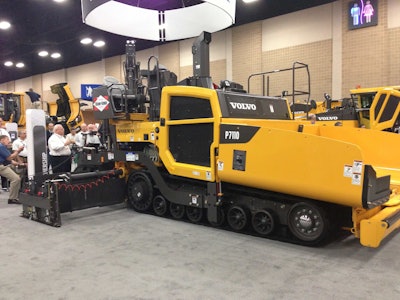 Though neither product is yet shipping (one hasn't even gone into production yet) Volvo Construction Equipment gave attendees at World of Asphalt 2013 a sneak peek at its P7110 paver and the DD110B compactor.
The P7110 pavers replaces the PF6000 series, according to our sister publication Better Roads. A Volvo spokesperson said the company's focus when creating the pavers was on operator interface and visibility.
The P7110 is Volvo from tip to tail and is powered by a Tier 4i Volvo engine. It has a 10-foot width, a maximum paving width of 26 feet, a paving depth of 0.25 inches to 12 inches, a hopper length of 6.73 feet, an inside hopper length of 10.58 feet and a 16.5-inch auger diameter.
[youtube bCwSCrG5_Yk nolink]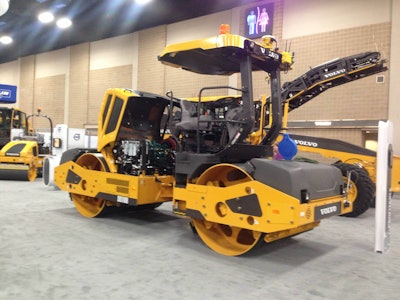 Volvo's new DD110B compactor replaces the DD90. It's in production now and will begin shipping in about 45 days, Better Roads reported.
The DD110B features larger drums, more amplitude, higher frequency, increased centrifugal force and more water storage (made possible with two tanks) than its predecessor and is powered by a Tier 4i Volvo engine.
Volvo also included a new operator system with new features like a six-way adjustable seat, tilt steering wheel, instrument cluster and a newly-designed ROPS canopy.
[youtube cxKwPhPCfKc nolink]