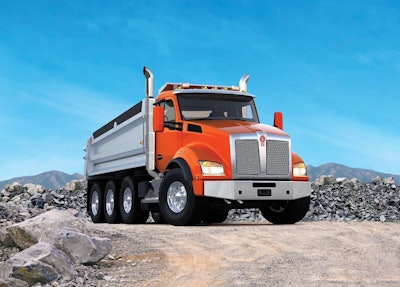 Kenworth calls its T880 vocational truck, launched at the Mid-America Trucking Show held this week in Louisville, "evolutionary, but uniquely Kenworth."
Key features are a panoramic windshield that enhances driver visibility, cab with triple-sealed doors, a 5-piece hood that enables quick repairs and lightweight factory-installed lift axles.
Designed for vocational applications such as dump, mixer, refuse and heavy haul, the T880 is available standard with the 12.9-liter PACCAR MX-13 engine, delivering 500 horsepower and 1,850 pound-feet of torque.
The Cummins ISX15, with up to 600 horsepower and 2,050 pound-feet of torque, is available as an option.
Creature comfort features include the robotically-assembled stamped aluminum cab, which has 23 inches of room between the seats and resists noise, vibration and corrosion.
The cowl-mounted mirrors offer improved visibility, durability and reduce the need for adjustment. The truck's dash cluster has 9 standard gauges with 12 additional gauges available. Switches use the toggling feature while maintaining rocker switch functionality. Premium Diamond VIT and Vantage trim levels are available, as are two interior color options – Sandstone Tan and Slate Gray.
The Kenworth T880 will be available for production during the summer of 2013.