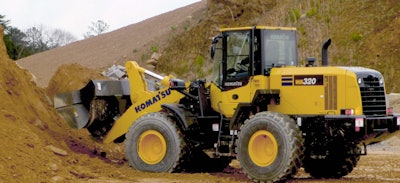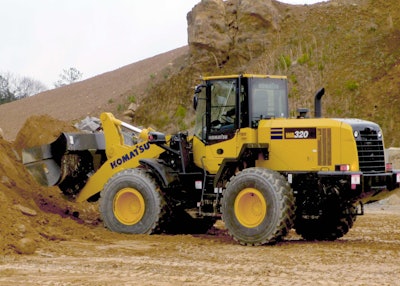 Lower fuel usage and maintain productivity with Komatsu America's WA320-7 wheel loader, powered by a Komatsu SAA6D107E-2 engine which delivers 165 net horsepower via a Tier 4 interim engine.
The WA320-7, which replaces both the WA320-6 and WA320PZ-6, decreases fuel consumption by up to 10 percent, compared to the WA320-6.
Using the Parallel Z-bar loader linkage, the WA320-7 provides parallel lift and high tilt forces. Useful for loading material and earthmoving jobs, the machine features a 10-percent increase in lift force over the WA320PZ-6.
The wheel loader includes Komatsu's SmartLoader Logic, which determines and provides the most appropriate level of engine torque for the task at hand. The system automatically decreases engine torque in situations where additional torque is not needed, such as while driving with an empty bucket.
The loader's hydrostatic drive train increases pump capacity, boosting both efficiency and responsiveness. The self-braking effect of the HST drivetrain slows the machine while greatly reducing brake wear and improving control. The HST drivetrain features the Komatsu Traction Control System that improves performance in soft terrain, and features three settings: Max, Auto and S-Mode. A variable speed control enables the operator to set speeds based on the applications.
Komatsu took operator comfort into account, providing a more comfortable, quiet cab with lowered front glass and a redesigned dashboard. New cab features include an auxiliary input to connect an mp3 player, two 12-volt ports, high resolution LCD monitor and a redesigned seat mounted right hand console with multi-function mono lever with proportional control for the integrated third spool.
Serviceability on the WA320-7 was addressed through easy service access, improved cooling capacity, wider cooling fin spacing and an auto-reversing radiator fan. Komatsu's Equipment Management Monitoring System provides both monitoring and troubleshooting capabilities while monitoring all critical systems.