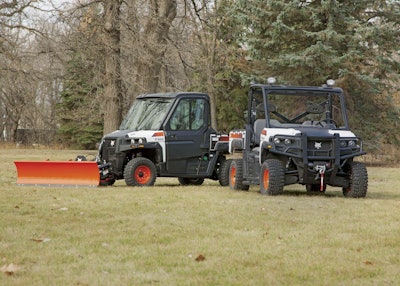 This morning, Bobcat announced two utility vehicles that feature interchangeable, front-mounted PTO attachments. The UTVs, dubbed the 3600 and 3650, were co-developed by Bobcat and Polaris and are powered by Yanmar Diesel engines and a hydrostatic-drive system.
The 3600 and the 3650 start at $15,000 and $25,000 respectively.
Patty Vaughan, from our sister site Total Landscape Care, paid a visit to snowy Lake Tahoe to see the vehicles in action. The UTVs have a 30-mph top-end speed and Bobcat marketing manager Rob Giles told TLC that a hydrostatic-drive system was key for creating a durable but quick machine.
"It's a little bit more complicated as far as serviceability goes, but it's more durable than a CVT system," Gilles says. "You'll see that when you're climbing hills. If you try to do it in high range, you're going to notice that your speed is going to drop drastically, but you're going to notice that the RPM of the engine isn't going to lug. That way, you maintain you torque throughout your full spectrum of your acceleration."
The 3600 is compatible with two attachments designed for snow removal: a snow blade and a sprayer. The 3650 greatly expands that attachment compatibility to a snowblower, mower, angle broom and non-PTO attachments such as a snowblade, pallet fork and bucket.
Be sure to check out TLC's video of these UTVs below.
[youtube egO-AEpgUuY nolink]