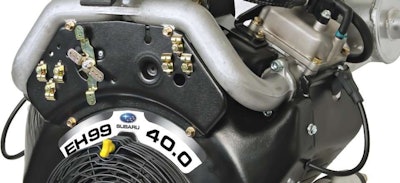 Subaru Industrial Engines will introduce two new big block V-Twin engines this year in the 35-horsepower EH90 and the 40-horsepower EH99.
Both the EH90 and EH99 are 999cc four-cycle overhead valve gasoline engines that feature an oversized air filter for use in harsh, dusty environments.
Dave Frank, Subaru Industrial Power Products (SIP) Vice President of Sales and Marketing, made the announcement during a World of Concrete press event. The engines were on display at the company's World of Concrete booth.
Frank said some OEMs have received samples of the engines and production should start in June. The engines will launch in the horizontal shaft format but vertical shaft versions are in development. LPG and natural gas versions are also in development.
Frank said the market for larger, air-cooled 35- and 40-horsepower gas engines "is actually the only market in the engine industry growing right now for concrete construction." SIP notes that the engines are ideal for concrete polishers, riding trowels, utility vehicles, zero-turn mowers and ride-on blowers.
Frank said SIP decided to enter the market after seeing how the EPA's Tier 4 emissions regulations negatively affected diesel engine makers in this segment. Few are left and those are typically higher in price. "EPA regulations have nearly eliminated diesel engines in this class," he said. "It was bad for them, but good for us."
After identifying the Tier 4-induced trend on diesel in the market, the engines were in development for about 3 or 4 years, Frank said.
Frank and Subaru stressed the durability of the new engines. The engines feature extra casting lines in the sump cover, six head bolts rather than four and a larger crankshaft design. That larger crankshaft design reduces vibration, Frank said.
Both the EH90 and EH99 were designed for rigorous and high-dust applications, common in concrete work. A Donaldson canister air cleaner comes standard on both engines and removes a majority of particles before they even reach the air filter.
The engines also feature a low oil pressure sensor which will allow OEMs to offer control panel alerts or an automatic engine shutoff. An oversized oil cooler and pressurized lubrication system are there as well.
Frank said SIP's main goal is innovation and is bucking an industry trend to simply make engines cheaper at the cost of durability.
"Our goal is to have something new and different to share with you guys each year and attack the market," he said.