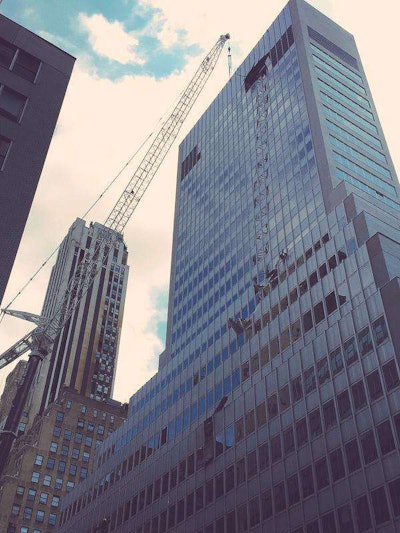 With the roar of a freight train and the "boom" of a bomb, an HVAC unit fell from the sky on Madison Avenue in New York City Sunday morning as it was being lifted into a 30-story building.
According to a report from the New York Post, the 4-ton unit dropped after a rigging strap snapped, sending the unit to the street below, crashing into the side of the building several times as it fell.
When it was all said and done, concrete, glass and other debris littered the street and 10 people were injured, including two construction workers and five motorists.
The incident could have been much more costly were it not for fortunate timing. The unit landed right in front of a popular Japanese restaurant which was closed at the time. The building also houses several other businesses which see lower traffic on the weekends.
"Thank goodness this occurred at this hour, on a weekend, when there were not many people around," NYC mayor Bill de Blasio said.
The Post reports the crane was being operated by Skilift Contractor Corp. and is owned by Bay Cranes. The city's Department of Buildings is investigating the incident, according to ABC News.
"The crane was in good working order," NYC Buildings Department Commissioner Rick Chandler told ABC. "We do track all cranes around the city so you should know that. We'll be investigating that specific device as thoroughly as possible."