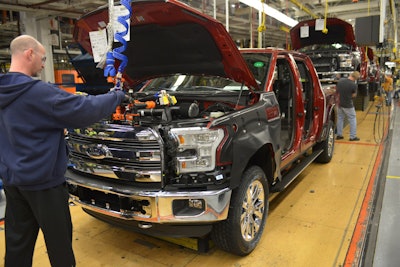 With the first 2015 F-150s rolling off the assembly line, Ford has invited everyone to take a look inside its completely retooled Dearborn truck plant to see how the aluminum-bodied pickup is manufactured. In the video below, you can see just how thorough that plant retooling was and you get a great look at how the truck comes together.
Ford announced Tuesday that the 2015 F-150 will arrive at dealerships and go on sale in December.
Starting in the first quarter of next year, Ford will begin manufacturing the F-150 at its Kansas City Assembly Plant in Claycomo, Missouri. Ford says the two plants will be able to produce more than 700,000 trucks per year. Don't miss our first drive and impressions of the new F-150 here.