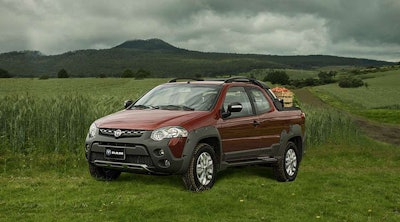 [imagebrowser id=145]
While the 2014 Ram 1500 EcoDiesel is the way to go for Ram fans who want considerable power with great gas mileage, those who want even better fuel economy from a Ram will likely have to head south of the border.
This is the Ram 700, Chrysler's new compact pickup now available in Mexico and other Latin American markets.
Reportedly based on the Fiat Strada, its 1.6 liter engine is no bigger than some motorcycle motors these days, but the 115 horses delivered to the front wheels can handle the 700's 1,500-lb. payload capacity (26 sq-ft. of cargo space in the back). And we don't know of any motorcycles that include a club cab as an option.
While there's no word on fuel economy, we'd be shocked if a truck this compact doesn't ring in somewhere between 25 and 30 mpg. If Ram were to beef up the engine just a bit, this would be the perfect compact pickup for a lot of folks in North America who don't need a full-size pickup but would like the extra cargo space.
Plus, it's a very reasonably-priced pickup. Prices start at 182,900 pesos, or $13,600 U.S., according to the official Ram 700 Mexico page. That would be a very attractive alternative to GM's new compact pickups, the pricier Chevrolet Colorado and GMC Canyon.
Editor's Note: Kevin Jones contributed to this report. Kevin is a senior editor at sister sites CCJ and Hard Working Trucks.