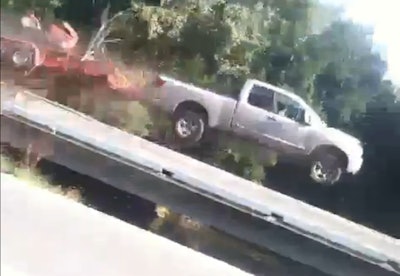 Talk about impeccable timing. Just as a man driving a Nissan pickup hauling a utility trailer and riding lawnmower jumped a guardrail and fell to a creek below, a woman nearby captured the moment on video using the smartphone video app Vine.
The 59-year-old man from Kentwood, Michigan veered into a median on Interstate 96 before he launched over the guardrail and fell into Sycamore Creek on Friday, according to a report from the Lansing State Journal.
Miraculously the man survived and was treated for serious injuries. He's expected to make a full recovery. Watch the Video below by clicking the image.
UPDATE: Due to some offensive language attached to the Vine embed, we've removed it from the article. Whenever we embed a Vine video, it pulls in the caption the user applied to their video. In this case, the person who took the video attached a caption with offensive language. If you'd still like to see the video, which doesn't contain offensive language itself, you can click here to see it.