Terramac took the opportunity at the recent ICUEE show to demonstrate the varied attachments its crawler carriers can handle.
On display at the company's booth were its 14-ton-capacity RT14U model equipped with a 75-foot boom and its 6-ton RT6U with a 47-foot digger derrick.
The "U" in the model name refers to "utility." For these models, Terramac extended the frame out on the front and rear for mounting outriggers and a winch. The design also allows for a longer bed.
Both the RT6U and RT14U have similar chassis, the main difference being their size and capacity. The carriers have steel-embedded rubber tracks, radial front and rear outriggers, and a front winch.
They are controlled by a single joystick. Their touchscreen display runs everything from windshield wipers to the heating and air conditioning. The screen also displays the backup camera.
RT14U with boom
The displayed RT14U was equipped with a Terex Utilities RMX 75 boom, offering nearly 80 feet of working height and 59 feet of reach from the crawler carrier.
The cab includes controls to operate the boom, with an on/off power button and a switch to divert hydraulic flow to the attachment. The boom has a separate hydraulic tank. Along with a bucket, the boom can be equipped with a material handler with a capacity of up to 2,000 pounds.
The attachment can also be lowered in an emergency from the ground by a battery-powered lowering device.
Terramac says it can fit any style boom to its carriers and will customize its machines to meet customers' needs.
RT6U with digger derrick
That same versatility is available for Terramac's smaller RT6U model, which the company displayed equipped with a Terex Utilities Commander 4047 digger derrick.
Jessie Whittaker, Terramac business development director, calls this carrier an "all-in-one machine."
"This machine can actually dig the hole, set the pole, and it's insulated as well, so you can move an energized line over to the new poles," he said.
The carrier comes with a pin-on bucket, so a worker can also set up the newly installed pole or repair an existing one. The bucket has separate hydraulic capability for hydraulic tools. Controls for the digger derrick are on the command post on the attachment.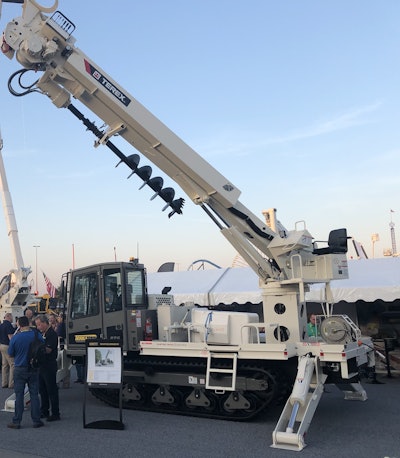 The carrier is compatible with augers of 12 to 24 inches. The company can also add larger digger derricks to its larger carriers.
The RT6U has a compact footprint of 25 feet 8 inches by 8 feet 2 inches for working in tight spaces. It does not require a low-boy trailer; it can be hauled behind a line truck with a tag-along trailer, with no need for special permits, Whittaker said.
Other features on the model include a hydraulic hose reel on the end of the carrier for tamp after setting the pole and an optional pole carrier for the side of the machine.