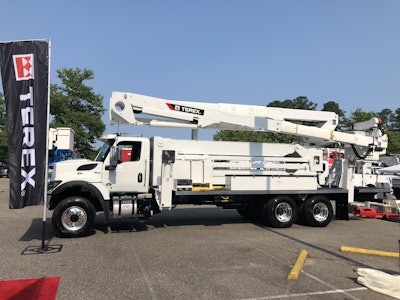 Terex Utilities' three new TL Series telescopic and material handling models are designed to be cost effective and require less maintenance, according to the company.
The three new models are the TL80, TL100 and TL80/112, with working heights of 80 feet, 100 feet and 112 feet, respectively.
The truck-mounted aerial devices are designed for transmission work and have a lower gross vehicle weight (GVW) than traditional chassis transmission units, Terex says. For example, the TL80 can be mounted on a tandem axle chassis with a GVW of 33,000 pounds, a configuration that costs less to buy and to maintain than a triaxle chassis, the company says.
The models' two-person platforms can hold up to 700 pounds, and the TL80 and TL80/112 have optional side-mounted platforms with jib capacities of 2,000 pounds. The self-leveling platforms can rotate 180 degrees, and they can be lowered to within inches of the ground.
The TL100 has a max material handling capacity of 1,000 pounds and a horizontal reach of 61 feet.
Terex designed the boom for added bed space and bed access to the bucket. The upper and lower boom sections are made of high-strength steel for rigid operation and to reduce boom weight. The lower boom on the TL80 and TL80/112 comes with a fiberglass insert and an upper boom that enables the devices to be rated for 138-kilovolt work. The TL100 can be rated up to 69 kilovolts.
The devices also have the same leveling cylinders. The TL80 and TL100 use the same cylinder for their lower and upper booms and the same part for their upper boom rest.
The company says the hydraulic fittings above the rotation bearing use O-ring seals. And the wear pads are easy to access from outside the boom for adjustment.