Hilti has expanded its lineup of cut-off saws to three with the introduction of the lightweight DSH 600-X.
The saw adds a 60cc option to the gas saw lineup which before only offered the 70cc DSH 700-X and the 90cc DSH 900-X.
Designed for masonry, concrete and steel cutting, Hilti says the DSH 600-X's 21.7-pound design delivers a very balanced feel when in hand.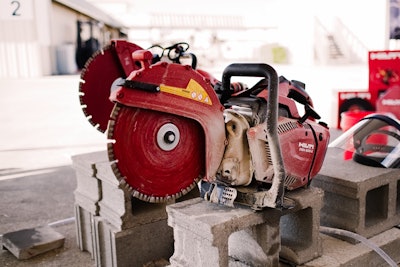 The saw features an auto choke system for easy starting, while a cylcone filtration system delivers longer filter life and consistent high power. The saw also features an aluminum belt guard, a fast starter rope, and a filter replacement.
Outfitted with a 12-inch blade with a nearly 5-inch cutting depth when using diamond blades, the DSH 600-X offers a versatile 180-degree cutting angle at any height. The saw also features a blade brake that stops the saw blade completely within 10 seconds.
Setting up dust control is made simple thanks to an integrated DSH-P water pump. By filling a 5-gallon bucket with water and placing the integrated pump's 10-foot hose into the bucket, you get portable dust suppression independent of a water source.
The saw and water pump are backed by a one-year warranty for complete repair or replacement of defective parts. Repairs are backed by a one-day turnaround guarantee.