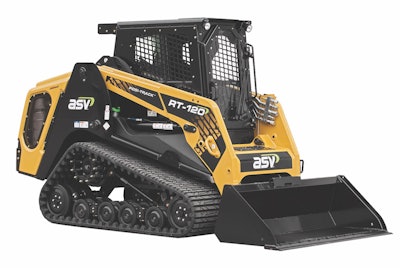 Following the release of an armored, slightly more powerful forestry configuration, skid steer and compact track loader maker ASV has released its base model RT-120.
Powered by a 120-horsepower 3.8-liter Cummins engine producing 360 lb.-ft. of torque, the RT-120 boasts 8 percent more torque than its predecessor the RT-110.
Operating capacity is 3,535 pounds with a tipping load of 10,100 pounds.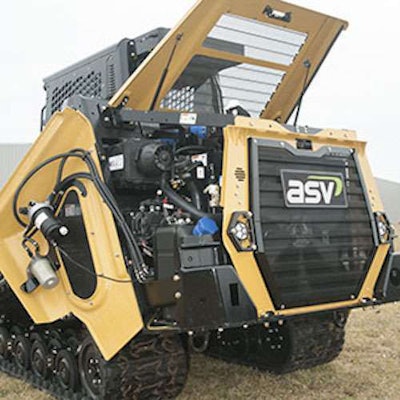 Also available in forestry and road profiling configurations, the RT-120 is ASV's largest CTL and is designed for excavation, mulching and other tough applications in the aggregates, construction, landscaping, agriculture and snow removal industries.
"The RT-120 is quite simply the largest, most powerful and highest performing compact track loader ever built," says Jim DiBiagio, ASV's chief operating officer.
Offering 15 inches of ground clearance, the RT-120's Posi-Track dual-level suspension is able to adapt to different terrain at faster speeds thanks to suspended wheels and axles. ASV says the machine performs better on steep slopes than competitors thanks to triple-guide lugs and multiple wheel contact points.
Eighteen-inch tracks rubber come standard on this machine and have a ground pressure of 4.4 psi. Twenty-inch tracks are an available option.
ASV's undercarriage has undergone a complete overhaul over the last decade, from a closed design to an open-rail and drive-sprocket design. The change makes the undercarriage easier to clean and extends sprocket and bogie life, the company says.
Rollers don't require maintenance thanks to mechanical face seals and ASV estimates track life at 1,500 to 2,000 hours. The company says this is 30 percent higher than steel-embedded tracks and backs its tracks with a two-year 1,500-hour track warranty.
The machine's high flow hydraulics are rated at 45 gallons per minute and 4,060 psi. Thanks to large line sizes hydraulic coolers and direct-drive pumps, ASV says the RT-120 receives more hydraulic flow and achieves 16 percent more hydraulic horsepower than the RT-110 that it replaces.
On the maintenance side, engine access is made easy by a three-panel hood and tilting cooler arrangement. Filter and oil inspection along with normal service items are simplified by sight gauges for both hydraulic oil and coolant. The rear-tilting cab provides easy access for further service needs.