ASV is continuing to expand its lineup of compact track loaders and has now introduced a forestry configuration of the Posi-Track RT-120 it calls "the largest and most powerful in the industry."
The new RT-120 Forestry (F) replaces the RT-110 and is designed for use with the largest of attachments to tackle mulching, brush cutting and highway/utility work.
The machine is also available in dirt and road profiling configurations.
The Forestry configuration incorporates metal guarding against brush and debris in key areas such as lights, the AC condenser and rear screen. A full rear brush guard is available as a factory-installed option. This config also features a FOPS level 2 cab with ROPS rollover protection and reinforced windows for impact resistance. It also features a hydraulically driven auto-reversing cooling fan to blow debris out of engine compartment screens. Inside the pressurized, air conditioned cab, operators will find standard joystick controls.
The RT-120F is powered by a 120-horsepower 3.8-liter Cummins engine producing 360 lb.-ft. of torque. The new engine provides 8 percent more power than the RT-110.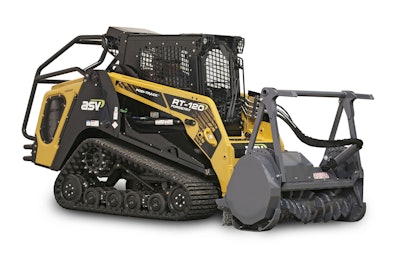 Rated operating capacity for the RT-120F is 3,745 pounds and tipping load is 10,700 pounds—greater than the non-forestry RT-120. The machine is 73 inches wide and has a 125-inch lift height.
Offering 15 inches of ground clearance, the RT-120's Posi-Track dual-level suspension is able to adapt to different terrain at faster speeds thanks to suspended wheels and axles. ASV says the machine performs better on steep slopes than competitors thanks to triple-guide lugs and multiple wheel contact points.
Twenty-inch tracks rubber come standard on this machine and have a ground pressure of 4.3 psi.
ASV's undercarriage has undergone a complete overhaul from a closed design to an open-rail and drive-sprocket design. The change makes the undercarriage easier to clean and extends sprocket and bogie life. Rollers don't require maintenance thanks to mechanical face seals and ASV estimates track life at 1,500 to 2,000 hours.
The machine's high flow hydraulics are rated at 45 gallons per minute and 4,060 psi. Thanks to large line sizes hydraulic coolers and direct-drive pumps, ASV says the RT-120 Forestry receives more hydraulic flow and achieves 16 percent more hydraulic horsepower than the RT-110 that it replaces.