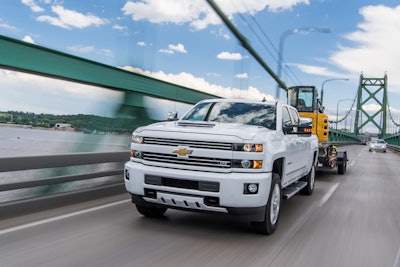 Chevy's 2017 Silverado 2500 and 3500 pickups aren't just special to the automaker because they're new. Thanks to the 6.6-liter Duramax diesel at the heart of these heavy duty pickups, Chevy says these are the most powerful vehicles it has ever produced.
Introduced last October, the 6.6L Duramax V8 got a complete redesign intended to generate more torque at lower rpms. The result is a jaw-dropping 445 horsepower at 2,850 rpm and 910 lb.-ft. of torque at 1,600 rpm. The torque figure represents a 19-percent improvement over the previous generation engine.
Though Chevy introduced the new engine with a patriotic stunt, the brand's marketing department is still working to illustrate to customers what a beast this engine is. And so, the company partnered with John Deere and flew a bunch of automotive and heavy equipment journalists to Moline, Illinois, to drive the new SIlverado HDs and do what these trucks are engineered to do: tow heavy things.
We had the opportunity to drive both the 2017 Silverado 2500 and 3500—unladen and with equipment in tow—down a 14-mile stretch of Interstate 80 between Deere's Davenport Works manufacturing facility and The World's Largest Truck Stop in Walcott.
Beyond what I learned about how these new trucks drive, I found out the story behind their new functional hood scoop, a feature that, as it turns out, was a key part of the trucks' development.
The Drive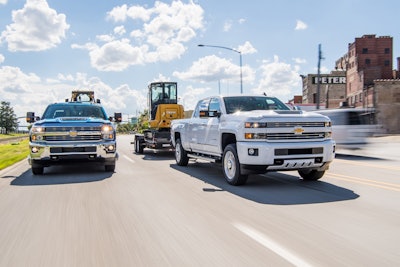 Before we saddled up, Eric Stanczak, General Motors' chief engineer for full-size trucks, spoke a bit about what his team was aiming to do during the development process of these new HD trucks.
"Confidence and comfort," he said. "We're not about claims. We focus on real world performance…Can you accelerate when you want to, stop when you need to and not work too hard behind the wheel?"
Stanczak said the top reason Silverado HD customers buy a 2500 or 3500 is for towing. "So, we want to give the driver the most confident towing experience."
And though we've found the 2500 and 3500 to deliver on the promises of both comfort and confidence, driving them side-by-side is helpful in understanding how.
As Chris DePolo, GM's lead development engineer for full-size trucks, put it, "The 2500 is the sports car."
With the 2500, Chevy has done a good job of making a very big truck in its own right immediately approachable. Don't get me wrong, this is every bit a serious pickup. But this truck drives so damn smooth. Heading out of Deere's Davenport works and maneuvering through the lunch rush traffic on Iowa 61 was a breeze before turning onto I-80 where the truck quickly accelerated to 70 miles per hour and slipped right into the flow of vehicles.
Another part of that comfort equation Chevy has nailed with these trucks is how quiet the cab is. You can barely hear the rumble of the powerful Duramax beneath the hood and the noise of the tires and road surface is only noticeable if you listen for it. This is not a ride you'll have to shout over in conversation.
When I arrived to the truck stop I switched over to a 2500 with a Deere skid steer in tow. As someone who tows equipment slightly more than the average person, but who still spends most of his time behind a keyboard rather than hauling, there's always a bit of anxiety for me when pulling onto a busy highway or Interstate with a heavy, expensive piece of machinery in tow.
Exiting the truck stop, I hit the accelerator during a break in traffic and the 2500 moved to the median in front of the truck stop with little difference in how it had done so earlier with nothing in tow at all. The torque improvements at those low rpms are noticeable. You definitely feel the resistance of the payload as you accelerate to highway speeds, but it's a subtle tug most felt if you're running over a bumpy road surface. The drive back to Davenport with the skid steer was as smooth and uneventful as the unladen journey to the truck stop.
Chevy limited opportunities to haul a machine with the 3500 to those in attendance with a CDL. So, for this portion of the day, DePolo hopped in the driver's seat and we made our way back to the truck stop. Again, the only difference in ride was a bit more noticeable resistance from the payload, this time a backhoe that put us pretty close to the truck's towing capacity of 23,300 pounds.
As he drove, DePolo talked a bit about how Chevy engineers made these trucks more "confident."
"Steering is a huge part of it," he said. "Do I need a lot of small quick movements to keep things under control? You're not fighting this truck constantly to manage it."
"Another piece is the ride," he continued. "How comfortable is the truck and how low is the cab volume. You notice there's very little diesel or air noise."
DePolo pointed out that not only does the truck cab dampen outside noise, but the Duramax engineers actually designed this latest generation engine to run quieter as well. Chevy says the new Duramax reduces noise through "acoustic rocker covers, isolated injectors, a full-length acoustic lower oil pan and an all-new fuel system."
The Scoop
My conversation with DePolo eventually turned to the functional hood scoop, a new feature on GM's 2017 HD trucks.
The scoop was featured prominently in Chevy's early marketing materials and I asked DePolo how much of the its addition was marketing and how important it actually was to Chevy engineers.
Turns out, it's pretty important.
"I've worked on the Duramax since it first came out. If you can't get cool air to that engine and it's hot out you can't make all the power with that engine that you want to make," DePolo explained. "When I have to merge into a 10-lane highway and I have to step on it and I'm making all that torque (the scoop) is a huge advantage."
I asked DePolo if that meant the new Duramax would be able to exceed its already high performance spec of 445 hp and 910 lb.-ft. of torque, thanks to the scoop. He explained that because the engine is rated in a highly controlled environment under optimal conditions, a scoop works to get you closer to those performance numbers when operating in real-world conditions—which are almost always hotter and dirtier.
In other words, engine specs are great, but when you're towing 20,000 pounds through the Arizona desert or transporting a backhoe through rural Alabama in the middle of August, you're probably losing a lot of potential engine power without a scoop.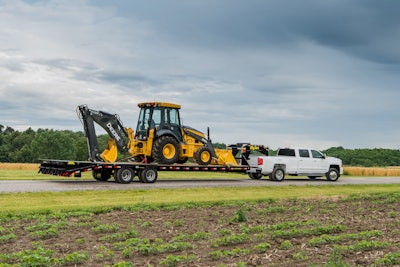 So why hasn't GM added an integrated hood scoop before the 2017 models? DePolo says the scoop was a particularly challenging component to develop, explaining that the fairly involved process took GM engineers around two years to crack. And that was largely due to the fact that it's very important that the scoop provide clean air to the engine.
GM says the scoop provides 60 percent of the cool air pulled into the engine while an air filter housing in front of the fenders provides the remaining 40 percent. Air from the two inputs blends and is funneled into the Duramax engine's combustion chambers. A ram-air effect when the truck is traveling at highway speed packs even more air into the engine.
"It's easy to get the air into the engine that's cool. Contaminants were the challenge," DePolo says. He says that GM engineers tested the wares of several aftermarket component makers as potential scoops to be integrated into the truck body but "none of them passed our internal tests."
So, GM engineers developed their own system, which depends on a air/water separator that the automaker says "ensures only dry air enters the engine."
Looking back on the development of the 2017 2500 and 3500, DePolo says the hood scoop was seen by the engineering team behind these trucks as a way to not only complement the work of the Duramax engineering team, but as a way to really make sure their work in getting all the extra ponies and torque wasn't in vain. After all, why add all this new torque only to have it limited by a hot and dusty jobsite?
At the end of the day, you not only get a functional hood scoop with these trucks, you get one that GM spent years of development on that the automaker says is better than anything you could put on your truck after purchasing it.
Steel horse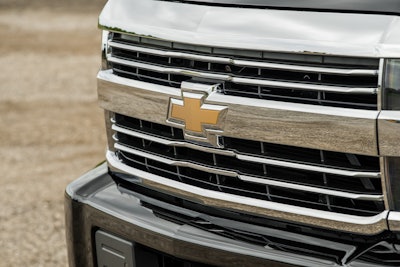 One final note on these 2017 Silverado HDs. As of late, Chevy has been doing its best to hammer Ford on its use of aluminum in its truck bodies and beds. Chevy has stuck with a steel construction on the Silverado.
I asked Chevy spokesman Monte Doran how Chevy customers have responded to that marketing and whether it has actually convinced many Ford customers to stray from the now-aluminum F-Series.
Doran says that's not exactly Chevy's aim with its truck marketing.
"I view the truck market as Republicans and Democrats," Doran says. "You fall into one of the two camps as a truck customer and both sides are trying to catch the swing voters."
In other words, Chevy recognizes that the steel vs. aluminum debate is likely only effective with customers who don't have deep-rooted loyalties to a particular brand. And while he says most Ford devotees are likely to accept what Chevy paints as compromised bed strength on the latest F-Series pickups, Chevy feels "Steel is a feature the swing voters aren't willing to compromise on," Doran says.