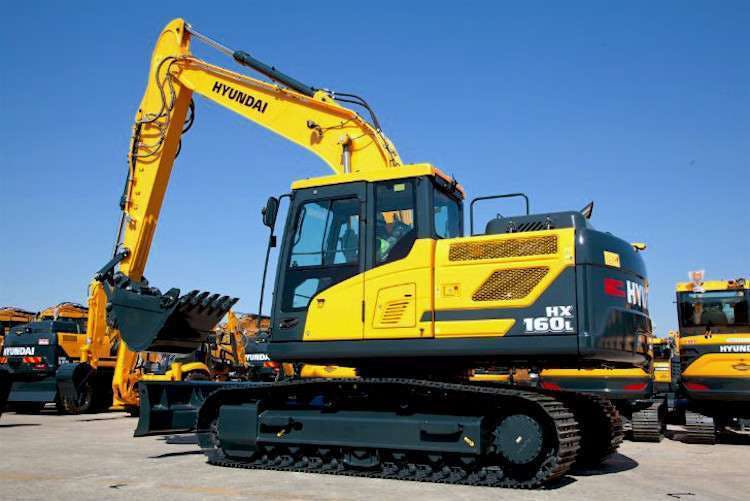 With the introduction of the 10th and 11th excavators in its new HX Series lineup at Bauma last week, Hyundai Construction Equipment says it is meeting the demand of customers in two of the most popular size classes for crawler excavators.
The 16-metric-ton HX160L and 18-metric-ton HX180L are powered by Tier 4 Final Perkins engines rated at 128 net horsepower and weigh in at 40,680 and 42,882 pounds, respectively.
Hyundai says both new models increase fuel efficiency by 10 percent, productivity by 5 percent and cycle speeds by 13 percent over their 9A Series predecessors.
The machines feature a boom float mode for better grading control and a fine swing mode. Intelligent Power Control optimizes power based on load demand and Eco Breaker mode improves fuel consumption with selectable pump flow when working with hydraulic breakers and other attachments.
Unlike the pair of excavators unveiled at World of Concrete in February, the new 160 and 180 feature the same redesigned and well-appointed cab as the seven HX excavators originally unveiled last year.
The cab is 13 percent larger and features more legroom and foot space along with climate-control, a heated air-suspension seat and climate control.
But the centerpiece is an 8-inch touchscreen monitor which features an inclinometer, which assists the operator in maintaining a level bucket; an ECO Gauge, which displays a color letting the operator know how fuel efficient their operation is; and Miracast, allowing the operator to mirror his or her smartphone display to the display inside the machine.
The monitor also displays Hyundai's All Around View Mode (AAVM) which stitches together an overhead view of the machine using four cameras. An object detection system enhances AAVM by monitoring when any object or person gets too close to the machine. When that happens warnings appear on the monitor and an alarm sounds.
The monitor is complemented by a cluster of buttons below and a haptic remote control near the right armrest. This joystick-like nub is used as an alternative method of input for the new monitor and much more.