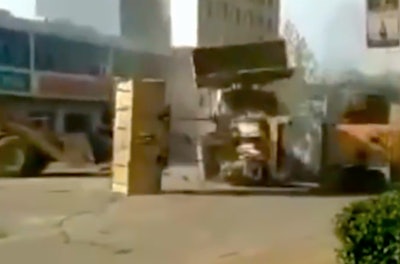 A dispute between two concrete contractors in China escalated in the most dangerous way possible recently as rival workers hopped into wheel loaders and began to slug it out.
According to a report from the New York Times, two employees were injured, including one who was shot, as workers from the Jianwen and Xinghua Concrete plants clashed in the streets of Xingtang County.
The Times reports that the fight broke out after Jianwen workers showed up at the Xinghua plant to take over the work of a development project. Workers fought with knives and pellet guns, but the fight erupted once the heavy equipment got involved.
By the end of the clash six wheel loaders had been damaged with two toppled over. The video below captures one such clash in which a loader is knocked over as three other loaders come into help/cause further destruction.
No arrests had been made as of Monday.